Conchi Paredes: Gifted triple jumper who won 17 Spanish championships
A resilient and gritty athlete who held the national record for 14 years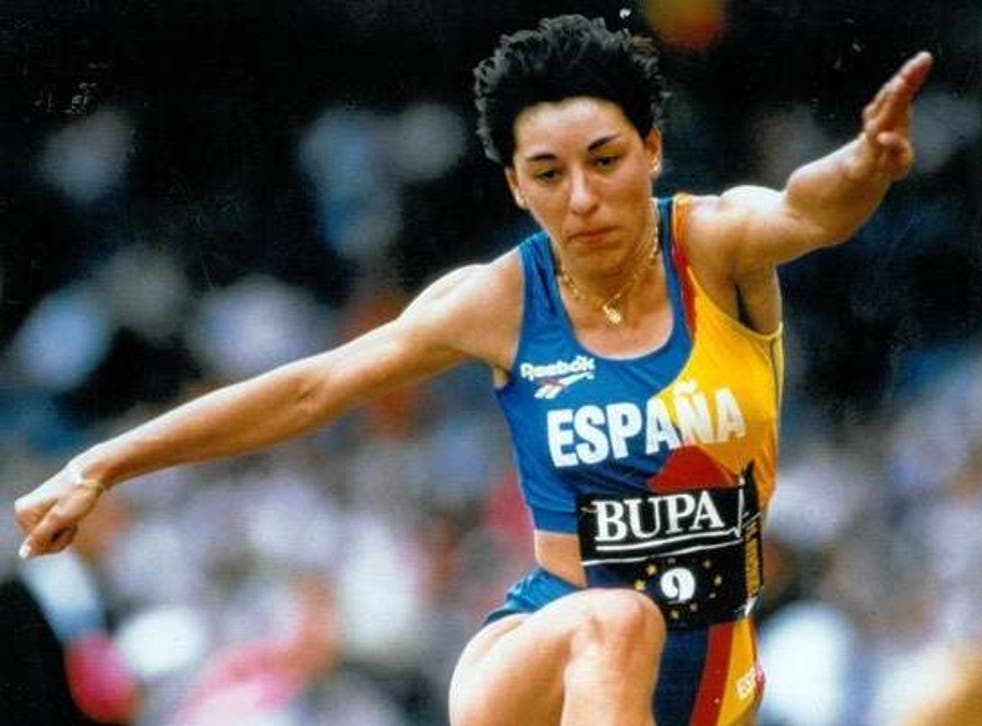 "You get goosebumps during a jump. I still get them even when I remember it," recalled Spanish athlete Concepcion Paredes about setting her national 14.30 meters record in triple jump. "I left home so happy. When I arrived, finally alone, I cried of happiness."
Paredes, who has died of cancer, was considered to be the first big star of triple jump in Spain. She was a national symbol for grit and constancy for winning 17 Spanish championships during the 1990s and holding the triple jump record in her country for 14 years.
Maria Concepcion Paredes – affectionately known in Spain as Conchi – was born in Palencia, northern Spain, in 1970. Her father, Santiago Paredes, was a car electrician and her mother, also called Concepcion, was a public sector worker.
In the late 1980s she was a young, self-starting and distinctly gifted member of her home town's sports club, where she would compete in two other specialties: high and long jump. She would even get herself the first scholarship awarded to a female athlete by the autonomous community of Castile y Leon in northwestern Spain.
At 19 when she wrote to the elite athlete Santi Moreno – whom she had briefly encountered at sports carnivals and trainings – and told him she was moving to Avila, a city in the rolling hill country to the northwest of Madrid, where he was based and asked him to train her. With her prodigious capacities, it wasn't long until Moreno and his circle of fellow athletes became fascinated by her talent and thought she was made for the triple jump.
In the early 1990s few women were competing in triple jump and Paredes knew she had to make her way. But she was "pure edge, she never stopped", said her former trainer. After moving to Avila, she moved into a youth residency and trained once or twice a day while accompanying him to his own competitions.
The effort would soon pay off. Two years later she became the national champion for triple jump at the Spanish Indoor Athletics Championship. The title would be hers for the next eight years until 2000, when Carlota Castrejana displaced her.
And as the Spanish champion for the first time in 1991, she represented her country in the IAAF World Indoor Championships. Even though women's triple jump was included, it still ran somewhat independently from the championship – as "a non-championship event" – and there she ranked 12th.
In 1994 Paredes would set a Spanish record of 14.30 meters in triple jump that was not be surpassed for 14 years. "The weather was perfect for a competition. I felt really well, relaxed, focused and ready for anything. I did several heel exercises and I still felt a little worm in my stomach," she said later. "This was my day. And boom, the 14.30 meters turned out." She competed in the 1996 Olympics in Atlanta, the first time the triple jump was included in the games.
She continued to train relentlessly until 2003 when she stopped competing professionally after she was no longer reaching easily the 13-metre mark. Around that time, Paredes was diagnosed with cancer, which would open a difficult chapter where her grit and resilience continued to shine through.
Support free-thinking journalism and attend Independent events
Paredes went through 130 rounds of cancer treatments, including radiotherapy and chemotherapy, over 16 years. Fearless and unwaveringly optimistic as usual, yet never unaware of the seriousness of her diagnosis, she offered herself to help doctors in a crucial quest for finding and testing new cancer treatments for similar cases.
Spanish prime minister Pedro Sanchez said: "Conchi Paredes has left us, one of the greatest of Spanish sports ... Her legacy will always remain with us."
Conchi Paredes, athlete, born 19 July 1970, died 22 June 2019
Join our new commenting forum
Join thought-provoking conversations, follow other Independent readers and see their replies