Danny Kirwan: Fleetwood Mac guitarist, singer and songwriter who helped shape early hits
The Londoner brought a cherubic presence to a troop of gnarled blues veterans and contributed lavishly to the Peter Green era, playing on 1968 chart-topper 'Albatross'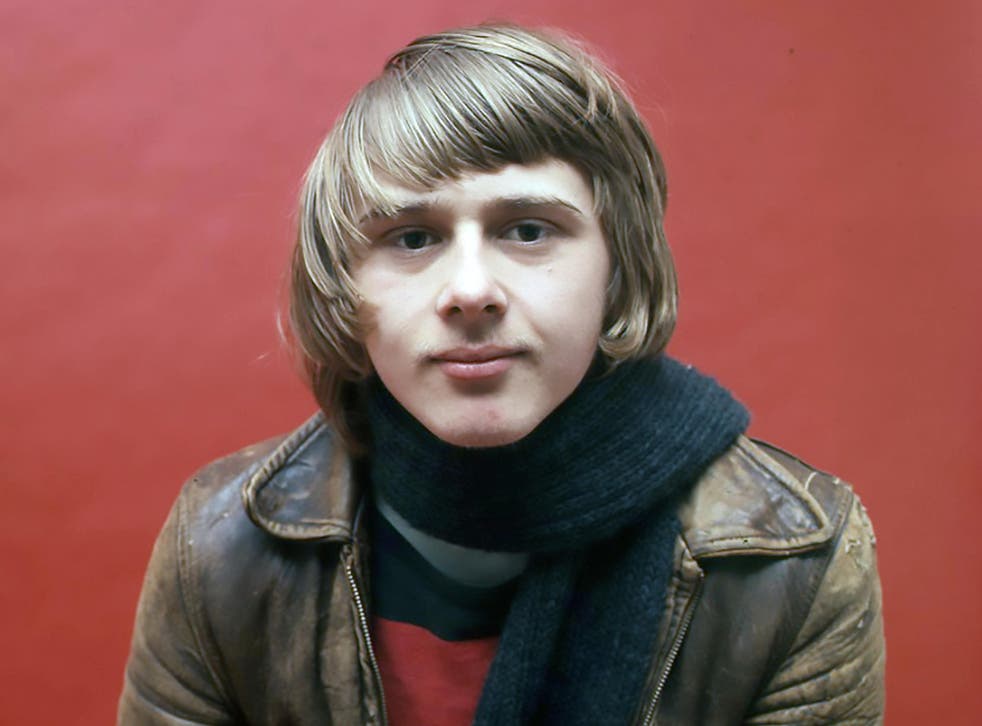 If he had contributed nothing else to the Fleetwood Mac back catalogue, Danny Kirwan's place in the pantheon of a band with more than half a century and around 20 musicians to its name would be assured for the exquisite 1971 single "Dragonfly".
Having adapted a poem by Welsh "hobo" poet WH Davies, Kirwan delivered a delicate vocal performance and fluid guitar phrasing.
But after a run of huge hits on which the dual Gibson Les Pauls of Kirwan and Peter Green were a key component, Fleetwood Mac's first release of the post-Green era did not trouble the top 50.
Christine McVie, who had recently joined the line-up and is back in it today, recalled how they felt "crushed" by the setback.
Kirwan, who has died at the age of 68 after long struggles with mental-health issues, alcoholism and homelessness, spent barely four years in Fleetwood Mac yet contributed lavishly to the group's stellar period between 1968 and 1970.
Originally a quartet, led by Green but named after the rhythm section of Mick Fleetwood and John McVie, they invited Kirwan to join them three months past his 18th birthday.
Their producer, Mike Vernon, had told Green about "an amazing slide guitarist" he saw in a trio called Boilerhouse in Brixton, where Kirwan was born and grew up.
Former Fleetwood Mac guitarist Danny Kirwan has died aged 68
With his lank blonde locks and boyish looks, Kirwan brought an cherubic presence to a troop of gnarled blues veterans. His arrival helped provide the impetus for a succession of hit singles and albums.
The first recording he played on with Fleetwood Mac was the instrumental "Albatross", which topped the charts in late 1968. Kirwan contributed the B-side, another instrumental, "Jigsaw Puzzle Blues".
"Man of the World" and "Oh Well" both peaked at No 2 the following year, and "The Green Manalishi" made the Top 10 in 1970.
When Kirwan contributed strongly to the lyrics, vocals and instrumentation on the 1969 album Then Play On, a long, prosperous career looked a formality.
He also appeared on LPs by Otis Spann, Christine McVie (under her maiden name of Perfect; Kirwan wrote, produced and arranged the strings on her single "When You Say") and the third of Fleetwood Mac's guitarists, Jeremy Spencer.
However, Green left the group in 1970, two months after taking a heavy dose of "bad acid" at a party in Munich. Kirwan would admit: "We played well together but we didn't get on."
As the band began to evolve from blues rock to a more pop-oriented sound, Spencer walked out in Los Angeles and joined the religious cult The Children of God.
Kirwan, meanwhile, was shouldering song-writing responsibilities within the group – and drinking heavily. In 1972, when Fleetwood Mac were touring to promote the fifth album with Kirwan, Bare Trees, Fleetwood fired him when he refused to play following a heated argument with the recently recruited Bob Welch.
Kirwan reputedly smashed a guitar against a wall, and the drummer later described him as "someone you just looked at and thought 'My god'… I hoped it was almost putting him out of his agony."
During the 1970s Kirwan released three solo albums with minimal success. Fleetwood then heard nothing of him until 1993 when the Missing Persons Bureau tracked him down to St Mungo's hostel in London.
Kirwan told The Independent he had lived there for four years, carrying his worldly goods in a rucksack, having left Fleetwood Mac because he "couldn't handle the lifestyle and the women and the travelling".
In 2014 "Dragonfly" received its first release in the US, on 7" blue vinyl, as part of Record Store Day. Its 3,000 pressing sold out, taking it to No 9 in the Hot Singles Chart and ensuring a happier footnote for Kirwan's finest work.
Daniel David Kirwan, singer, guitarist and producer, born 13 May 1950, died 8 June 2018
Register for free to continue reading
Registration is a free and easy way to support our truly independent journalism
By registering, you will also enjoy limited access to Premium articles, exclusive newsletters, commenting, and virtual events with our leading journalists
Already have an account? sign in
Register for free to continue reading
Registration is a free and easy way to support our truly independent journalism
By registering, you will also enjoy limited access to Premium articles, exclusive newsletters, commenting, and virtual events with our leading journalists
Already have an account? sign in
Join our new commenting forum
Join thought-provoking conversations, follow other Independent readers and see their replies