Danny La Rue: Female impersonator who turned drag into an art form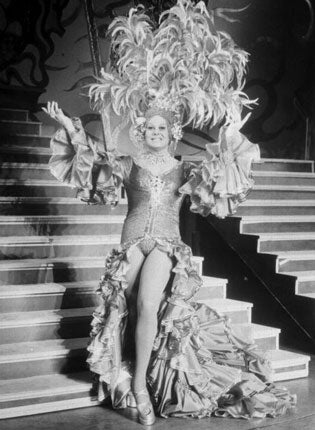 When Danny La Rue started his career as a female impersonator, drag acts were an area of show business traditionally regarded as seedy and suspect, but he successfully elevated his performance to an art form.
The transformation of something seen as coarse and vulgar was achieved by adding an element of sophistication and glittering spectacle, with La Rue dressing in the most expensive and elegant costumes, and sending drag up rather than playing it straight. "A comic in a frock" was how he preferred to refer to his trade.
"Wotcha, mates!" he growled in a very unladylike voice as he took to the stage, making clear from the outset that what the audience saw was definitely not a woman. He always insisted that he was not a transvestite– a man wanting to be a woman – explaining: "I never think of myself as a man or a woman when I'm in drag. I'm just an actor playing a woman."
La Rue was born Daniel Patrick Carroll in the Irish city of Cork in 1927, the son of an interior decorator and a former nurse. He was 18 months old when his father died of tuberculosis, leaving his mother to bring up three daughters and two sons alone.
His first experience of theatre, at the age of five, was watching the Irish comedian Jimmy O'Dea as the dame in the pantomime Mother Goose at Cork Opera House . In 1937, the Carroll family moved to London and the young Danny's love of theatre grew as he watched acts such as Arthur Lucan in the guise of Mother Riley.
Then came the Second World War and, after their home was wiped out in the Blitz, the family moved to the Devon countryside outside Exeter. At school there, he was remembered for drawing women's dresses, before leaving at the age of 15 to work in Coulson's store, in Exeter, first in the bakery and then as lift attendant.
Offered a job at the general outfitters J.V. Huttons, across the road, he became a trainee window-dresser while acting with an amateur dramatics group in the evenings. On turning 17, he joined the Navy (1944-47) and served aboard HMS Alaunia, part of Lord Mountbatten's task force heading for the Far East, as a steward assigned to the officers' mess.
He also performed with a concert party, making his début in a spoof of the play White Cargo, acting an African girl wearing a bed sheet as a sarong. In Singapore, he took part in regular shows staged for the Army and RAF. John Gielgud, whose Ensa company was on a Far East tour, told him: "I don't like men who dress up as women, but you make me laugh."
On being demobbed, Carroll returned to Huttons but continued performing on stage by joining the Exeter Dramatic Group, at the city's Theatre Royal. Switching to Huttons' London store, he was invited to join a drama group attached to the Young Women's Christian Association, which was short of male performers.
He then became one of a chorus of men dressed as women in a touring all-male revue, Forces Showboat (1949-50), which starred Terry Bartlett and Colin Ross as female impersonators. He followed this with appearances in similar shows featuring ex-servicemen – Forces in Petticoats, Soldiers in Skirts and Misleading Ladies. Having given up his job at Huttons, he filled in time between acting work by washing dishes at Lyons Corner House, in Coventry Street, and working at the Post Office's Mount Pleasant sorting office.
Carroll's first professional pantomime appearance was in Aladdin (Chatham Empire, 1953), joining the chorus line of men in drag alongside women. However, after becoming disillusioned with all-male revues, he gave up performing and returned to Huttons.
But he found show business was impossible to leave behind completely. Paul Raymond asked him to teach young women in his touring company how to walk correctly, Siobhan McKenna took members of Dublin's Abbey Theatre company to him to learn timing, and Ralph Richardson sent his What the Butler Saw co-star Coral Browne along to learn how to stand.
When the comedian Ted Gatty needed another male performer to make up the numbers in a show at the Irving Theatre, in Leicester Square, Carroll finally agreed to tread the boards again – on condition that his real name not be used, so that Huttons did not find out. Gatty came up with the pseudonym Danny La Rue. "You look wonderful in costume and you remind me of Paris, like the Follies," he told Carroll. "You are also long and lean, like a lovely French street. So I thought I would call you 'Danny the Street' – Danny La Rue."
Danny La Rue was first seen in Gatty's revue Men Only, in which he was given the chance to step out of the chorus line and project his personality. As a result, in 1954, he was booked to appear in cabaret at the fashionable Churchill's nightclub in Bond Street, where he stayed for three years.
He invested his money in bespoke, glamorous stage costumes and wigs, as well as in employing his own writers. Within a year, he left Huttons for the final time. Among the stage characters he created were a geisha girl, a teenage rocker and a striptease artist.
In December 1956, La Rue teamed up with Alan Haynes to form a long-running Ugly Sisters partnership in pantomime and, within a couple of months, switched his own act to Winston's nightclub. While there, he made his television début in Jack Hylton's Monday Show (1958), even fooling one of the guests, the television chef Fanny Cradock, into thinking he was a woman.
In 1964, after failing to get the business partnership he wanted in Winston's, the performer opened his own venue, Danny La Rue's, in Hanover Square, where his cabaret revue company included the comedian Ronnie Corbett, who had performed at Winston's.
La Rue's costumes became more and more lavish, and the club ran for eight years, attracting international celebrities and royalty. In his act, La Rue parodied personalities old and new, from Nell Gwyn to Cher, and one of his most popular new characters was Lady Cynthia Grope.
"It was all irrestistible fun, in the true tradition of British music hall, bawdy vulgarity, littered with innuendo, double meanings and everything thrown in for good measure," La Rue wrote in his 1987 autobiography, From Drags To Riches. "But it was never smutty, or dirty, or snide. No one ever found it obscene."
At the same time, La Rue's stage career expanded into the West End with the musical comedy Come Spy With Me (Whitehall Theatre, 1966-7), Queen Passionella and Sleeping Beauty (Saville Theatre, 1969), the long-running Danny La Rue at the Palace (watched by 1,200,000 people at the Palace Theatre, 1970-72), The Danny La Rue Show (Prince of Wales Theatre, 1973-75), The Exciting Adventures of Queen Daniella (London Casino, 1975-76, and Coventry Theatre, 1976-77), Aladdin (London Palladium, 1978-9) and a critically mauled, shortlived revival of Hello, Dolly! (as Dolly Levi, Prince of Wales Theatre, 1984).
He also performed in the 1969, 1972 and 1978 Royal Variety Performances and starred in the film Our Miss Fred (1972) as an actor fleeing Nazi-occupied France during the Second World War by dressing in women's clothes.
On the small screen, as well as appearing in television specials and regularly in The Good Old Days, La Rue starred as Lord Fancourt Babberley in an original production of Charley's Aunt ("Play for Today", 1969) and in the title role of Queen of Hearts (1973), with Alan Haynes playing the Queen Mother.
He also recorded his signature tune, "On Mother Kelly's Doorstep", for release as a single (1968), which reached No 33 in the charts. In 1969, he was named the Variety Club of Great Britain's Showbusiness Personality of the Year.
La Rue's club finally closed in 1972, when it was sold to property developers, but the performer took his show out of London to northern clubs and then to Canada, Australia and New Zealand. He also remained popular in pantomime.
In 2006, he suffered a mild stroke but returned to the stage within months. La Rue lived for many years with his manager, Jack Hanson, who died in 1979.
Anthony Hayward
Daniel Patrick Carroll (Danny La Rue), actor and female impersonator: born Cork, Republic of Ireland 26 July 1927; OBE, 2002; died Tunbridge Wells, Kent, 31 May 2009.
Join our commenting forum
Join thought-provoking conversations, follow other Independent readers and see their replies