Danny Williams: Rotherham miner and footballer who managed Swindon Town to League Cup glory
The Yorkshireman's appearance record for the Millers still stands, but his greatest day came on a Wembley mudheap in 1969, when his Third Division underdogs beat Arsenal to lift the trophy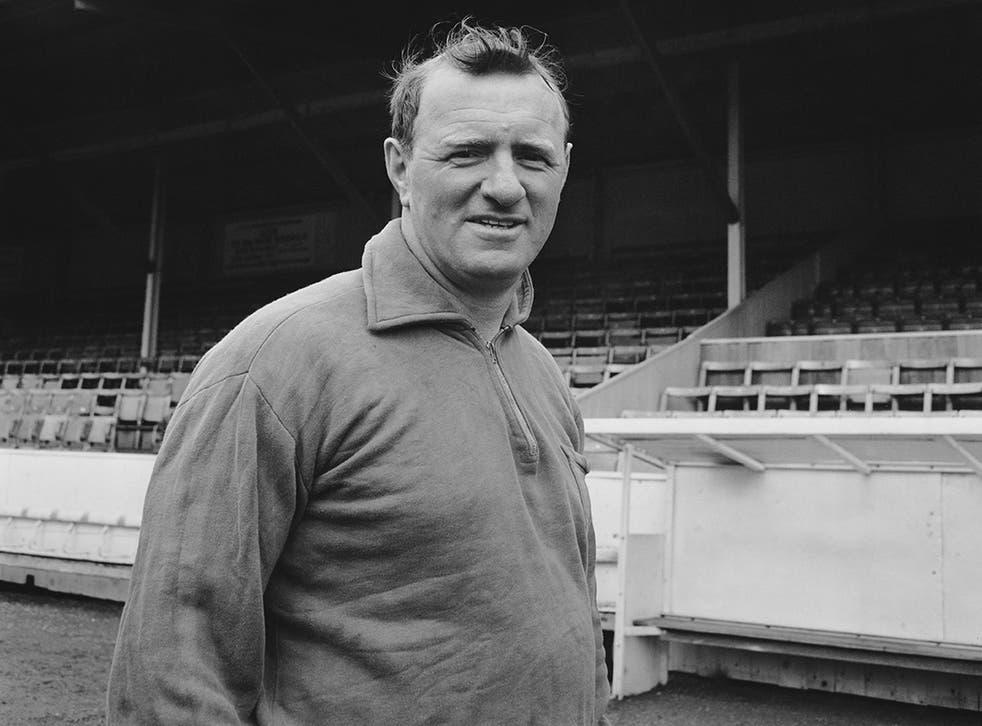 Glenn Hoddle, Lou Macari, Ossie Ardiles, Dave Mackay and Paolo Di Canio are among the famous football names to have managed Swindon Town during their 140-year history. Yet the only incumbent to have led the club to a national trophy was a former coal miner from South Yorkshire.
Danny Williams, who has died aged 94, masterminded Swindon's victory over Arsenal in the Football League Cup final at Wembley 50 years ago next month. The 1968-69 season also saw the Wiltshire team promoted to the old Second Division, in which Williams oversaw a fifth-place finish, which was then the club's highest position since it was formed in 1879.
Williams was born in Thrybergh, a village four miles from Rotherham. In 1943 he began work as a miner at nearby Silverwood Colliery and signed to play for Rotherham United, appearing 97 times and scoring 10 goals from midfield in wartime football. After the war he became a regular in the Millers' lineup but continued working down the pit until 1952.
During his playing days Rotherham also gained their first silverware, winning the Third Division (North) in 1950-51. Three years later they missed promotion to the top flight because of a fractionally inferior goal average to runners-up Luton. Williams played until 1960, launching his role as Arsenal's nemesis that January by playing in the defeat of the Londoners in an FA Cup, third-round, second replay at Sheffield Wednesday's Hillsborough ground before a 56,000 crowd. He retired with 500 peace-time appearances – still the club record – and 23 goals.
Williams served Rotherham as trainer and coach before becoming manager from 1962 to 1965, when he left to run a sports outfitters' shop in the town. That summer he was persuaded to return by Swindon, who had sacked Bert Head after dropping into the Third Division. Williams had to sell prized assets Mike Summerbee and Ernie Hunt to balance the books, although Head left a nucleus of promising young players around whom he built.
In 1967 Williams' team hinted at their potential by vanquishing West Ham – including World Cup-winning trio Bobby Moore, Geoff Hurst and Martin Peters – in the FA Cup. Two seasons later they battled through six rounds and 10 games, beating First Division Coventry and Burnley as well as Brian Clough's Derby, to reach the League Cup final as a Third Division side.
Arsenal, who stood fourth in the First Division, were hot favourites. However, on a quagmire of a pitch Swindon took the lead and were pegged back only by an 86th-minute equaliser. Don Rogers, part of Williams' inheritance from Head, scored twice in extra time as the underdogs triumphed 3-1. In the league, they were promoted behind Watford and added the Anglo-Italian League Cup for good measure with an astonishing 5-2 aggregate victory over Roma.
After Swindon finished just three points behind promoted Blackpool the following spring, Williams was lured back to South Yorkshire by Sheffield Wednesday. His remit was to maintain First Division status while reshaping an ageing squad. The club's parlous finances led to players such as Jim McCalliog, John Ritchie and Peter Eustace being sold. The replacements Williams bought proved unable to prevent Wednesday being relegated at the end of 1969-70, his first season.
After his Hillsborough tenure was terminated in January 1971 he resurfaced at Mansfield in November but was unable to prevent their going down at the end of the season. He left in 1974 to resume the reins at Swindon, who were about to be relegated. Unsurprisingly he could not repeat the success of his first spell, but visits to the County Ground were never dull.
In 1975, after West Ham avenged their FA Cup defeat, the jovial, blunt-speaking Williams memorably told reporters: "When their second goal went in, I knew our pig were dead." He stayed as Swindon manager for four years before serving as general manager from 1978 to 1985.
Daniel Williams, footballer, football manager and miner, born 20 November 1924, died 3 February 2019
Register for free to continue reading
Registration is a free and easy way to support our truly independent journalism
By registering, you will also enjoy limited access to Premium articles, exclusive newsletters, commenting, and virtual events with our leading journalists
Already have an account? sign in
Register for free to continue reading
Registration is a free and easy way to support our truly independent journalism
By registering, you will also enjoy limited access to Premium articles, exclusive newsletters, commenting, and virtual events with our leading journalists
Already have an account? sign in
Join our new commenting forum
Join thought-provoking conversations, follow other Independent readers and see their replies