David McReynolds: Antiwar activist who ran for presidency twice and 'defined modern pacifism'
One of the first openly gay US politicians, McReynolds was also an audacious activist and prolific photographer 
Harrison Smith
Monday 27 August 2018 16:46 Comments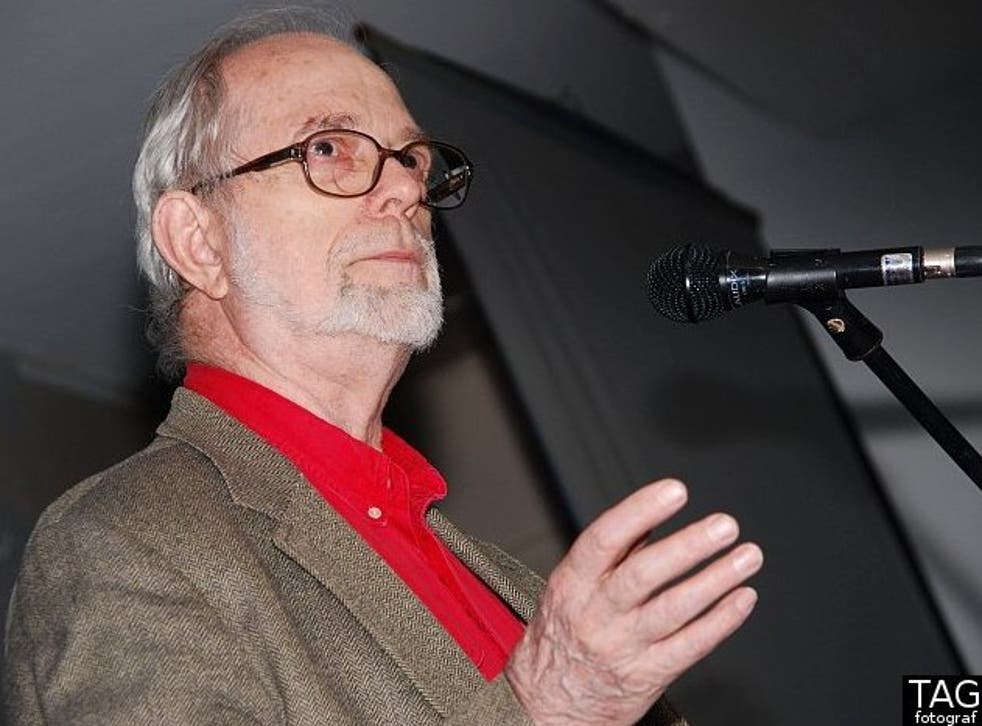 For decades, David McReynolds was among the most outspoken socialists and pacifists in America, a leftist organiser who combined a belief in wealth redistribution with a fierce opposition to the Vietnam War and nuclear weapons. In 1965, as a leader of the War Resisters League, he spurred a wave of antiwar demonstrations when he joined four other men who set fire to their draft cards in a public defiance of federal law.
While McReynolds was spared prison, he was handed a fine of $10,000 (£7,785). He went on to become one of the first openly gay candidates to run for Congress and president, and although he never came close to winning office, he helped "define modern pacifism in the United States", as his friend Bruce Cronin, a political scientist, put it. McReynolds, who died aged 88 at a hospital in Manhattan, drew the attention of the FBI and landed in jail several times as a result of his activism.
His political career was all the more remarkable given his upbringing in Los Angeles, where he was raised by a family of conservative Baptists and in his youth joined the Prohibition Party, which opposed the sale of alcohol. Though he came to don tie-dye shirts, beads and patchouli cologne with other Vietnam-era peaceniks, he honed his public speaking skills with a group called the Travelling Temperance Talking Team, in which sharply dressed teenagers competed to see who could best denounce the evils of alcohol.
Indeed, McReynolds was described as more professorial than proletarian, with interests that ranged far beyond political rallies and campaigns. He was a prolific photographer, taking more than 50,000 pictures of New York City streetscapes, and activists such as the gay civil rights leader Bayard Rustin (whom McReynolds described as a mentor) and the pacifist AJ Muste.
He was also a member of the Bromeliad Society, an international botanical group, and filled his East Village apartment with tropical plants and hundreds of bottles of perfume, which he created himself and arranged on floor-to-ceiling shelves. Active in movements for civil rights and against the Korean War, McReynolds joined the War Resisters League in 1960 and was soon named field secretary. Alongside Norma Becker and Sidney Peck, he became a behind the scenes architect of the anti-Vietnam War movement, Cronin says, known for maintaining unity in a coalition that included members of the political left and right. "If you can bring together labour, teachers, students, folks from all walks of life, then you can turn the country. That's painstaking work," says Cronin, who met McReynolds while preparing for a 1982 nuclear disarmament rally that, by some estimates, drew a million people to Central Park. "It took somebody like David to bring people together and say, 'Look, let's keep the focus on what we want and not break up over trifles.'"
Among the league's most controversial actions was the burning of draft cards. McReynolds made national headlines when he appeared on a wooden platform in Manhattan's Union Square to burn his card on 6 November 1965, amid counterprotests from a group chanting "Drop dead, red". The burning was interrupted, The New York Times reported, when a man sprayed McReynolds and his fellow demonstrators with a fire extinguisher: "The pacifists managed to dry the cards over the flame of a cigarette lighter, however, and the cards burned crisply." At 36, McReynolds was the oldest member of the group.
Notable deaths in 2018 – in pictures

Show all 65
While the others were indicted on charges of defacing their cards (three were sentenced to six months in prison), McReynolds was left alone, reportedly because he was too old to be drafted. He went on to coordinate antiwar rallies across the country and twice met with dissident groups in Vietnam. According to A Saving Remnant, a biography of McReynolds, he was visiting Czechoslovakia when the Soviets invaded in 1968 to quash the Prague Spring. McReynolds, who said he was a socialist, not a communist, was able to return to the United States in time to run for a US House of Representatives seat that fall, with Black Panther leader Eldridge Cleaver's Peace and Freedom Party. As in 1958, during his first bid for Congress, he was crushed, receiving 5 per cent of the vote. Undaunted, he went on to run for president with the Socialist Party USA in 1980, on a platform that called for nuclear disarmament, the breakup of large corporations, and sharp reductions in military spending. "We have no illusions that we will win the presidential election," he said after a rally with his running mate Diane Drufenbrock, a nun.
"Our purpose is to make possible a discussion of socialism and to raise issues on foreign policy and unemployment." McReynolds received fewer than 7,000 votes. He ran once more, in 2000, and four years later mounted a Green Party campaign for the US Senate seat held by Democrat Charles Schumer. In part, he said, his electoral defeats could be chalked up to an imaging problem in a country where "socialism" has long been a dirty word. "One of the tragedies is that the things a socialist candidate will say are things that really could be said by a compassionate and moderately insightful Republican," he told The Progressive magazine in 2000. "If I say we should have much greater mass transit in the major cities, that we should be able to rebuild the railroad system so that Amtrak actually connects all the small towns, that's a reasonable thing. It's not a radical proposal."
David Ernest McReynolds was born in Los Angeles in 1929, one day after the Black Thursday stock market crash signalled the beginning of the Great Depression. He later described his leftward political turn as "probably a Freudian rebellion against my father", a journalist and advertising salesman for McGraw-Hill who served in the Air Force Reserve. At UCLA, where he received a bachelor's degree in 1953, he entered what he called a "cabal of radicalism", joining a group of young socialists who danced the hora, listened to Edith Piaf records and published a leftist newspaper on campus. He said he also had a "liberating" sexual encounter around that same time, with choreographer Alvin Ailey.
In 1969 McReynolds wrote an article for WIN, the War Resisters League magazine, that marked his "coming out" in professional life. But he said that he never identified as a gay rights advocate, and when running for president in 1980 decided that his identity as a socialist pacifist was "complex enough." He chose not to campaign as a "queer candidate", he told the Manhattan newspaper The Villager, but remained open about his sexuality. McReynolds moved to New York in 1956 and worked for the left-leaning magazine Liberation before joining the War Resisters League.
He later served as chairman of War Resisters' International, and formally retired from the league in 1999. In 2015 he resigned from the Socialist Party, after being censured for Facebook comments that the party deemed "potentially racist" and Islamophobic. (McReynolds said his remarks about the "thuggish" behaviour of Michael Brown, whose shooting sparked riots in Ferguson, Missouri, had been misunderstood, and said he was "absolutely opposed to efforts to demonise Muslims.")
He is survived by his brother and sister. In 2000, 25 years after the end of the Vietnam War, McReynolds told The New York Times he feared that the war and its accompanying protests had "sunk into a memory hole", and recalled that the period was a harrowing time for him as well as the country. He had turned from teetotalling to alcoholism, he said, but stopped drinking around the time the war ended. "From one point of view," he added, "it was a wonderful time – to feel that you were doing something, or that you shortened the war by one day, or saved one life on either side. To some extent, we did that."
David McReynolds, American socialist, born 25 October 1929, died 17 August 2018
© Washington Post
Register for free to continue reading
Registration is a free and easy way to support our truly independent journalism
By registering, you will also enjoy limited access to Premium articles, exclusive newsletters, commenting, and virtual events with our leading journalists
Already have an account? sign in
Join our new commenting forum
Join thought-provoking conversations, follow other Independent readers and see their replies