Denis Healey: Labour MP who served as Defence Secretary and Chancellor but was never truly embraced by his party
He was on Labour's front bench for 28 years, but the larger-than-life aspect of his personality disqualified him from occupying any such position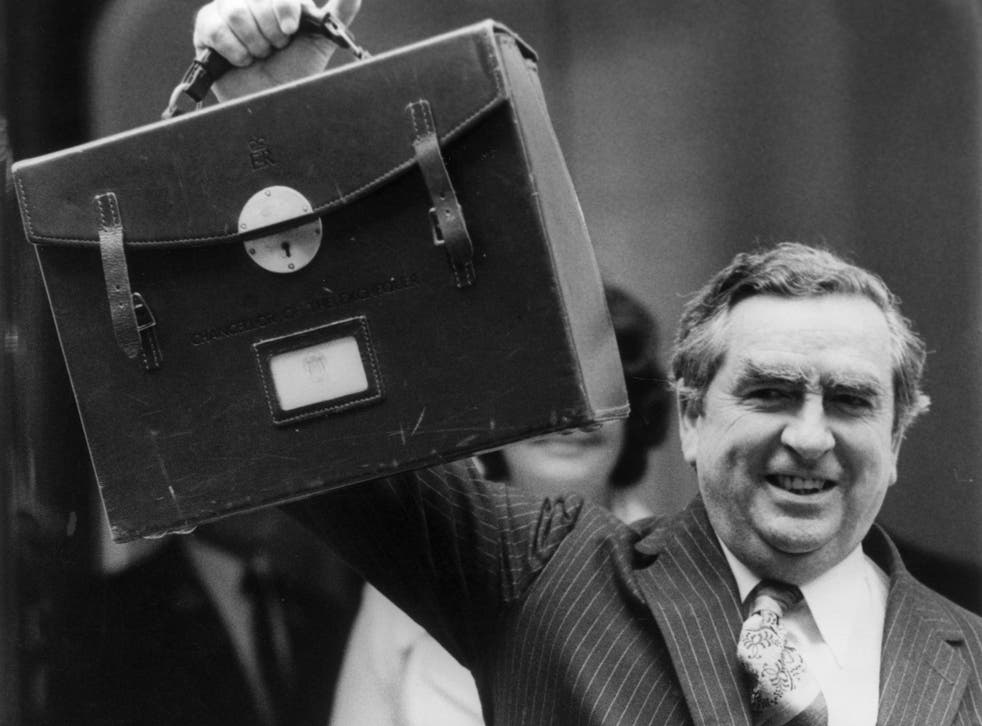 Although he never became Prime Minister or even leader of his party, Denis Healey was a political figure of exceptional weight and substance. He was on Labour's front bench for 28 years, but the larger-than-life aspect of his personality disqualified him from occupying any such position, even if he did sit in the House of Commons for nearly four decades.
He held only two government posts: Secretary of State for Defence for nearly six years and Chancellor of the Exchequer for more than five. If he was less successful as a politician than as an administrator, it was largely because his strategic grasp outreached his tactical sense. In this respect he was the exact converse of the first Labour Prime Minister in whose Cabinet he served, Harold Wilson. Their relationship, perhaps predictably, was never easy.
A bolder Prime Minister than Wilson would have made Healey Foreign Secretary when Labour returned to office in 1964. A veteran of countless seminars and conferences, he could claim an unrivalled expertise in foreign affairs, going back to the postwar years when he was international officer of the Labour Party. However, like most Prime Ministers, Wilson did not relish the prospect of having so experienced a colleague alongside him on the world stage.
It was a disappointment he bore with fortitude, concentrating on becoming the most effective Armed Services Minister since the days of Lord Haldane before the First World War. His intellectual ability ensured that he played an influential part in the counsels of the Nato alliance and, although disagreeing with the Americans over Vietnam, he soon established a close working relationship with the Pentagon – in particular with Robert McNamara, US Secretary of Defense from 1961-68.
If he had less success in influencing his own Cabinet, it was partly because of his tendency to operate, in his own phrase, "as a lone wolf." A domineering, presence within his own department, he entirely lacked the talents for accommodation, compromise and conciliation.
There may have been additional personal factors. In terms of academic ability, the Wilson Cabinet of 1964-70 was one of the ablest in modern British politics (at one stage it included eight Oxford Firsts). Never bashful about his intellectual attainments his cultural interests, Healey possessed an unfortunate capacity for rubbing fellow-ministers up the wrong way. Too often he gave the impression of seeking to put down his less gifted colleagues or, worse, of condescending to them.
The son of a South London engineer who became a technical college principal in Yorkshire, he had won his way by scholarships to Bradford Grammar School and Balliol College, Oxford, where he took a First in Greats in 1940. He served in the Second World War with the Royal Engineers, in North Africa, Sicily and Italy, and was landing officer for the British assault brigade at Anzio. He reached the rank of major and was made an MBE in 1945.
His horizons extended more widely than those of most politicians. Although he joined the Communist Party at Oxford his original ambitions were entirely aesthetic. He persuaded himself he could write the definitive work on the philosophy of art, an aspiration he only abandoned on going to work in Transport House in 1945, and he never lost his interest in painting, music poetry – or the modern detective novel (in which he could claim a knowledge almost worthy of a Mastermind contender).
It was not that anyone resented what Healey called his "hinterland"; it was just that many of his colleagues, not least those like Dick Crossman or Roy Jenkins, who could boast at least equal areas of culture and knowledge, felt that he tended to rather go on about it.
His rivalry with Roy Jenkins was one of the misfortunes to afflict Labour politics in the 1960s and early 1970s. Although they shared identical views (Europe apart) on most issues, they seldom made common cause on any of Labour's internal power battles. They had been undergraduates together at Balliol and it may be that Healey's embracing of the Communist Party while Jenkins was busy founding the Oxford Social Democratic Club, got their relationship off on the wrong foot.
When Wilson formed his government in 1964, Healey was the senior figure of the two – indeed, Jenkins, as Minister of Aviation, was not even in the Cabinet. But by the time that government fell in 1970, Jenkins, having served successfully as Home Secretary and Chancellor, had decisively overtaken his potential leadership rival. Labour's defeat meant that Healey had the consolation of becoming Shadow Foreign Secretary to Sir Alec Douglas-Home.
By now, however, Healey was so used to being a Man of Government that he found three and a half years of Opposition depressing. He discovered fulfilment for his energies largely in journalism, writing for Harold Evans's Sunday Times and reviving his freelance practice as a commentator for foreign publications.
The struggle which overshadowed Labour's time out of office – the debate over entry into Europe – did not reveal Healey to best advantage. He was accused of opportunism by pro- and anti-Europeans and he had changed his mind too often to carry much conviction. It was probably helpful that by the time the debate reached its climax he had moved to the Shadow Chancellorship. Even here, his injudicious statement that Labour would make "the rich howl with anguish" hardly smoothed his passage. As he was bitterly to recall in his memoirs, Roy Jenkins had made "a last-ditch attempt" to displace him as Chancellor in the 1974 government.
It did not take long for Healey to realise that he had been given something of a poisoned chalice. In his first year as Chancellor inflation touched 27 per cent, and Healey's dogged five-year tenure never really recovered. With Wilson opposed to any compulsory incomes policy, the only way forward was through negotiation and agreement with the unions; and, although there were some successes, not least with the £6 flat-rate offer of July 1975, by which the country's workforce generally abided, the pressures on sterling led to the bailing-out IMF loan of the end of 1976, with all the concomitant cuts in public expenditure. The months that preceded this denouement, with interest rates rising to a then unprecedented 15 per cent, Healey was later to describe as "the worst of my life."
It was characteristic that he should apply that description to a policy reverse rather than a personal rebuff. Earlier that year, on Wilson's sudden retirement from the Prime Ministership, he had, after some hesitation, thrown his hat into the ring to be his successor. In what was then a purely Parliamentary ballot, Healey attained only 30 votes, seven fewer than Tony Benn and only just over half Roy Jenkins' 57. It was a humiliating showing for a Chancellor, scarcely redeemed by a typically stubborn refusal to withdraw and the derisory reward of a mere eight extra votes in a second ballot where the only other candidates were Foot and Callaghan.
The PLP being the conservative institution it is, Callaghan's ultimate victory was probably inevitable. But in going for the safe choice – and in choosing a Prime Minister who was four years older than his predecessor – it could be argued that the party had deliberately sacrificed long-term prospects to short-term stability.
Callaghan's presence in No 10, however, brought a number of advantages to his Chancellor. He proved a much stronger advocate of a stern fiscal policy than Wilson and gave largely firm support to the Treasury. The result was that by the end of 1978 the IMF loan had been repaid and the country had begun to get back on its feet. But for the rash decision to postpone the election until 1979 – a decision for which his Chancellor shared responsibility – the Government would have been spared the breakdown of its 5 per cent pay "norm", Labour its bruising winter of discontent and Healey the final blow to his stewardship of the economy.
Whatever its failures and disappointments, Healey's Chancellorship had turned him into a national celebrity. He was helped by his lugubrious, distinctive voice (much imitated by Mike Yarwood, one of whose catchphrases, "Silly Billies", Healey eventually adopted) and by his trademark bristling eyebrows (which he was always prepared to exploit, whether sitting at the piano in a TV studio or playing Father Christmas at a children's party).
It remains inexplicable, therefore, that in the aftermath of its 1979 defeat in Labour did not immediately opt for a change of leadership, designed to bring its best-known figure to the fore. At that stage Healey would easily have overshadowed Margaret Thatcher, then very much a novice Prime Minister. (The relationship had been reversed by the time in 1983 he recklessly accused her of having "gloried in slaughter" during the Falklands War.)
By the time Callaghan announced his retirement in 1980, Labour's civil wars had broken out all over again. Identified as the candidate of the right wing, Healey forfeited the support not only of all those MPs who wanted peace at any price, but of some who, for largely kamikaze reasons, were determined to bring about a split. In that sort of death-wish mood the result was pre-ordained. Healey lost to Foot by 10 votes and the party's suicide squad went off to found the SDP.
It was not Healey's finest hour. Detecting the defeatist atmosphere but uncertain what to do about it, he adopted, for once, an emollient stance that failed to rally his friends or placate his enemies. He loyally accepted the deputy leadership and spent three miserable and unrewarding years trying to make sense out of policies which he knew were intellectually threadbare. It was not an inspiring display, and the only reward he got was to be blamed for helping to lose the 1983 election.
It is arguable, however, that Healey's greatest service to his party was given during precisely these three dispiriting and demanding years. Had he defected to the SDP, the whole mould of British politics might have been broken. As it was he stayed and fought his corner. For six months in 1981 he even had to contend with a challenge from Tony Benn, who pursued a relentless (and almost successful) campaign to dislodge him from the deputy leadership.
In the end, Healey voluntarily gave up that position, at the same time as Foot resigned the leadership after the election in 1983. He stayed on as Foreign Affairs spokesman for four years but after Neil Kinnock's 1987 defeat retired to the back benches. In 1992 he entered the House of Lords as Baron Healey of Riddlesden in the County of West Yorkshire. While he made occasional speeches in the Lords, he never played as active a part there as his two Cabinet contemporaries, Jenkins and Callaghan. He remained, though, a visible presence on the periphery of politics, appearing on the more serious television current affairs programmes and contributing pungent articles to the press. In these pieces, after Labour was elected in 1997, he became a sharp critic of the Blair Government, in particular its foreign policy.
Healey had been an opponent of the first Gulf War of 1991 and, although his more apocalyptic forecasts as to its likely consequences were never fulfilled, that did not inhibit him from returning to the charge with redoubled vigour over the invasion of Iraq in 2004. If his criticisms failed to carry the impact that might have been expected, it was no doubt partly because Healey had never enjoyed much of a place in New Labour's hall of fame.
By the time of the Millennium, Healey had virtually retired from public life. Although for some years they retained a flat in London he and his wife Edna – whom he had met at Oxford and married in 1945 – had by the 1990s begun to make their main home in the picture postcard village of Alfriston in East Sussex. There they both wrote, his own output originating with a not particularly satisfactory work on photography, Healey's Eye (1980), and going on to include such solipsistic titles as Denis Healey's Yorkshire Dales (1995) and even Healey's World (2002).
Although he enjoyed one major success with his memoirs published while he was still an MP, the truth was that his wife (an established biographer) was the better writer, something he tacitly acknowledged by playing the part of supporting player. Cheerfully sharing platforms with her at literary festivals, he never appeared to mind acting as her feed-man, even if the showman in him could not prevent proceedings sometimes ending up with his blowing kisses to the audience.
Few contemporary politicians have had more distinguished careers and none more disappointing. As a genuine heavyweight intellectual, with all the arrogance that often accompanies outstanding ability, for the Labour Party Denis Healey was always a man of inconvenient merit. He could easily have become an eminent international civil servant – he was twice offered the Secretary-Generalship of Nato and was approached about taking over as Managing Director of the International Monetary Fund – but always preferred to work in the democratic vineyard.
He may never have been a politician's politician, but he at least enjoyed the reward of ending up as the public's idea of what a politician should be. When his autobiography The Time of My Life was published in 1989, it broke records for a political book, eventually selling some 70,000 copies in hardback alone. For Healey, the knowledge that his popularity rested secure in the hearts of the British people must have made up for much.
Denis Winston Healey, politician: born Mottingham, Kent 30 August 1917; MBE 1945; cr, 1992 Life Peer, of Riddlesden in the County of West Yorkshire married 1945 Edna May Edmunds (died 2010; two daughters, one son); died 3 October 2015.
Anthony Howard died in 2010. This obituary has been updated.
Register for free to continue reading
Registration is a free and easy way to support our truly independent journalism
By registering, you will also enjoy limited access to Premium articles, exclusive newsletters, commenting, and virtual events with our leading journalists
Already have an account? sign in
Register for free to continue reading
Registration is a free and easy way to support our truly independent journalism
By registering, you will also enjoy limited access to Premium articles, exclusive newsletters, commenting, and virtual events with our leading journalists
Already have an account? sign in
Join our new commenting forum
Join thought-provoking conversations, follow other Independent readers and see their replies