Denise Johnson: Pioneering soul and dance singer with Primal Scream
After learning the basics from her mother's records, the artist became one of the leading voices of the 'Madchester' era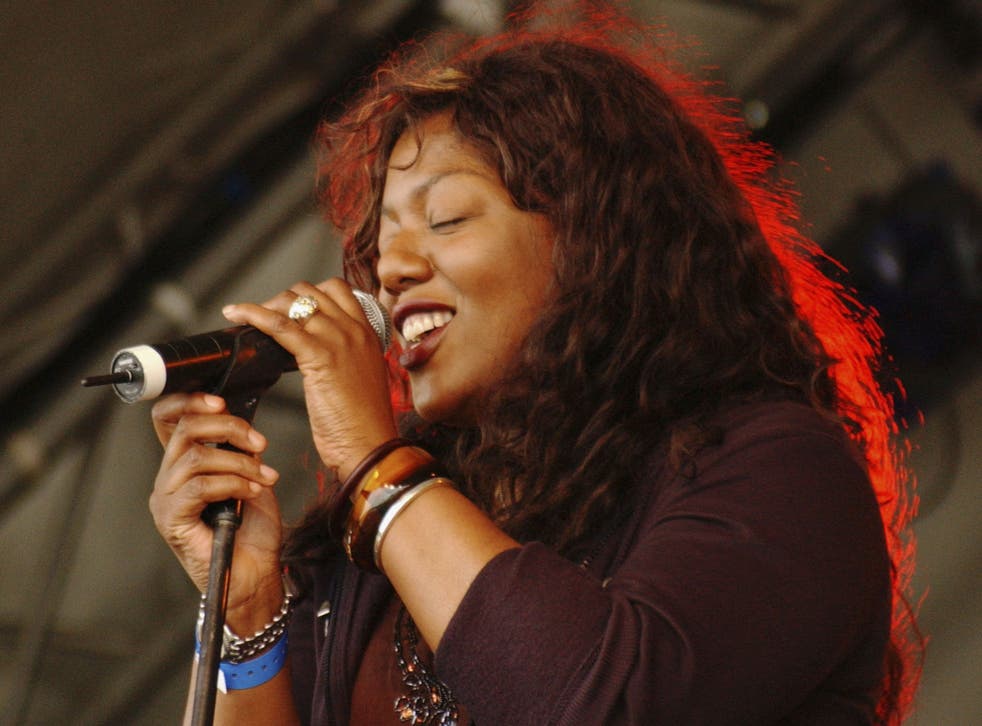 Denise Johnson's love affair with music began in an unorthodox way: through a fascination with yodelling. Her childhood home may have pulsed with her Jamaican mother's reggae and soul records, but the first album she remembered was The Sound of Music soundtrack. In an interview with Louder than War in 2018, she said the song which intrigued her most as a kid was "The Lonely Goatherd".
Johnson, who has died aged 56, was born in Hulme, a post-industrial working-class ward of Manchester, growing up near the Epping Walk bridge. In 1979, an internationally renowned rock photographer used the bridge as the setting for a series of photos for NME, of a still relatively unknown band called Joy Division. Like London's Abbey Road, the bridge became a beacon for music lovers and tourists alike. Upon hearing of Johnson's death, the Salford band's drummer Stephen Morris paid tribute to the singer, calling her "an absolutely beautiful lady".
In fact, it was Johnson's beauty that kickstarted her career. At an early fashion show gig at the legendary Manchester club The Ritz, she was "taking the piss" with another girl and wandered over to the band onstage who told her that auditions were being held for a singer. The manager said: "If you sing half as good as you look, you're in!"
But Johnson had never had a singing lesson. She taught herself from her mother's records – Gladys Knight, Diana Ross, Simon & Garfunkel – and adored top 40 pop music, which then comprised everything from punk to funk. The manager gave her two weeks to learn two Sister Sledge songs. Johnson was up against one other woman – seemingly a professional artist. Johnson was terrified, and let her go first. "I watched her perform with the band behind her and thought, f***…"
Afterwards, Johnson shuffled on to the stage, wearing a fluff-covered jumper in which she often slept. She told Product Magazine that the other woman auditioning "looked like the love-child of Tina Turner, and here was me, looking like a tramp, trying to sing 'Lost in Music' and 'We Are Family'."
Convinced she had blown the audition, she tried to sneak out. But the manager stopped her and said: "Where are you going? You've got it!"
During the late Eighties, Johnson would learn how to perform on stage with microphones, singing in various cover bands and as part of a cabaret act, from which she said she was fired for being "too opinionated". In 1989, she joined Fifth of Heaven, who were supporting the American soul band Maze and Frankie Beverly on their UK tour. Her first gig was the very first night of the tour, at Wembley Arena.
Bernard Sumner, of New Order, asked Johnson to record some vocals for ex-Smiths guitarist Johnny Marr, on "Get the Message" which united Marr and Sumner into dance group Electronic. At the studio, Johnson met Tony Martin, who asked her to sing on a track for his rave band Hypnotone.
When Hypnotone were signed to Creation Records, Martin began doing programming for rock band Primal Scream. Bobby Gillespie wasn't convinced he could pull off the vocals for their new song and Martin suggested Johnson. The band came to watch Hypnotone perform with Johnson and, as the story goes, guitarist Andrew Innes rang Gillespie and said: "Get down here now, we've found the f***ing singer."
And that is how Johnson ended up singing on Primal Scream's "Don't Fight It, Feel It". (The song's producer, Andrew Weatherall, also died this year.) She lent her voice to the 1991 album Screamadelica, but when the band asked her to tour with them, she said no six times. However, it was seventh time lucky, and what followed were five "truly magical, hair-tearing out, raucous years".
Recording with Primal Scream, she remembered, was like going for a night out with a bit of singing in between. Gigs didn't always go to plan – one night in Amsterdam, the band were having an argument when a tour bus parked outside the venue and a man stepped out "with a lady on each arm". It was the Godfather of Soul: James Brown.
Johnson became one of the black vocal pioneers of the hedonistic "Madchester" music scene of the late Eighties and early Nineties. In recent years, she performed with post-punk group A Certain Ratio. Her only criteria for what she sang was: did it make her feel something?
Johnson was a wittily scathing Twitter personality, commenting on politics and music with abandon. Just days before her death, she tweeted about the upcoming release of her debut acoustic album, Where Does It Go, on 25 September. It comprises covers of songs by Manchester bands like The Smiths and New Order, but was originally supposed to feature only songs by Mancunian female artists. Unfortunately, she said, "I couldn't find any."
It was also Twitter where the news of her death broke, on 27 July. Her cause of death remains undisclosed, but a statement issued by her family said she had "died suddenly" after a short illness. She had been found that morning, holding her inhaler.
Primal Scream's bassist, Simone Marie Butler, wrote: "Very sad news... love and prayers to Denise's family and loved ones. Rest in Power Denise Johnson."
Denise Johnson, singer, born 31 July 1963, died 27 July 2020
Register for free to continue reading
Registration is a free and easy way to support our truly independent journalism
By registering, you will also enjoy limited access to Premium articles, exclusive newsletters, commenting, and virtual events with our leading journalists
Already have an account? sign in
Register for free to continue reading
Registration is a free and easy way to support our truly independent journalism
By registering, you will also enjoy limited access to Premium articles, exclusive newsletters, commenting, and virtual events with our leading journalists
Already have an account? sign in
Join our new commenting forum
Join thought-provoking conversations, follow other Independent readers and see their replies