Dennis Farina: Actor whose years as a Chicago cop gave his work the pungency of real life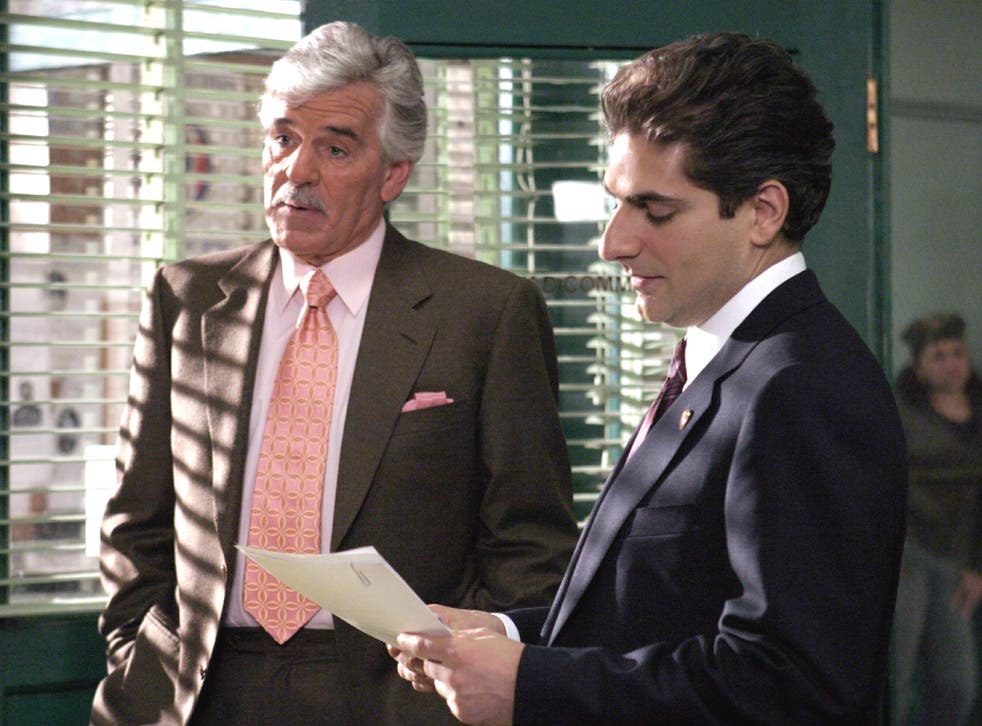 Dennis Farina was a Chicago policeman who moonlighted as an actor for the comparatively easy money but quickly became an acclaimed staple of crime dramas and comedies, playing characters on both sides of the law. With his silver hair, craggy face, well-tended moustache and flattened Chicago vowels, Farina, who has died of a blood clot on a lung, became one of the most readily identified supporting performers of the past 30 years. He appeared in dozens of films, from big-budget productions to independents.
Farina had little formal training and relied on a raw, Rat Pack charisma that could be smooth one minute, explosive the next. He could play dumb, wily, dapper and intimidating with equal ease. Barry Sonnenfeld, who directed Farina as a heavily bandaged mob boss in the 1995 gangster caper Get Shorty, regarded him as a master of the expletive. "No one can say the F-word like Dennis," Sonnenfeld once said.
As a ruthless mob boss in the chase comedy Midnight Run (1988), Farina more than kept up with far more experienced actors such as Robert De Niro and Charles Grodin. The Los Angeles Times film critic singled out Farina for his "frighteningly convincing brutality." But like most of Farina's characters, the mob boss had a sarcastic streak. Phoning one of his less-than-effective henchmen, he barks: "Is this Moron No 1? Put Moron No 2 on the phone."
As Jennifer Lopez's concerned father in Out of Sight (1998), Farina was an easy-going retired cop with old-school habits and a wise guy wit. He asks his daughter's clueless boyfriend, who is wearing a T-shirt emblazoned with the initials FBI, "Do you ever wear one that says 'Undercover'?"
Hes was in his late thirties working in the burglary division of the Chicago police when a chance encounter with the director Michael Mann launched his acting career. Mann cast him as a thug in Thief (1981), and he remained part of Mann's unofficial repertory company. They worked together on the serial-killer thriller Manhunter (1986) – the first screen appearance of Hannibal Lecter, played by Brian Cox – with Farina playing an FBI agent.
He won a rare leading role in Mann's TV series Crime Story, a moody police drama that aired on NBC from 1986 to 1988 and starred Farina as a Chicago cop chasing a gangster in the 1960s. More recently, Mann cast Farina in the HBO horse-racing drama Luck as a bodyguard and adviser to an ex-con played by Dustin Hoffman. The series was cancelled after a few episodes after a third horse had died during filming.
From 2004 to 2006 Farina starred in NBC's Law & Order, one of the most successful franchises in television history, as Joe Fontana , a New York detective who favours camel's hair overcoats and slips past suspicious landlords with the officious-sounding line, "Don't worry — we're authorised." He credited his convincing delivery to his 18 years as a policeman. "I got to meet all kinds of people in that job," he recalled. "I'd see maybe 10-20 personalities a day, so I learned how to read people and handle them."
He was born in 1944, the youngest of seven children of Italian immigrants. His father had begun life in the US picking sugar cane in Louisiana before becoming a neighbourhood doctor in Chicago, where Dennis was born.
Growing up, he professed no great interest in the arts. "I think my high-school acting career lasted a day," he recalled. "Myself and this other guy, we'd signed on for the play because there were some cute girls in it. But we started fooling around and were asked to leave during the quote-unquote rehearsals."
After high school graduation, he served in the Army for three years before joining the Chicago police. He joked that his aim was so bad that he was nicknamed "The Great Wounder", but he otherwise disliked talking about his law-enforcement career.
A retired Chicago policeman, Charlie Adamson, was serving as a technical adviser for Mann on Thief when he called Farina. "Michael was looking for a couple of rough, ugly guys to play henchmen," Adamson said, "and I was like, 'I got just the guy.' I called Dennis and said, 'You gotta get down here.'" Farina thought of it as "a fun sideline, a good chance to pick up a few bucks."
He was often typecast in crime and detective films, including the Bruce Willis film Striking Distance (1993) and Guy Ritchie's gangster story Snatch (2000). But he also had a small role as a military officer in Steven Spielberg's Saving Private Ryan (1998) and starred with Bette Midler as ex-spouses at their daughter's wedding in Carl Reiner's comedy That Old Feeling (1997). He played a comically frustrated hit man in Barry Sonnenfeld's Big Trouble (2002), based on a book by the columnist Dave Barry. Farina received strong reviews in the low-budget 2011 drama The Last Rites of Joe May, playing a low-level street hustler.
In 2008 there was embarrassment for Farina when he was arrested for carrying a loaded and unregistered pistol through security at Los Angeles International Airport, Claiming he had forgotten it was in his bag, he was eventually sentenced to two years' probation.
He would grow visibly irritated when journalists tried to entice him to expound on the psyche of a particular role. He said he preferred to get in character based on what he thought the person would wear, such as a kimono or a pink sports coat or a pinkie ring. "Acting, sometimes I think the whole thing's a little overthought, overworked," he said. "I don't know, maybe it's because I'm just not that deep. And I always play a certain kind of guy — which is fine, I can't help what I look like or what I've done or where I've been. But maybe there's something to be said for that, too. I mean, I'm lousy at that kind of analysis. But before you actually become an actor, you know, maybe there's something to be said for having lived a life."
Dennis Farina, actor: born Chicago 29 February 1944; married 1970 Patricia (divorced 1980; three sons), partner to Marianne Cahill; died Scottsdale, Arizona 22 July 2013.
Join our new commenting forum
Join thought-provoking conversations, follow other Independent readers and see their replies