Derek Jameson: Fleet Street veteran and broadcaster who edited three tabloid newspapers
Thursday 13 September 2012 21:47 BST
Comments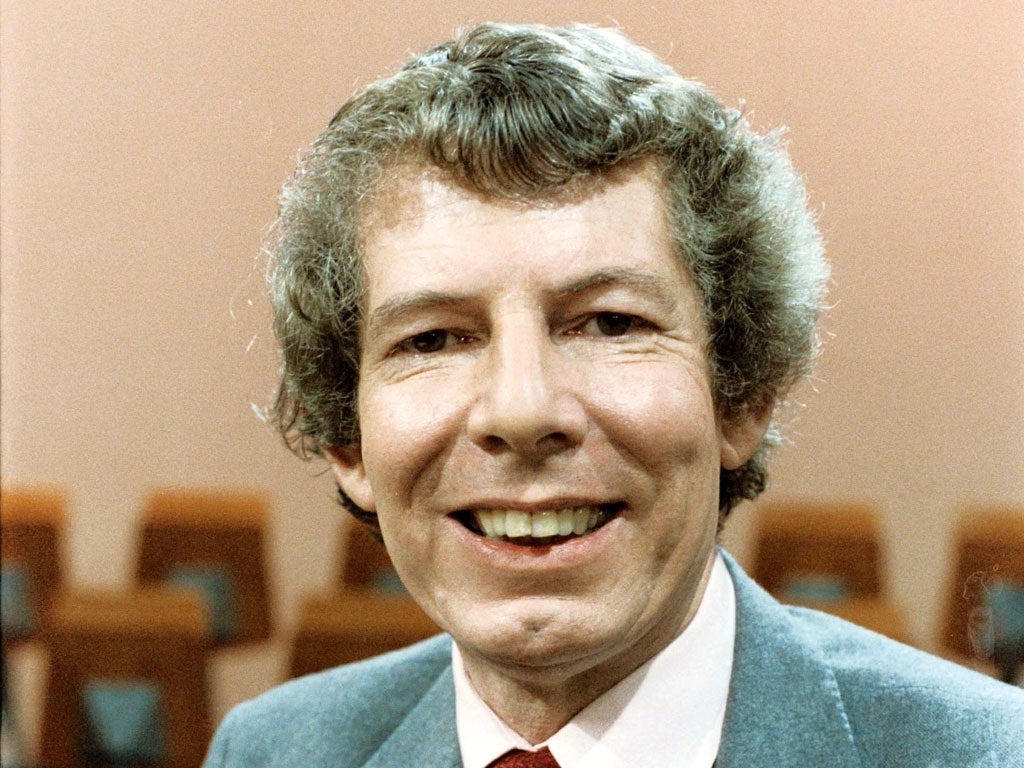 There was a time when nearly all Fleet Street tabloid editors were cast in Derek Jameson's mould: likely lads who left school in their mid-teens and worked their way up through menial jobs in the newsroom. Today their successors mostly have university degrees, smooth social skills and are indistinguishable from – indeed, sometimes interchangeable with – their opposite numbers on the more sober titles.
Jameson's pronounced east London accent and gorblimey manner were his stock-in-trade, standing him in good stead in a successful second career as a broadcaster after his newspaper days had drawn, somewhat prematurely, to a close. Auberon Waugh once wrote that to ignore his cockney accent would be an insult to him, "like ignoring a man who arrives at a party in a false nose".
In Last of the Hot Metal Men, the second of his two autobiographies, Jameson defined the self-image that he liked to project: "Me, I'm just an ordinary bloke. Nothing special." Yet he did not necessarily believe it. Genial and garrulous, he was a highly talented newspaper executive and technician.
Born in Hackney in 1929, he was, in his own words "a slum kid of dubious parentage who had grown up in a home for waifs and strays". He was evacuated from London for part of the Second World War and during his relatively brief time at school a perceptive teacher detected a talent for writing. At 13 he won a national essay competition and the following year found a job as a messenger for Reuters in Fleet Street, a thoroughfare that he soon came to regard as his spiritual home.
After two years he was made a trainee reporter and rose quickly to be chief sub-editor by the time he left in 1960. The following year he was recruited by the Daily Express to join its large stable of feature writers. In 1963 he moved to the Sunday Mirror as picture editor, beginning an association with the Mirror Group that culminated in his appointment as managing editor of the Daily Mirror in 1976.
The popular newspaper market had been turned upside-down by Rupert Murdoch's purchase of The Sun in 1969. It took just seven years for the brash tabloid to overtake the Mirror as the country's biggest-selling newspaper. But the paper in deepest trouble was the Daily Express, whose circulation had been falling, under a rapidly-changing cast of editors, since the death in 1964 of Lord Beaverbrook, its charismatic proprietor.
In 1977 Beaverbrook's son, Max Aitken, sold the Express Group to Trafalgar House, a shipping and property conglomerate run by Victor Matthews – like Jameson, a self-made man from a poor London background. Introduced to Jameson by a senior colleague, Matthews took to him and appointed him editor of the Express.
The paper had been turned into a tabloid shortly before he took over, but the change of shape had not been accompanied by a change of approach. Jameson felt it should be competing against the Mirror and Sun rather than its traditional rival, the Daily Mail. To this end he introduced larger type for the front page headlines, more celebrity gossip and glamour pictures. Circulation went up to more than two million.
Then in 1978 Matthews had the idea of launching another tabloid, the Daily Star. Based in Manchester, it would be aimed at the bottom end of the market, below the Express and Mirror and even below The Sun, whose Page Three lovelies it would emulate. (In an interview shortly before his new project made its debut, Matthews said that of course it was not the kind of paper he would ever have around his house.)
Jameson masterminded the launch of the Star as editor-in-chief, while continuing to edit the Express. He persuaded Matthews, a staunch Conservative, that the new paper would have better prospects if, unlike the Express, it came out in support of Labour. Initially the Star was a success, chiefly because it was the first British paper to introduce a Bingo promotion – quickly taken up by The Sun and even The Times.
Essentially, Jameson was editing two papers at the same time, and the Express suffered. Matthews insisted he stay with the Star and appointed someone else to edit the Express. It was not what Jameson wanted, so he resigned in 1980. For a year he tried to make a living from media appearances until he was approached by Rupert Murdoch and appointed editor of the News of the World.
He lasted little more than two years, being summarily dismissed early in 1984, apparently because he published a story suggesting that Harold Holt, the Australian Prime Minister who disappeared from a beach in 1956, had been a communist spy. He did not know that the Holts and the Murdochs had been close friends.
For a man steeped in the rough and tumble of Fleet Street, Jameson was surprisingly sensitive, especially when people made fun of his origins. This cost him dear when, in 1984, after losing his job at the News of the World, he began libel proceedings against the BBC for remarks in Radio 4's satirical programme, Week Ending. Criticising what they saw as the crude populism of his journalism, the programme described him "an East End boy made bad". He lost the case and had to pay costs of £75,000, his life savings.
Radio and television restored his fortunes. After several bookings on Granada's What the Papers Say he fronted, with great success, a BBC2 series, Do They Mean Us?, looking at how overseas media covered stories about Britain. But his big break came on radio, when in 1986 he was made host of Radio 2's breakfast programme, overseeing a dramatic increase in audience figures. In 1992 he was switched to a late night show, The Jamesons, which he co-presented with his third wife, Ellen, for the next five years.
His last television appearance was at the end of 2010, in The Young Ones on BBC1 – six celebrities in their 70s and 80s coming together to relive their salad days. He died after a heart attack at his home in Worthing, Sussex.
In his book he asked for his ashes to be scattered in what he found, in its heyday "the most exciting place on earth" – Fleet Street, now quite abandoned by the newspapers that once gave it life. "Who knows, the breeze might carry my mortal remains to an unseen crevice, some forgotten ledge, where my spirit will again hear those laughing voices in the night."
Michael Leapman
Derek Jameson, journalist and broadcaster: born London 29 November 1929; married 1948 Jacqueline Sinclair (divorced 1966; one son, one daughter), 1971 Pauline Tomlin (divorced 1978; two sons), 1988 Ellen Petrie; died Worthing, Sussex 12 September 2012.
Join our commenting forum
Join thought-provoking conversations, follow other Independent readers and see their replies