Derek Walker: Mountaineer and Climbers' Club president who helped overhaul the sport
Thursday 31 January 2013 21:30 Comments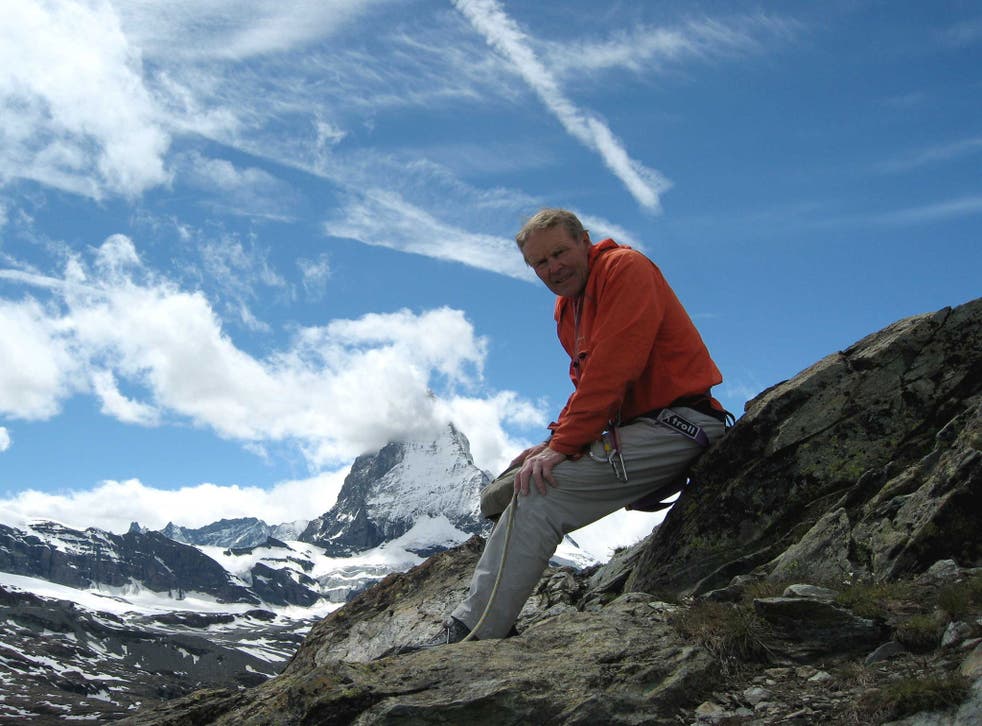 That mountaineering should have its own bureaucracy seems almost counterintuitive. Climbers like to think of themselves as an anarchic bunch, and plenty of them are. Trying to get them to speak with a common voice on issues such as access to mountains or the ethics of drilling bolts into crags to make climbing "safer" is like herding cats.
Into this Babel of strong opinions in 1989 came Derek Walker, a history teacher looking for a career change and a chance to serve the sport he loved. Over the next six years, as general secretary of the British Mountaineering Council, Walker oversaw a major reform of climbing's representative body, enhancing its professionalism as mountaineering moved towards mainstream popularity. Sir Chris Bonington, the BMC president at the time, had no doubts about the council's choice. "Derek was immensely good at getting people to work together. As a general secretary, he was absolutely perfect. It is quite a political role, yet he never had an enemy."
What impressed all who knew Walker was his enthusiasm for the climbing game. Last September, aged 76 and only three months before he was diagnosed with pancreatic cancer, he was getting to grips with the steep limestone of the Italian Dolomites.
Walker was born in Widnes, Cheshire, where his father was a copper refiner. He went to Merchant Taylors' School, Crosby and later to Bristol University to study history. Between came National Service and his discovery of climbing with the RAF Mountain Rescue in North Wales.
At Bristol he became president of the university mountaineering club and made many friends, among them Hugh Banner, one of the leading rock climbers of the 1950s. Three decades later the pair teamed up to climb a route called, after its creators, the "Philipp-Flamm", one of the great test pieces of the Dolomites.
Between Bristol and the Philipp-Flamm, Walker had travelled far. In 1960 he was on the first British expedition to Cordillera del Paine, a spectacular range on the edge of the Patagonia icecap with some of the wildest weather in the world. On that first exploratory visit, the expedition leader Peter Henry was drowned in a storm on a fjord en route to base camp.
Two years later Walker returned to the same range with a high-powered team including Chris Bonington and the tough Mancunian Don Whillans. After weeks of storm-battering, Sir Chris and Whillans made the first ascent of the Central Tower of Paine (2460m) while Walker and Ian Clough made the third ascent of the neighbouring North Tower (2250m).
Following graduation, Walker taught briefly at Lymm Grammar School. However the uttermost south had captivated him and he took up the post of Head of the British School in Punta Arenas. With him was his young wife, Hilary Booth. The Paine range was now on Walker's rugged doorstep, and in 1967-68 he took part in another British expedition that made the first ascent of the Fortress (c.2755m), a giant monolithic wedge of granite.
Walker's enduring friendship with Don Whillans says a lot about his generous character. Whillans could be caustic, his nickname "the Villain" not wholly undeserved. Together on a grey day in 1962 they climbed Carnivore, a route with all the bite of its name on Creag a'Bhancair in the Highlands, Whillans leading the first ascent of its direct finish. The climb remained etched in Walker's memory: "Each pitch was hard and the last pitch quite desperate. Don shot up to the overhang, put in a peg and stormed the vicious crack to gain the rain-swept final slabs. I followed with considerable help from above."
In 1970 the Walkers returned to live in Cheshire. Derek took up a post at Helsby High School, teaching history, and the family settled in Frodsham – a sandstone crag within walking distance, and another, Helsby, only a short drive away. Derek was a careful climber, proceeding cautiously, rather than with the muscularity of a Whillans. It was an economic style that enabled him to climb at a respectable grade well into mature years.
Walker became increasingly involved in club committee business, eventually serving as president of the prestigious Climbers' Club (1984-87) and as a vice-president of the BMC. It was while serving in this VP role in 1988 that he heard of the coming vacancy at the council's Manchester headquarters, and in August the next year succeeded Dennis Gray as general secretary.
The BMC in the late 1980s was going through a sticky patch. Its credibility with climbers and, as importantly, the funding Sports Council, had been damaged by its involvement – albeit without impropriety – in a bogus training scheme in Brazil. Even with the Sports Council grant the financial state of the BMC was "precarious".
Walker said: "The key was to improve our credibility, reinforce the element of trust in the organisation, launch a more professional advertising and marketing campaign to gain more members and sell more BMC insurance and services." And under him the BMC did just that. He oversaw the move of its expanded staff to new offices in a converted church at West Didsbury and the settling of BMC policies on issues such as competitions and bolt-protected climbing.
Between 1989 and 1994, the number of individual BMC members doubled to 10,000 and the number of affiliated clubs increased from 260 to 312.
After standing down as general secretary in 1995, Walker adapted to the role of elder statesman - he was elected president of the BMC in 1999 and a vice-president of the Alpine Club in 2003 - while climbing and trekking across the globe. He also joined a select group of veteran climbers sharing in a new routing boom around Tafraoute in the Moroccan Anti-Atlas. Making almost annual visits with the likes of Claude Davies, who he had climbed with in North Wales back in the 1950s, Bonington, Joe Brown and Trevor Jones, Walker was in his element, essaying new routes on unexplored crags by day and swapping stories into the evening.
Stephen Goodwin
Derek Walker, climber, teacher and administrator: born Widnes, Cheshire 18 October 1936, General Secretary, British Mountaineering Council 1989-95; married 1964 Hilary Booth (two daughters); died Chester 20 January 2013.
Register for free to continue reading
Registration is a free and easy way to support our truly independent journalism
By registering, you will also enjoy limited access to Premium articles, exclusive newsletters, commenting, and virtual events with our leading journalists
Already have an account? sign in
Join our new commenting forum
Join thought-provoking conversations, follow other Independent readers and see their replies