Diet Eman: Dutch resistance fighter who saved many lives in the Second World War
She hid Jewish people from the Nazis and bluffed her own way out of a concentration camp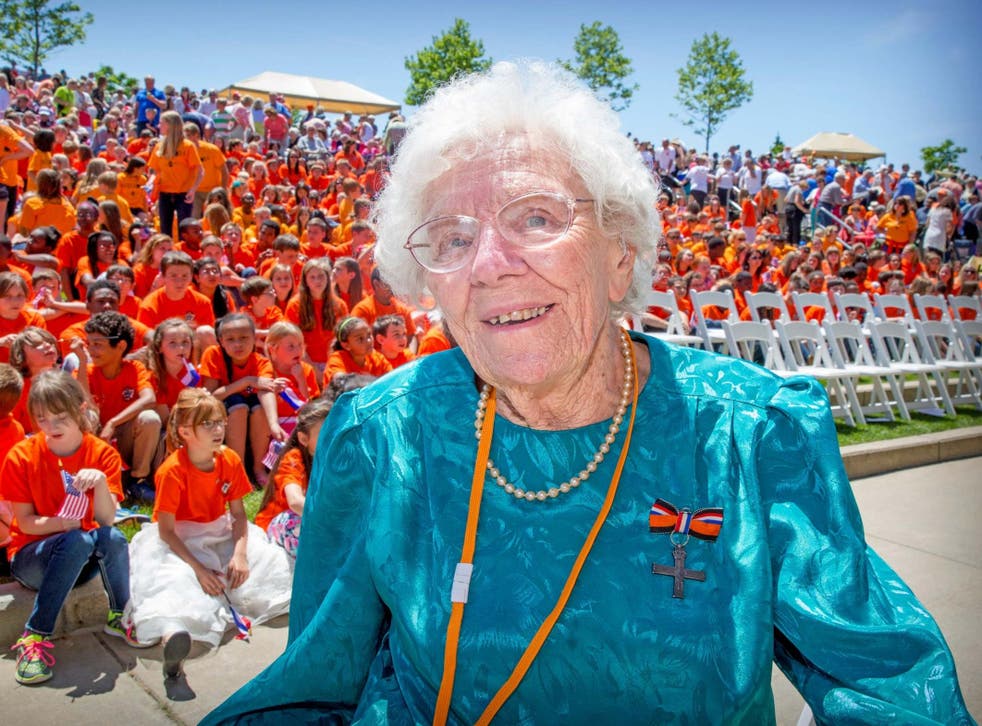 "Miracles still happen, even if we don't think they do," wrote Diet Eman in her memoir Things We Couldn't Say about her war experiences. As a member of the Dutch resistance, Eman – who has died aged 99 – organised shelter for Jewish people, supplying false IDs and ration cards, and even managed to bluff her way out of a concentration camp.
She born Berendina Roelofina Hendrika Eman in The Hague (Diet, pronounced Deet, was her nickname). She was the third child of four. Her father ran an interior decorating business. Raised as a Protestant, she grew up to be a devout Christian.
At 17 Eman left school to work in a bank. War was already on the horizon. She was 20 when Hitler's forces invaded the Netherlands in 1940, and she lost her brother-in-law on the first day of the invasion. Together with her fiance, Hein Sietsma, Eman immediately joined the resistance. Their group was called Group Hein, not after her fiance but an acronym for "help elkander in nood" (helping each other in need).
At first, Eman and Sietsma concentrated on disseminating information gleaned from banned BBC broadcasts, but as the war progressed and the Nazis introduced antisemitic laws, Eman knew she had to take bigger risks. She first helped a Jewish friend and co-worker, named Herman, to find a hiding place, so that he could avoid "relocation" to a concentration camp. Over the next few years, she would help at least 60 such individuals find safe houses. Eman supplied false ID papers and carried messages between the hidden and their families. She laundered money and at one point robbed a government office for ration cards – though not without praying for the success of her endeavour first. As the war continued, she also helped Allied pilots downed over the Netherlands.
It wasn't long before Eman's efforts drew the attention of the Gestapo. Knowing that her identity had been discovered, she left the city and hid for a while on a dairy farm, continuing her work from there under a new name, Willie van Daalen.
When her fiance was arrested in April 1944, Eman changed identity again, masquerading as a housemaid. Shortly afterwards, her papers were found to be forged during a routine check on a train. She was arrested and taken to the concentration camp at Vught.
There she was set to work in the laundry, cleaning the clothes of executed civilians. The gruesome task precipitated a breakdown. However, at her trial Eman was able to keep up the ruse that she was just a maid and she was released. Despite the trauma of her incarceration, Eman continued to work for the resistance until the end of the war. Sietsma died in Dachau.
When the war was over, Eman left the Netherlands, moving to Venezuela where she worked as a nurse. She married American Egon Erlich and they moved to Grand Rapids, Michigan, and had two children. In her later years, Eman volunteered at a health clinic for the uninsured.
Although as early as 1946 she had been praised by General Dwight D Eisenhower (later US president), Eman did not talk in public about her resistance involvement until 1978, when she addressed a Suffering and Survival convention, and was subsequently persuaded to write her memoir.
Eman also spoke on German television and soon her wartime work was being commended internationally. Israel's Holocaust memorial, Yad Vashem, recognised her effort with the Righteous Among Nations Award in 1998 and she was honoured by the Red Cross in 2010.
Despite all she lived through in her youth, Eman made peace with her Nazi persecutors by drawing on the faith that had sustained her during her time in a concentration camp. "The greatest miracle was that in the end I could actually feel pity for those men because they were so deluded: they thought they had power and really they had nothing. I will never forget it. And from that moment on I've never really hated anymore. It all turned around when I sat there thinking what poor empty souls they were."
In the words of Eman's beloved Sietsma, in his final letter to her, written on a piece of toilet paper which he threw from the window of the train taking him to a Nazi camp: "Omnia vincit amor" (Love conquers all).
Eman is survived by two children.
Diet Eman, Dutch resistance fighter, born 30 April 1920, died 3 September 2019
Join our new commenting forum
Join thought-provoking conversations, follow other Independent readers and see their replies