DJ Fontana: Drummer who was the driving beat behind Elvis Presley
The drummer may have stayed hidden behind a curtain during his first live performance with The King, but for 14 years he played a vital role in the worldwide rock'n'roll explosion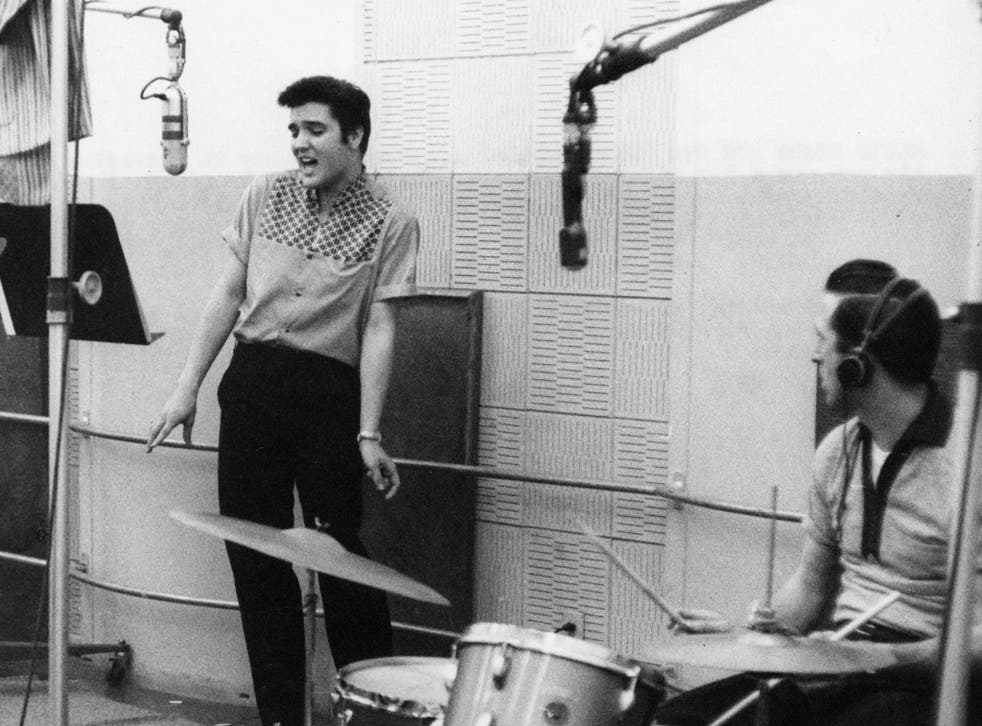 Ask how rock'n'roll began and you can become mired in intractable debates about "race music", country boogie or jump blues, Big Joe Turner, Chuck Berry and Bill Haley. But if you ask how Elvis Presley's status as "king" of the genre started, there's a precise time and place. And not only was DJ Fontana there, he was an integral figure.
It was October 1954 and Fontana, having served in the US Army during the Korean War, was the staff drummer on the Louisiana Hayride, a country music programme which went out on TV and radio to 28 states from his home city of Shreveport. He had taught himself by listening to Buddy Rich and Gene Krupa records and also worked on the strip-joint circuit.
Presley, 19, came to play the Hayride, with himself on rhythm guitar, Scotty Moore on lead guitar and Bill Black on upright bass. Billed as the Blue Moon Boys, they performed rockabilly, a fusion of white country music and black rhythm & blues.
Moore suggested they use Fontana to firm up the beat. Presley liked the idea but because of the perception that country and western audiences disliked drums, Fontana stayed hidden behind a curtain as the band tore through "Blue Moon of Kentucky" and "That's All Right".
In the history of pop and rock, it was an epoch-making moment to rank with the meeting of the teenaged Lennon and McCartney at a church fete three years later. Levon Helm, the late drummer and singer with The Band, said: "Elvis, Scotty and Bill were making good music, but it wasn't rock'n'roll until DJ put the backbeat into it."
Fontana, who died in his sleep in Nashville at the age of 87, was hired permanently by Presley in 1955 after the giant RCA company bought Presley's contract from Sun Records in Memphis. In his later years he enthralled Elvis conventions with tales of how he and the new singing sensation drove for seven hours to Houston in a pink Cadillac to buy a drum kit.
He put it to exhilarating use on the early hits, among them the mould-breaking "Heartbreak Hotel", "Blue Suede Shoes", "Don't Be Cruel" and "Hound Dog". The latter found Fontana supplying more than his trademark simple, steady rhythm, with machine-gun-like fills which cranked up the swooning and screaming at live performances. Yet he eschewed frills, playing his only solo in 1956 when Presley pointed at him during a show and shouted "Play!"
Fontana featured on 400 Presley songs between 1956, when the singer drew an audience of 60 million on The Ed Sullivan Show, and NBC-TV's Comeback Special in 1968. He also appeared with him in films such as Jailhouse Rock, GI Blues and King Creole.
Demand for Fontana's session services in Nashville grew. In 1970 Ringo Starr used him for the Beaucoups of Blues album and he worked with Paul McCartney on a version of "That's All Right". He recorded or played with artists as diverse as Dolly Parton, Jeff Beck and Gene Vincent, but worked with The King only "a couple more times" before a rift over pay with Colonel Tom Parker, Presley's manager, led to a parting in 1969. There was no rancour. "Elvis changed my life and I owe him a lot," Fontana said in 2009. "It was fun. We had a great time."
Fontana reunited with Moore for 1997's All the King's Men, which won the Nashville Music Award for best independent album. He collaborated with writer Darwin Lamm on a book, The Beat Behind the King, and as late as last autumn he was touring with The Ultimate Elvis Tribute Artist Spectacular, the last surviving member of the Blue Moon Boys. After his death a statement from Sun Studios said: "The band is all back together now."
Dominic Joseph 'DJ' Fontana, drummer, born 15 March 1931, died 13 June 2018
Register for free to continue reading
Registration is a free and easy way to support our truly independent journalism
By registering, you will also enjoy limited access to Premium articles, exclusive newsletters, commenting, and virtual events with our leading journalists
Already have an account? sign in
Register for free to continue reading
Registration is a free and easy way to support our truly independent journalism
By registering, you will also enjoy limited access to Premium articles, exclusive newsletters, commenting, and virtual events with our leading journalists
Already have an account? sign in
Join our new commenting forum
Join thought-provoking conversations, follow other Independent readers and see their replies