Djalma Santos: Footballer who won the World Cup with Brazil
He was nominated  by Pele in his list of the 125 greatest living footballers
Ivan Ponting
Friday 23 August 2013 18:39 Comments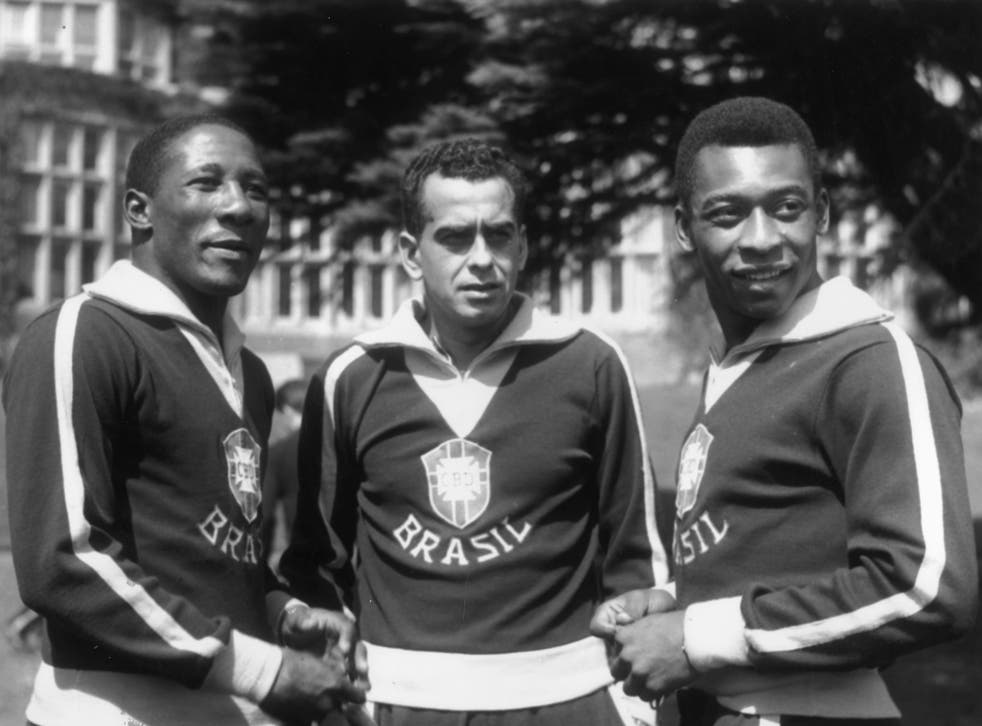 Declaring who is the best footballer the world has ever seen in any given position may be a fanciful exercise, so many variables are there when assessing a player's worth, but should such a process be undertaken it would be unthinkable to exclude the name of the Brazilian, Djalma Santos, from deliberations over the right-back slot. His record of international success is phenomenal, encompassing World Cup triumphs in 1958 and 1962 and participation in the tournaments of 1954 and 1966.
Nominated in 2004 by his illustrious compatriot, Pele, in his list of the 125 greatest living footballers, Santos was the first man selected in the team of the tournament at three World Cups – a feat since emulated by Franz Beckenbauer – and he accumulated 98 official caps, a total which stretches way beyond a century when exhibition games are taken into account. An examination of the Santos attributes reveals no discernible flaw. The first responsibility of a full-back is to defend, and he fulfilled that impeccably with his strength, durability and resolution. He was unyielding in the tackle, effective in the air, quick to cover the ground with his distinctive scuttling run and perceptive in his distribution, usually preferring a simple pass to one of his more extravagantly talented team-mates.
But Santos could be a thrilling attacker, too, capable of rampaging down his touchline on swashbuckling overlaps and joining in with flowing team moves, occasionally displaying flair with the ball worthy of the most artistic midfield general. He was also a dead-ball specialist, taking penalties in the early part of his career, and he was blessed with an even temperament, retaining his composure in the most hectic of situations and never being sent off in more than 1,000 games as a professional.
Born into a poor Sao Paulo family, Santos played for junior teams as a centre-half before joining one of his major home-town clubs, Portuguesa, as a 19-year-old in 1948. Soon it was decided that with his all-round ability he needed the scope to surge forward, so he was switched to a right-flank role in which he flourished, proving influential as his side won the Rio-Sao Paulo tournament in 1952. That year, Santos made his first appearance for Brazil, striking up a polished full-back partnership with his eminent and slightly older namesake Nilton Santos – to whom he was not related – which would last for a decade.
Djalma made his debut in Santiago in a 0-0 draw with Peru in the Pan-American Championship, which Brazil won, and the newcomer shone so brightly that he was voted player of the competition. He was a fixture in the side come the 1954 World Cup in Switzerland; the Brazilians exited at the quarter-final stage, losing 4-2 to the brilliant Hungarians, "The Magnificent Magyars", in a contest so badly marred by violent play that it was dubbed "The Battle of Berne".
At least Santos emerged with some credit, scoring from the spot and acting as something of a peace-maker as players fought on the pitch following three second-half dismissals, the conflict spilling over into the dressing rooms after the final whistle. However, although his place appeared impregnable for the next three years, in 1958 he was ousted by the younger Newton de Sordi for the World Cup in Sweden, not being called up until the final against the host nation.
Coach Vicente Feola felt Santos's sharp football brain and shrewd positional sense would be the best way of combating the penetrative winger Lennart Skoglund, and the experienced defender excelled, virtually nullifying his menacing opponent and finding time to attack exhilaratingly as Brazil triumphed 5-2, with Pele the teenage wunderkind scoring twice.
In 1959, after more than 400 games for Portuguesa, Santos was transferred to the powerful Palmeiras, whom he would help to that term's Sao Paulo state league title, their first for 10 years. There followed a slew of further trophies with the club over the course of the next nine years and some 500 appearances.
Back on the international front he was consistently superb as Brazil retained the World Cup in Chile in 1962, linking to dazzling effect with the fabulous but eccentric right-winger Garrincha. Santos demonstrated his nous to canny effect in the final against Czechoslovakia, flighting a cross into the box knowing that the sun would be in the keeper's eyes, causing a fumble from which centre-forward Vava scored to complete a 3-1 victory.
His stock never higher, the right-back played for the Rest of the World against England at Wembley in 1963 to celebrate the Football Association's centenary. Three years later, though past his best at 37, he was picked for his fourth consecutive World Cup, in England, playing twice before being dropped as one of nine scapegoats following a gruesome group-stage defeat by Hungary on the way to early elimination.
There followed a brief stint as youth coach with Palmeiras before Santos, who enjoyed his 98th and final outing for his country in 1968, came out of premature playing retirement to join Atletico Paranaense in 1969. Finally, as a 41-year-old in 1970 he laid aside his boots, although not before being voted domestic football's defender of the season.
Sometimes Santos is cited as the first Brazilian to collect 100 international caps, but it is generally considered that two of his games were unofficial, thus ceding the honour of becoming his country's first centurion to Taffarel, who kept goal from 1988 to 1998.
Djalma Pereira Dias dos Santos, footballer: born Sao Paulo, Brazil 27 February 1929; played for Portuguesa 1948-59, Palmeiras 1959-68, Atletico Paranaense 1969-70; capped 98 times by Brazil 1952-68; died Uberaba, Brazil 23 July 2013.
Register for free to continue reading
Registration is a free and easy way to support our truly independent journalism
By registering, you will also enjoy limited access to Premium articles, exclusive newsletters, commenting, and virtual events with our leading journalists
Already have an account? sign in
Join our new commenting forum
Join thought-provoking conversations, follow other Independent readers and see their replies