Dolores O'Riordan: Cranberries singer and songwriter who achieved international success but never disowned her roots
After overcoming childhood abuse, O'Riordan became known for her distinctive vocals with their Irish lilt, which soared over haunting tracks such as 'Linger'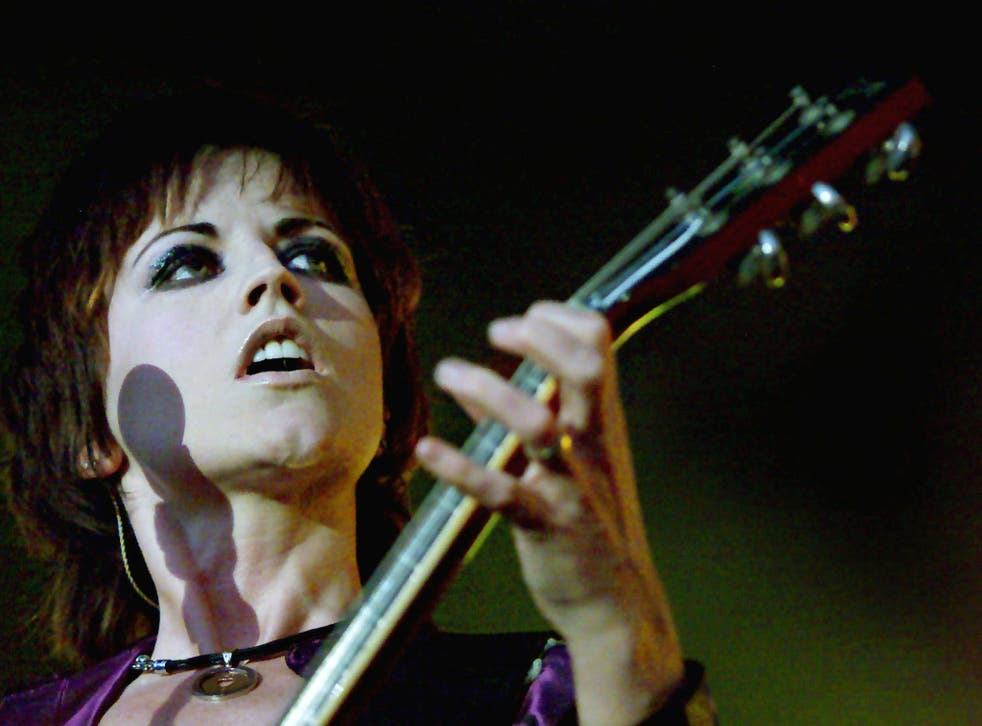 Irishness was in vogue on the British music scene of the early 1990s, with U2 maintaining their global popularity, Enya and Sinéad O'Connor gaining traction on both sides of the Atlantic and The Commitments enjoying success at the cinema.
The Cranberries though, led by the extraordinary, distinctive vocals of Dolores O'Riordan, would have broken through in any era.
Quite apart from the powerful, lilting tone of her mezzo-soprano voice, what distinguished O'Riordan from the indie-rock crowd was her refusal to disown her roots.
She delivered her songs in the accent of the area where she was born and grew up; Ballybricken near the city of Limerick in the west of Ireland.
O'Riordan, who was 46, was found dead in a London hotel hours before she was due to record a cover of one of the Cranberries' best-known numbers, "Zombie", with the hard-rock band Bad Wolves.
Adding to the poignancy was the revelation on the day of her death that the parents of 12-year-old Tim Parry – one of two children killed in Warrington, Cheshire in 1993 by an IRA bomb – were unaware until they read in reports of her passing that she wrote the song in response to their son's killing.
With hindsight, the brutal, haunting feel of "Zombie" may have been influenced by O'Riordan's experience of being sexually abused by a family friend as a child. She did not speak publicly about the assaults until 2013.
Born into a staunchly Catholic family, O'Riordan was 17 when she responded to a press advert for a female vocalist to join The Cranberry Saw Us, comprising brothers Noel and Mike Hogan and Fergal Lawler, in 1989. Soon after she became lead singer, they became The Cranberries and cut a three-track EP on an independent label.
O'Riordan and Noel Hogan contributed several songs to a demo disc which was sent to the major British labels. Island Records won the tussle to sign them and released the singles "Dreams" and "Linger", both from their debut album Everybody Else Is Doing It, So Why Can't We. Their burgeoning reputation as a live act, honed when they supported REM and Suede, helped them reach numbers 27 and 14 respectively in the UK charts.
The tracks highlighted O'Riordan's versatility as a singer and a writer, the pretty and ethereal "Dreams" contrasting with "Linger", a bitter tale of unrequited love set, deceptively, to swooning strings and a gorgeous melody.
O'Riordan based the latter's lyrics on personal experience, explaining she had expected her first teenage kiss with tongues, in a Limerick disco, to be "disgusting". Instead she enjoyed it so much, she had to "let it linger".
When she next saw the object of her lingering desire, he ignored her and asked her friend to dance. "Everyone saw me being dumped," O'Riordan recalled. "Everything's so dramatic at 17, so I poured it into a song."
Modest chart success came in 1994 for "Zombie" and O'Riordan's wistful paean to childhood, "Ode To My Family" (both from the second album No Need to Argue, which sold 17 million copies worldwide including 7 million in America).
Yet only three of the seven singles between 1995 and 2000 reached the UK top 20 – The Cranberries obviously did not fit the Britpop fad – but 1996's To the Faithful Departed and 1999's Bury the Hatchet peaked at number 4 and number 13 in the album best-sellers, suggesting a good proportion of their fanbase had stuck with them.
O'Riordan was married to Don Burton, Duran Duran's tour manager, and had three children with him before they divorced after more than 20 years' marriage. Two solo albums, 2007's Are You Listening? and 2009's No Baggage, fared well with reviewers but found limited commercial success. The Cranberries had effectively disbanded in 2003 but after six years apart they reunited for an album and worldwide tour.
In 2015 she cited her divorce and the death of her father in mitigation of assaults on police at Shannon Airport in what was described as an "air rage incident". She was diagnosed with bipolar disorder and spoke about her struggle with eating disorders, alcoholism and the abuse she suffered in early life.
There were other extracurricular recording projects, one with Twin Peaks composer Angelo Badalamenti and another with former Smiths bassist Andy Rourke, before The Cranberries again regrouped for a tour last year to promote the acoustic album Something Else. O'Riordan had to withdraw because of back problems, but friends reported she seemed well in London shortly before her death.
Dolores Mary Eileen O'Riordan, singer and songwriter, born 6 September 1971, died 15 January 2018
Join our new commenting forum
Join thought-provoking conversations, follow other Independent readers and see their replies