Don Howe: Footballer and coach who helped Arsenal win the Double and worked with three England managers
Howe was one of the most influential football coaches of his generation, and spent nearly four decades passing on his expertise to nine clubs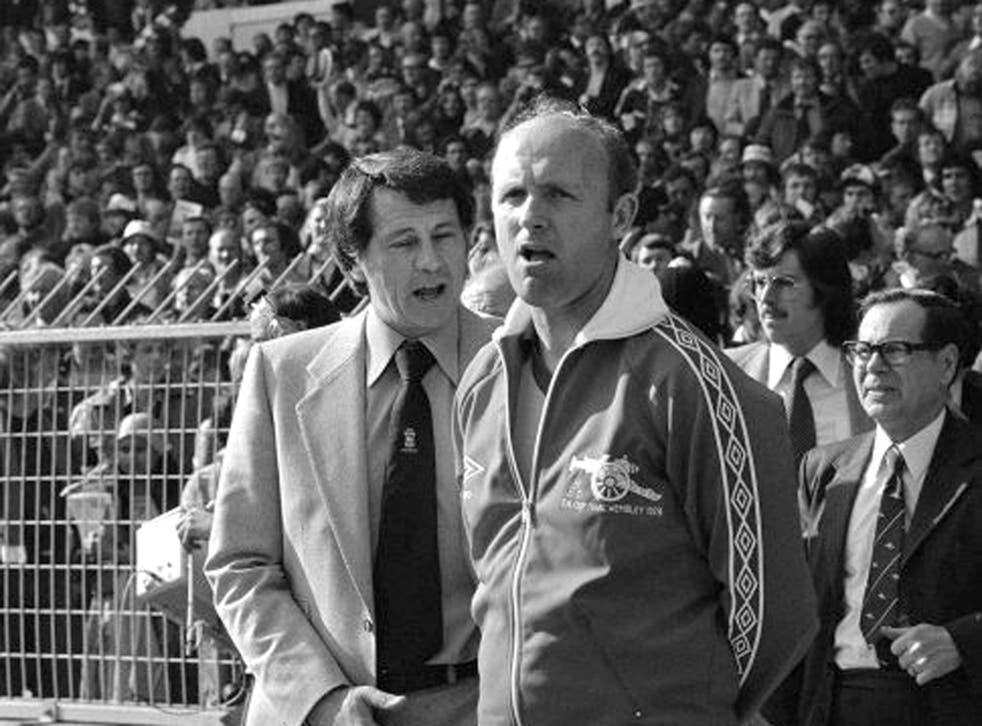 Don Howe topped an eminent career as a West Bromwich Albion, Arsenal and England full-back by emerging as one of the most influential football coaches of his generation. The chief strategist behind Arsenal's unexpected League and FA Cup double in 1971 and Wimbledon's shock FA Cup triumph over Liverpool in 1988, he spent nearly four decades passing on his expertise to nine clubs, helped to mould the tactics of three England managers, and took charge of the Saudi Arabia national team.
Though a defensive specialist who was responsible for some dour play in his time, the deep-thinking, passionately enthusiastic Howe appreciated keenly the beauty of attacking flair, and it was monstrously unfair to pigeonhole him as negative, though some critics did. In fact, he was anything but a stick in the mud, ever eager to embrace new ideas, though he was not cut out for high office. He never excelled as a manager, appearing out of place besuited in boardroom or press conference; he was a training-ground technician who was in his element working with players, glorying in minute detail, outwardly stern but essentially warm, a man utterly consumed by his craft.
Howe's first professional club was West Bromwich Albion, for whom he signed at 17 in 1952, making his senior debut at right-back in the autumn of 1955. Soon the tall, blond Black Countryman claimed a regular place in Vic Buckingham's attractive side which finished in the top five of the First Division in three successive seasons at the end of the decade.
He was a skilful, thoughtful operator who relied on clever positioning, assured ball control and intelligent distribution rather than the brute force favoured by many defenders of his era. So the award of his first England cap in 1957 was richly deserved, and he kept his place for 23 consecutive matches. He was unlucky to have been given his chance during an unsuccessful period which included tame elimination from the 1958 World Cup finals in Sweden. In 1960 he was replaced by Jimmy Armfield of Blackpool and never played for his country again, though his association with national coach Walter Winterbottom proved to be lastingly fruitful.
The England manager had recognised in the studious Midlander the makings of an outstanding coach and urged him to gain qualifications, reasoning that in the short term it would make him a better player, and in the long term offer a rewarding career. Howe, who had previously spent his afternoons as a car salesman, became captivated by the work.
Having risen to the captaincy of Albion, he became an effective spokesman for team-mates, and in 1963 he was a central figure when they rebelled against what they saw as tedious training methods and the authoritarian attitude of the new manager, Jimmy Hagan.
Against that background of discord, it was not surprising when Howe was transferred to Arsenal in April 1964, Highbury manager Billy Wright paying £40,000 to make his former England colleague the domestic game's most expensive full-back. Some observers reckoned that the 28-year-old was past his peak, an opinion which gained currency when he was given a fearful chasing on debut by Liverpool's Peter Thompson in the first game ever televised by the BBC on Match Of The Day.
However, he settled quickly, making up in craft for what he lacked in pace, only for hopes of an Indian summer to be thwarted by a broken leg suffered in a collision with the Blackpool goalkeeper Tony Waiters at Bloomfield Road in March 1966. When the bone mended, new manager Bertie Mee offered a vote of confidence by making him club captain, but Howe's mobility had declined and he never regained his place. Instead he began coaching the club's youngsters and made an immediate impact, progressing to succeed the departing Dave Sexton as chief coach in November 1967, then becoming assistant manager in 1969.
He enjoyed an ideal relationship with the punctilious Mee, a gifted administrator who never claimed to be an expert on the game, being content to rely openly on the technical acumen of Howe, who reigned supreme on the training pitch and was close to the players. Gradually the pair inculcated improved habits and standards into a talented if hardly star-spangled team, captained by the inspirational Frank McLintock, and after harrowing League Cup final defeats by Leeds United and lowly Swindon Town in 1968 and 1969, the Gunners garnered their first major silverware for 17 years by winning the European Fairs Cup in 1970.
The best was yet to come. Magnificently marshalled by Howe, though maligned for their functional approach, Arsenal lifted both the League title and the FA Cup in 1970-71, only the second time in the 20th century that the coveted double had been achieved.
But now, with his stature in the game at a new high, Howe made what he acknowledged later to be the biggest blunder of his professional life when he accepted the management of his former club, West Bromwich Albion, though he maintained that he would have stayed at Highbury had he been promised a chance at the top job when the ageing Mee eventually retired.
Expectations at the Hawthorns were massive but the illustrious old boy never met them and the Baggies were relegated from the top flight in 1973. Two seasons in the top half of the Second Division were not enough to prevent his dismissal in 1975, after which he worked for Galatasaray in Turkey for several months before becoming coach of Leeds United under Jimmy Armfield that October. The pair melded effectively, but in 1977 Howe could not resist a return to Highbury as No 2 to his former Gunners team-mate, Terry Neill.
After the new coach had tightened training procedures and tweaked tactics, Arsenal entered on an entertaining period which featured the rise of gifted youngsters Liam Brady and David O'Leary, but the side never quite fulfilled its promise. The football was pleasing but there were too many near-misses, with defeats in the FA Cup finals of 1978 and 1980, a cruel European Cup-Winners' Cup final reverse by dint of penalty shoot-out in 1980 and a succession of top-six League finishes, always falling short of a genuine title challenge.
Against that a solitary FA Cup triumph in 1979 was not enough to preserve Neill's job and in December 1983 Howe succeeded his friend as Arsenal manager, initially on a caretaker basis but confirmed as permanent in the spring. Adopting a lower public profile than his predecessor, he did not invest heavily in the transfer market, preferring to augment his squad by bringing through youngsters such as Tony Adams, David Rocastle and Niall Quinn, but he never attained the desired blend and in March 1986, after the club had been reported as attempting to line up Terry Venables as his replacement, Howe resigned. He was hardly a failure, as the Gunners had not finished lower than seventh in the First Division under his leadership, but in the absence of silverware his exit became inevitable.
Having coached in the England set-up under Ron Greenwood between 1979 and 1982, and contributed in the '82 World Cup finals in Spain (with Greenwood) and the 1986 Mexico tournament (with Bobby Robson), Howe had established international credentials, too, which now earned him a year guiding the fortunes of Saudi Arabia.
On returning from the Middle East in 1987, he spent a month with Third Division Bristol Rovers before stepping back up to the elite grade with feisty but unfashionable Wimbledon, whose delighted manager, Bobby Gould, described the recruitment of Howe as his assistant: "It was like realising Miss World was single and being the only one with the courage to ask her out."
Howe was excited by the potential and the spirit of the Plough Lane squad and he made the most of it in his first campaign, plotting the Dons' path to seventh in the First Division and to a momentous FA Cup final victory over the hot favourites, Liverpool. His influence was vividly evident at Wembley, where he set the tenacious Dennis Wise to nullify danger-man John Barnes, and engineered the set-piece from which Lawrie Sanchez headed the game's only goal.
In July 1989 Howe was appointed assistant manager of Queen's Park Rangers, becoming manager in midwinter and holding the side steady in mid-First Division, finding time to aid Bobby Robson in leading England to a 1990 World Cup semi-final in Italy, where they lost to West Germany on penalties. He returned to Wimbledon for another brief coaching spell in 1991, then led Coventry City as they escaped narrowly from relegation.
By then Howe had been suffering heart problems and wanted work near his London base, so in July 1992 he became assistant manager of Chelsea, employment which ceased when manager Ian Porterfield was sacked in the following February. Though ready to retreat from management at that point, he could not resist Terry Venables' offer to become England's technical co-ordinator in 1995, providing the link between youth and senior sides and generally spreading his coaching gospel.
In this capacity Howe was an integral part of Venables' backroom team as England reached the semi-finals of the 1996 European Championships, once again bowing out to the Germans on penalties. The following year he began his third and final stint with Arsenal, joining the club's youth academy, where he dispensed his wisdom to a new generation of Gunners until his semi-retirement in 2003, at the age of 67, to become a coaching consultant.
Don Howe gave his life to football, and few men have served the game with more keenness and care.
Donald Howe, footballer and manager: born Wolverhampton 12 October 1935; played for West Bromwich Albion 1950-64, Arsenal 1964-1966; capped 23 times by England 1957-59; managed West Bromwich Albion 1971-75, Arsenal 1983-86, Queen's Park Rangers 1989-91, Coventry City 1992; died 23 December 2015.
Join our new commenting forum
Join thought-provoking conversations, follow other Independent readers and see their replies