Don Partridge: One-man band who had Top 10 hits in the 1960s but returned to a life of busking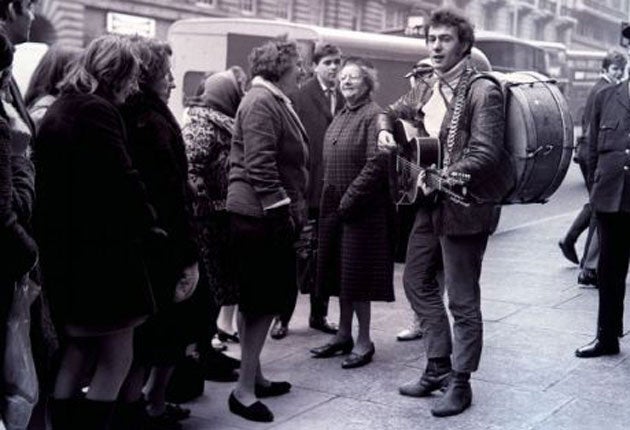 Street entertainment is now a regular feature of city life, but in the 1960s it was primarily buskers, and not too many of them, either. The one-man band Don Partridge was signed by EMI and had Top 10 hits with "Rosie" and "Blue Eyes" in 1968, but he preferred an itinerant lifestyle and soon returned to busking. He stressed that he never begged and was always being paid for entertainment.
Don Partridge was born in Bournemouth in October 1941. He left school at 15, taking a variety of different jobs and finding a purpose in life when he saw the American one-man band, Jesse Fuller, on a UK tour. Partridge set himself up with a guitar, a harmonica on a harness, a drum on his back (operated with a stick attached to his elbow) and a foot cymbal. Wearing an old snakeskin jacket, he played across Europe, settling wherever he fancied, but he was often arrested. Fortunately for him, the fine for busking in London was £2 and he earned several times that in a day.
In 1967, the songwriters, Don Paul (of the Viscounts) and Richard Kerr (who later wrote "Mandy", a hit for Barry Manilow) went to see You Only Live Twice at the Odeon, Leicester Square. They were taken with Partridge, who had two young girls in mini-skirts as "bottlers" (that is, collecting the money). Paul invited Partridge to record at the Regent Sound Studio in Denmark Street, which cost £8 an hour. "We did five takes of his song, 'Rosie', and every one sounded the same," Paul told me in 2001, "EMI put it out and he really didn't care if it was a hit or not. He was difficult to manage as he always did what he wanted. I put him on tour with Gene Pitney and when someone shouted for 'Rosie', he replied, 'Piss off!' It was unheard of for someone to swear on a package tour and the promoter, Arthur Howes, was very annoyed. He'd have been another Rolf Harris if I could have tamed him."
Kerr wrote the second hit, "Blue Eyes". "We needed an upright bass for a half-session which cost £4, but otherwise it was his one-man band. His co-ordination was excellent but the minute you added strings or made him more sophisticated, he was all at sea. I saw him take a handful of fivers and throw them in the fire because money wasn't going to get to him. He got sacked from a season on Blackpool pier for constantly swearing on stage. He was soon back on the streets but that was where he wanted to be."
For a short time, Partridge enjoyed his wealth, buying a Mercedes and hand-made suits, but he soon gave it away. Using his own money, Partridge organised a short tour with other street entertainers, including a concert at the Royal Albert Hall. Around 1972, I saw him at Jacqui and Bridie's folk club in Liverpool, for which he received £10.
Partridge was never homeless but sometimes lived in a horse-drawn caravan, and sometimes on a longboat. In the 1970s he moved into a fisherman's cottage in Brixham, Devon and later had various addresses in East Sussex. He persuaded the Swedish authorities to change the law on busking and his final album, The Highwayman (2001), included reflections on his life as a busker. In 2005, he went on a UK tour with Lemon Jelly, playing inside and outside theatres.
"I could never refuse a pretty face", he once confessed, "I'd be busking and a girl would come up and invite me to her place. I could always tell the difference between true love and sex, but unfortunately my wives couldn't." Indeed, at the time of his hit records, he appears to have had two wives, both Swedish girls. His life can be summarised by the opening track on his album Don Partridge (1968), "Following Your Fancy".
Don Partridge, musician: born Bournemouth 27 October 1941; married four times (eight children); Peacehaven, East Sussex 21 September 2010.
Join our commenting forum
Join thought-provoking conversations, follow other Independent readers and see their replies