Donna Hartley: Olympic sprinter and champion bodybuilder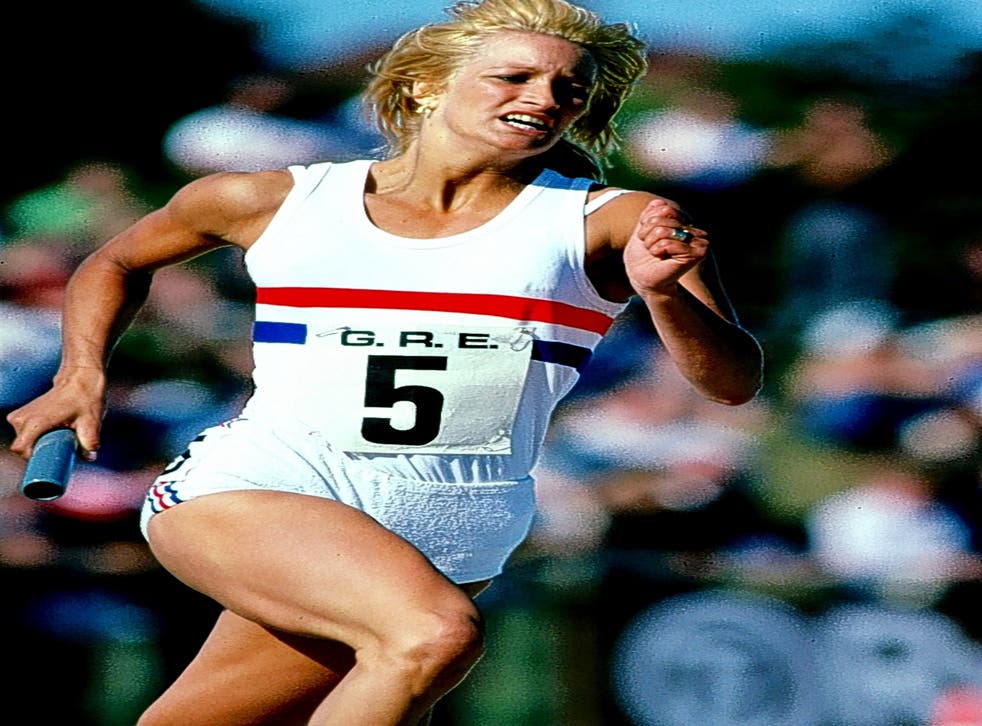 Donna Hartley, who has died suddenly at the age of 58, was known as the "golden girl" of British athletics during the second half of the 1970s. She was not the first and would not be the last to receive this double-edged nomination – as she wryly acknowledged herself, being called a "golden girl" ultimately obliged you to win gold.
But the name was not predicated entirely upon victory. With her long blonde hair and flashing smile, Hartley – who established herself in athletics under her maiden name of Murray before marrying 400m hurdler Bill Hartley in 1977 – was an attractive as well as an accomplished performer. At a time when women's sprinting was dominated by runners from the Eastern bloc – many of whom were subsequently implicated in doping regimes – Murray was a Brit genuinely capable of mixing it.
"The Russian and East German girls were already dominating her events, but she was in there with chances," said Stan Greenberg, the respected veteran track statistician and author. "She was a genuine contender."
She made no secret of her relief at justifying her "golden" label with medals of the appropriate colour at the 1978 Commonwealth Games in Edmonton, where she earned 400m victories in the individual and relay events. "Now I feel I've won a gold I can really be given the golden girl title," she commented.
But it was the bronze medal she won two years later at the 1980 Moscow Olympics which she regarded as her greatest sporting achievement. Given six months' leave by her employers at Midland Bank, she had suffered from injuries and loss of form, and was shocked to have been dropped from the individual 400 metres event. But she retained her place as the final-leg runner for the 4x100m relay team. In the final Hartley was fifth round the last bend, but produced a late surge which took her up into third place behind the Russian and East German runners contesting the gold.
"It was the greatest race of my life," she later reflected. "So many people put their faith in me, and I was desperate not to let the other girls or the management down. Maybe it was the extra factor which made the difference. When they presented the bronze medal, it could have been the gold so far as I was concerned."
On that occasion, the TV cameras were focussing on the eastern European battle. But she had the full limelight during the many Great Britain international matches he contested during her career – she earned 37 "caps" between 1972-1980 at 100, 200 and 400metres – with one of her most celebrated victories occurring in the match against the Soviet Union at Crystal Palace on 25 August 1975.
A month earlier, Hartley – or Murray, as she then was – had offered further evidence of her "4-real" status as an athlete by finishing second in the European Cup semi-final in Sofia in what was then a British record of 51.28sec, a performance which still has her at 16th place in the all-time national lists. Her 200m best of 22.75sec, the second fastest by a Briton in 1978, has fared even better, still occupying sixth place in the listings, a hundredth of a second ahead of the Sydney 2000 400m bronze medallist Katharine Merry.
Hartley was awarded an MBE in 1979, retiring from athletics a year later. She divorced, and in 1986 married the comedian and Coronation Street actor Bobby Knutt (real name Bobby Wass). As Donna Hartley-Wass she then achieved success on the British women's bodybuilding circuit, winning the National Amateur Body Building Association's Miss Britain Physique trophy in 1988 and featuring on the front cover of Health & Strength Magazine as well as finishing runner-up in the Ms Universe competition.
Greenberg recalls that many within athletics were "stunned" to see pictures of Hartley's changed physique at the time.
Explaining why she gave up the bodybuilding, Hartley reflected: "You could only get into terrific shape twice a year because of the dieting and were on stage for 10 minutes, so I didn't think it worth the effort. But I learned a lot about nutrition." In later years, Hartley ran a line dancing school near her home in Sheffield before becoming a spa and leisure manager at a hotel and country club near Macclesfield.
As an athlete, Hartley had the reputation of never missing a training session. She was coached as a youngster at her local Southampton club by Mike Smith, who also guided the careers of Olympic silver medallists Roger Black and Kriss Akabusi.
"Donna was one of the best athletes I've ever had to deal with, not only as an athlete but as a person," he told the BBC. "I first met her when she was 15. She wanted to do well and was determined to do well and she was prepared to work for it. Everything she got, she earned. She deserved it. The Olympic medal was the height of it. She liked to dream and she fulfilled that dream."
Knutt discovered his wife dead on Friday in their back garden, where she had been sunbathing. An inquest is expected this week. "We were married 26 years and we never had a row or cross word," he said. "She was the great love of my life. Nobody will ever take her place. She was the kindest person in the world. Everybody loved her and nobody had a bad word to say about her. She was an absolute princess."
Donna Murray, athlete and bodybuilder: born Southampton 1 May 1955; MBE 1979; married 1977 Bill Hartley (marriage dissolved), secondly Bobby Knutt; died 7 June 2013.
Register for free to continue reading
Registration is a free and easy way to support our truly independent journalism
By registering, you will also enjoy limited access to Premium articles, exclusive newsletters, commenting, and virtual events with our leading journalists
Already have an account? sign in
Register for free to continue reading
Registration is a free and easy way to support our truly independent journalism
By registering, you will also enjoy limited access to Premium articles, exclusive newsletters, commenting, and virtual events with our leading journalists
Already have an account? sign in
Join our new commenting forum
Join thought-provoking conversations, follow other Independent readers and see their replies