Donna Summer: Singer who led the disco revolution of the Seventies
The 17-minute extended version of 'Love To Love You Baby' kicked off the passion for disco remixes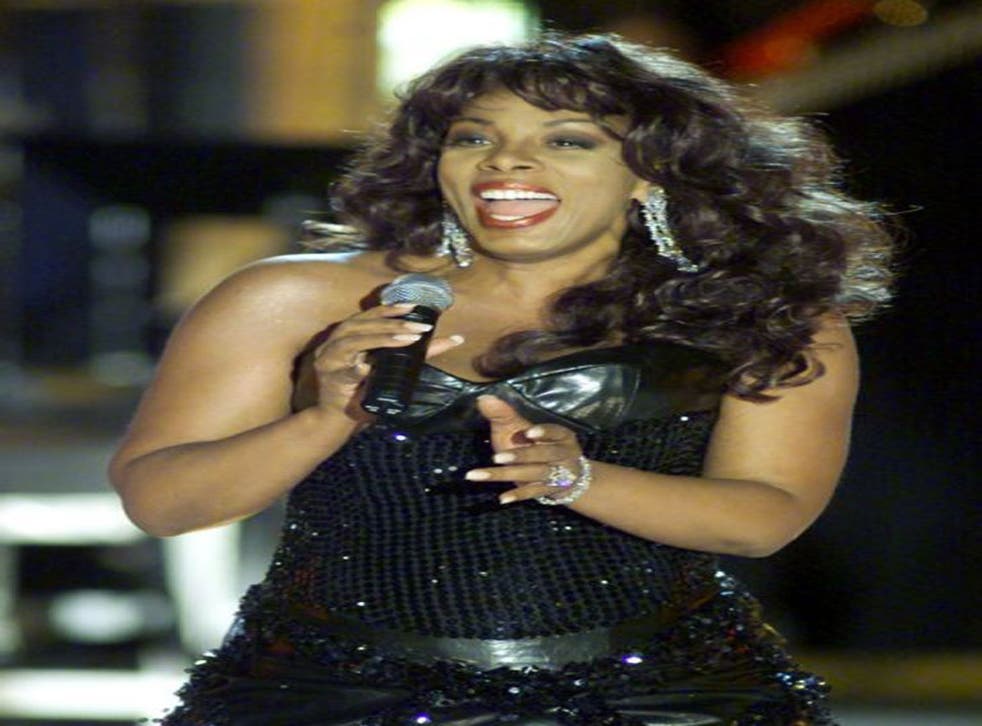 In the mid-1970s, when disco ruled the airwaves, the biggest acts were the Bee Gees and Donna Summer. As well as being controversial, the combination of Summer's lubricious voice and Giorgio Moroder's infectious rhythms were appreciated by dancers and non-dancers alike and although most '70s disco records now sound dated, her best work has retained its popularity.
Donna Summer was born LaDonna Adrian Gaines in Boston, Massachusetts on New Year's Eve 1948. Her father was a butcher and her mother a schoolteacher and they encouraged her to sing; her first love was the gospel singer, Mahalia Jackson. When a soloist did not arrive for a church service, the eight-year-old Summer took over and later said, "It was as if God was saying to me, 'Donna, you're going to be famous', and I knew from that day on that I would be famous."
Before graduating, and much to her parents' annoyance, Summer moved to New York with a psychedelic band, Crow, but they could not secure a record contract. She auditioned for the Broadway musical Hair and was given a role in the Munich production.
As a result, Summer stayed in Germany, learnt the language and took part in several other musicals. She met her first husband, the actor Helmuth Sommer, while they were in Godspell, and they had a daughter, Mimi. They separated after Donna had an affair with the artist, Peter Mühldorfer, and were divorced in 1975. However, she anglicised her former husband's name to become Donna Summer.
When Summer sang backing vocals for Three Dog Night she met their producers, the Italian Giorgio Moroder and Pete Bellotte, an English guitarist who had been with the Sinners. Her first album with them was Lady Of The Night (1974) and a single "The Hostage" had some success in Europe.
In 1975 Summer, Moroder and Bellotte worked on an explicitly sexual song, "Love To Love You Baby". Summer imagined how Marilyn Monroe might record it and the record was full of orgasmic moans and groans to a pulsating rhythm and a wah-wah guitar. Summer said, "It's in every woman to be seductive, be she a teacher or a whore."
Neil Bogart, the president of Casablanca Records in the US wanted a longer version for discos and Moroder obliged with a generous 17 minutes, which started the passion for disco remixes. Time magazine reckoned that the record included 22 orgasms, and clumsily rushing to her defence, Mühldorfer said that she did not sound like that when she had an orgasm and anyway, she was only good for one or two at a time, a response that certainly falls into the category of too much information.
Despite several broadcasting bans, including restricted play on the BBC, the single went to No 2 in the US, No 4 in the UK and No 20 in Germany. The album that contained the extended version, also called Love To Love You Baby, was a big seller. Oddly it was the follow-up single, a disco revival of Barry Manilow's "Could It Be Magic" which made her a star in Germany.
In 1977 Summer released her fourth and biggest selling album to date, I Remember Yesterday, which included the million-selling "I Feel Love". She recalled, "Giorgio brought me this popcorn track he had recorded and I said, 'What the hell is this, Giorgio?'. I finished it as a sort of joke." Joke or not, "I Feel Love" topped the UK charts and spawned hundreds of trance-like dance hits built around electronic sequencing. Both Duran Duran and Marc Almond have acknowledged Summer's influence and, in 1985, Almond with Bronski Beat had a Top 10 single with "I Feel Love", eccentrically merged with the 1961 hit, "Johnny Remember Me". When Summer remade "I Feel Love" in 1995, she made the Top 10.
Summer starred in the film Thank God It's Friday (1978), alongside Jeff Goldblum and the Commodores but Friday was no Saturday Night Fever. However, Paul Jabara's "Last Dance" won an Oscar for Best Song and the soundtrack album included a 15-minute version of "Je T'Aime, Moi Non Plus", thus acknowledging Serge Gainsbourg's influence on "Love To Love You Baby". Later in the year, Summer topped the US charts with a disco version of the Richard Harris hit "MacArthur Park": many listeners thought she had ruined the idiosyncratic song, while many more thought she had improved it.
One record followed another at lightning speed. Summer dressed as a hooker for her album Bad Girls (1979), and the title track with its gimmicky "beep, beep" rhythms topped the US charts for five weeks. Another track, "Hot Stuff", was another No 1. Despite her raunchy image, she performed at an all-star Music For Unicef concert.
When Barbra Streisand wanted to record a disco track she was put alongside Summer for Paul Jabara and Bruce Roberts' "No More Tears (Enough Is Enough)". Summer arrived two hours later for the session, prompting Streisand to remark, "I haven't waited this long for anybody." During the recording, Summer fell from a stool when she tried to hold a note for as long as Streisand and lost her breath.
Throughout her career, Summer has had successful hits compilations, which have sometimes included new recordings. In 1980 the new title track to On The Radio became a million-selling single in its own right.
Wanting to move away from disco, Summer left Casablanca and signed with Geffen Records. Her first album, The Wanderer (1980), was in a rock vein and sold poorly by her standards, as did Donna Summer (1982), produced by Quincy Jones, although that did contain the celebrated "State Of Independence". Ironically, when Summer had to make a final album for her old company, She Works Hard For The Money (1983), as part of a settlement, the title track restored her to her million-selling status.
Summer's 1979 hit single, "Heaven Knows", had featured Brooklyn Dreams and Summer was to marry group member Bruce Sudano and have two daughters with him.
Although outwardly confident, Summer was unsure of herself and she struggled with depression, attempting suicide and becoming addicted to her medication. Part of her problem was the contrast between her church upbringing and her sexuality. With Sudano's help, she became a born-again Christian and vowed never to sing "Love To Love You Baby" again. Highly controversially, she was reported as saying that Aids was God's punishment on gays, although she later claimed to have been misquoted.
Another Place And Time (1989), an album with the British producers, Stock, Aitken and Waterman led to her further UK Top 10 hits, "This Time I Know It's For Real" and "I Don't Wanna Get Hurt". Her final studio album was Crayons (2008), and in 2009 she performed in Oslo at a Nobel Peace Prize concert for President Obama, as well as returning to "Love To Love You Baby" for a perfume commercial. She died after a long struggle with cancer.
La Donna Adrian Gaines (Donna Summer), singer: born Boston, Massachusetts 31 December 1948; married firstly Helmuth Sommer (divorced 1975; one daughter), secondly Bruce Sudano (two daughters); died Naples, Florida 17 May 2012.
Join our new commenting forum
Join thought-provoking conversations, follow other Independent readers and see their replies