Dorothy Malone: Oscar-winning actress who fought makers of 'Peyton Place' after being written out of her role
She secured an out-of-court settlement after being ditched for complaining that her character in the popular Sixties US soap opera lacked substance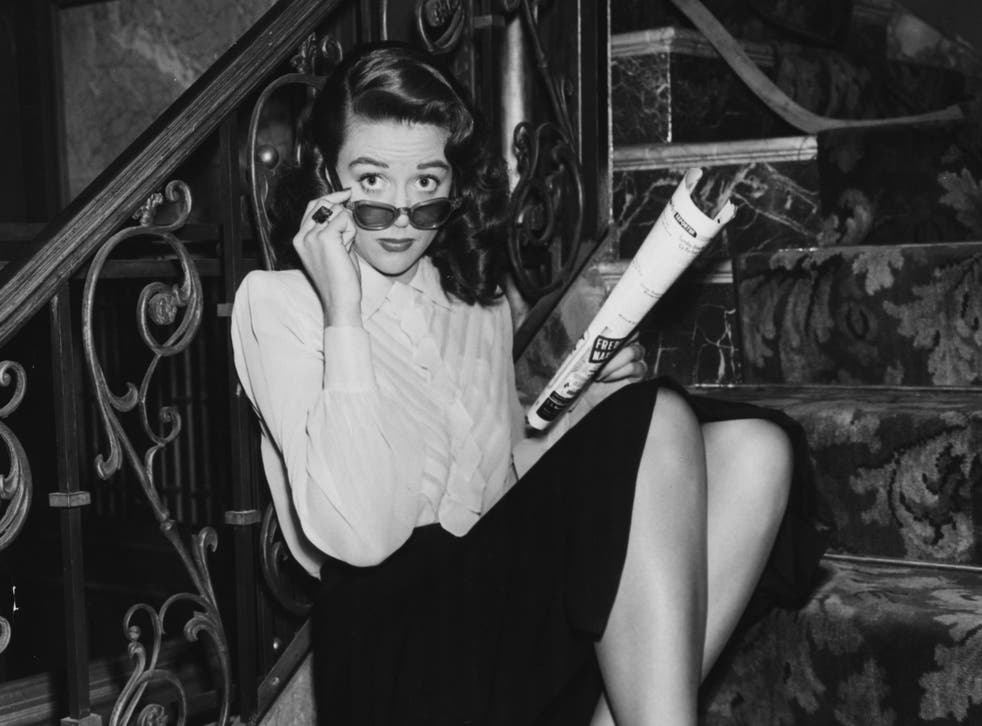 Dorothy Malone secured her place as a Hollywood great in her Oscar-winning performance as an alcoholic nymphomaniac in Douglas Sirk's 1956 film Written on the Wind.
In the Sixties she became internationally famous through the US soap opera Peyton Place – earning $250,000 a year, she was one of the highest paid actresses of the time.
Malone arrived in Hollywood during the height of the studio era in the 1940s and appeared in dozens of films, including westerns, musicals and crime dramas.
With an alluring voice and gaze, she first gained acclaim for a small role opposite Humphrey Bogart in the noirish 1946 detective film, The Big Sleep. She played a bookstore clerk who helps Bogart's character, Philip Marlowe, identify a suspect, then eagerly shares a bottle of rye with him on a rainy day.
In a memorable scene, Malone removes her glasses, pulls down a window shade – a move she improvised during the filming – and says, "Looks like we're closed for the rest of the afternoon."
In 1954, Malone changed her dark hair colour to blond for a role as Doris Day's sister in Young at Heart, a musical also starring Frank Sinatra. The new look helped transform her career.
"I came up with a conviction that most of the winners in this business became stars overnight by playing shady dames with sex appeal," she said in 1967. "And I've been unfaithful or drunk or oversexed almost ever since – on the screen, of course."
Perhaps her finest role came in Written on the Wind, a melodrama set in her home state of Texas and directed by Hamburg-born Sirk, one of Hollywood's great auteurs.
"An agent kept calling me that there is a director from Europe who wants you and only you," Malone in 1985, explaining how she got the part. "He was every woman's dream of a director. He was very Prussian, wore a scarf, and maybe he even had a walking stick. If he liked you, he was so much fun. I found him utterly charming."
Malone played an oil baron's spoiled daughter who wasn't shy about satisfying her out-of-control desires. Her character, Marylee Hadley, drinks too much, smokes almost constantly, shimmies to mambo music in skintight gowns, and tries to seduce various men, including Rock Hudson, who is in love with another woman, played by Lauren Bacall.
In one scene, Malone drives off with Hudson in a red convertible sports car. "I'll have you," she says, giving him a beckoning, sidelong glance. "Marriage or no marriage."
When Malone won her Academy Award for best supporting actress in 1957, presenter Jack Lemmon tried to get her to cut short her speech by putting his wristwatch in front of her.
She starred in two other films with Hudson, The Tarnished Angels (1957), a love triangle set in the Depression-era world of barnstorming pilots, directed by Sirk; and a 1961 western, The Last Sunset, which also featured Kirk Douglas.
In 1964, Malone received top billing on ABC's Peyton Place, a wildly popular series based on Grace Metalious's 1956 novel and two earlier movies. Her character, Constance MacKenzie, was a New England bookstore owner protecting a deep secret. Her daughter was played by Mia Farrow.
Peyton Place was America's first primetime soap opera. At its height, it had three episodes a week, featuring illicit love affairs, hidden identities and all manner of smalltown hypocrisy.
Malone had to leave the production for a while in 1965 and 1966 after becoming severely ill from blood clots in her lungs. She was briefly replaced by Lola Albright before returning to the cast.
After she complained about her character's lack of substance, Malone was written out of Peyton Place a year before it finished its run in 1969. She sued the show's producers and received an out-of-court settlement. She returned to her role as Constance in two made-for-TV movies, Murder in Peyton Place (1977) and Peyton Place: The Next Generation (1985).
Dorothy Eloise Maloney was born in Chicago and moved as an infant to Dallas. Her father was a telephone company auditor.
She was appearing in a student play at Southern Methodist University when she was signed to a Hollywood contract by RKO studios. She later joined Warner Bros. and dropped the "y" in her last name.
In 1949, she returned to Texas to work for an insurance company, but after a business trip to New York she decided to give acting another shot. She studied at the American Theatre Wing and worked in television before returning to Hollywood. She settled permanently in Dallas in the late 1960s.
After Peyton Place, she appeared in the 1976 miniseries Rich Man, Poor Man and had roles in the 1979 political drama Winter Kills and the 1992 thriller Basic Instinct, playing a mother who killed her own children.
Her first marriage, to actor Jacques Bergerac, who was previously married to Ginger Rogers, ended in divorce. ("I wish Ginger had warned me what he was like," she later said.)
Her second marriage, to Robert Tomarkin, who was later jailed in connection with financial crimes, was annulled. Her third marriage, to businessman Charles Huston Bell, ended in divorce.
Survivors include two daughters from her first marriage, Mimi Vanderstraaten and Diane Thompson, and six grandchildren.
Having achieved a degree of affluence, in 1988 she was asked whether she was set for life, she replied. "Don't you believe it. I had a husband who took me to the cleaners. The day after we were married he was on the phone selling off my stuff."
Dorothy Malone, Hollywood actress, born 30 January 1925, died 19 January 2018
© The Washington Post
Join our new commenting forum
Join thought-provoking conversations, follow other Independent readers and see their replies