Dorothy Provine: Actress and singer best known for 'The Roaring 20s' and its spin-off hit 'Don't Bring Lulu'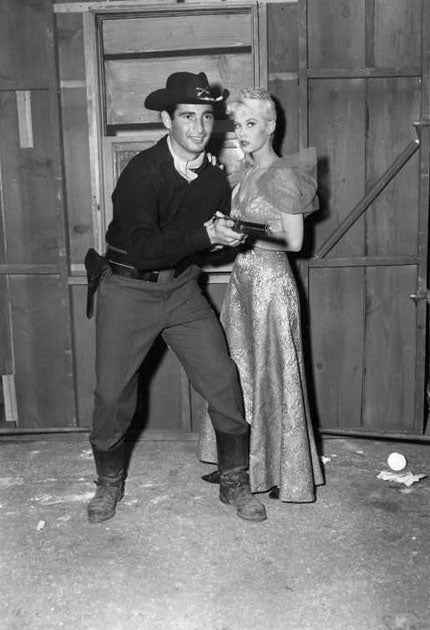 The all-singing, all-dancing party girl, Pinky Pinkham, played by Dorothy Provine in the 1960s TV series The Roaring 20s, was close to the actress's own personality. She was a lively, party girl who dated some of Hollywood's most eligible bachelors.
Dorothy Provine was born in Deadwood, South Dakota in 1935 and raised in Seattle, Washington. She attended the University of Washington but she realised that her potential was an actress. She was blond and beautiful with a wide grin, and when a talent scout for Warner Brothers saw her in a college production of Charley's Aunt he invited her to Hollywood for auditions.
In 1958, Provine played a female gangster in The Bonnie Parker Story: this was essentially a B-movie and had none of the quality of Bonnie And Clyde (1967), but Provine shone in her role. This was followed by inconsequential parts in Alfred Hitchcock Presents, Mickey Spillane's Mike Hammer and Wagon Train, but she played opposite Lou Costello in the comedy, The 30 Foot Bride Of Candy Rock (1959): Provine played the 30 foot bride. Roger Moore and Provine co-starred in a TV series about prospectors, The Alaskans (1959-60).
Provine's big break came with another TV series, The Roaring 20s, in which she played the flapper, Pinky Pinkham. This light-hearted escapism about cops, gangsters and showgirls in Chicago in the 1920s was very successful and co-starred Donald May and Gary Vinson. Provine sang period songs in all 45 episodes, although "Don't Bring Lulu" had been written in 1932.
Warners, which had just started its own record label, was keen to promote her and although she did not have chart entries in the US, she made the UK Top 20 over Christmas 1961 with "Don't Bring Lulu" and followed that single with "Hard Hearted Hannah", "Crazy Words, Crazy Tune" and "Music! Music! Music!" Her albums The Roaring 20's – Songs From The TV Series (1961) and Vamp Of The Roaring 20's (1962) featured well-known oldies in medleys.
Sometimes for publicity purposes, sometimes because she felt genuine affection, Provine was associated with several Hollywood personalities including the actor Dale Robertson, the producer Alan Ladd, Jr and the singers Jim Lowe and Andy Williams. Her most infamous encounter was with Frank Sinatra. Sinatra hadn't objected to the playful depictions of the Mob in The Roaring Twenties but he was appalled that Desi Arnaz was about to make something more substantial, The Untouchables. He took Provine with him when he and his henchmen planned to beat up Arnaz, but in the end, he decided that he did not want to harm a friend.
Provine appeared in the comedy extravaganza It's A Mad, Mad, Mad, Mad World (1963), as Jack Lemmon's wife in Good Neighbour Sam (1964), with Hayley Mills in That Darn Cat! (1965) and she was back to being a flapper in Blake Edwards' The Great Race (1965). Provine was to play the film star, Jean Harlow in Harlow (1965), but, at the last minute, the director Alex Segal decided that Carol Lynley had a greater dramatic range.
In the mid-1960s, she met the English director Robert Day, who had made The Rebel with Tony Hancock and She with Ursula Andress. They married in 1968 and had a son. Provine made her final film appearance in Never A Dull Moment (1968) with Dick Van Dyke, and from that time, she only made commercials and occasional guest appearances. They settled in Bainbridge Island and she remained there until her final illness.
Dorothy Provine, actress and singer: born Deadwood, South Dakota 20 January 1935; married 1968 Robert Day (one son); died Bremerton, Washington 25 April 2010.
Join our commenting forum
Join thought-provoking conversations, follow other Independent readers and see their replies