Doug Ellis: Aston Villa chairman who was 'Deadly' in firing a string of managers
The self-made millionaire swapped the travel business for the football boardroom, and began a 38-year love-hate relationship with the Villa Park faithful that brought trophies and relegation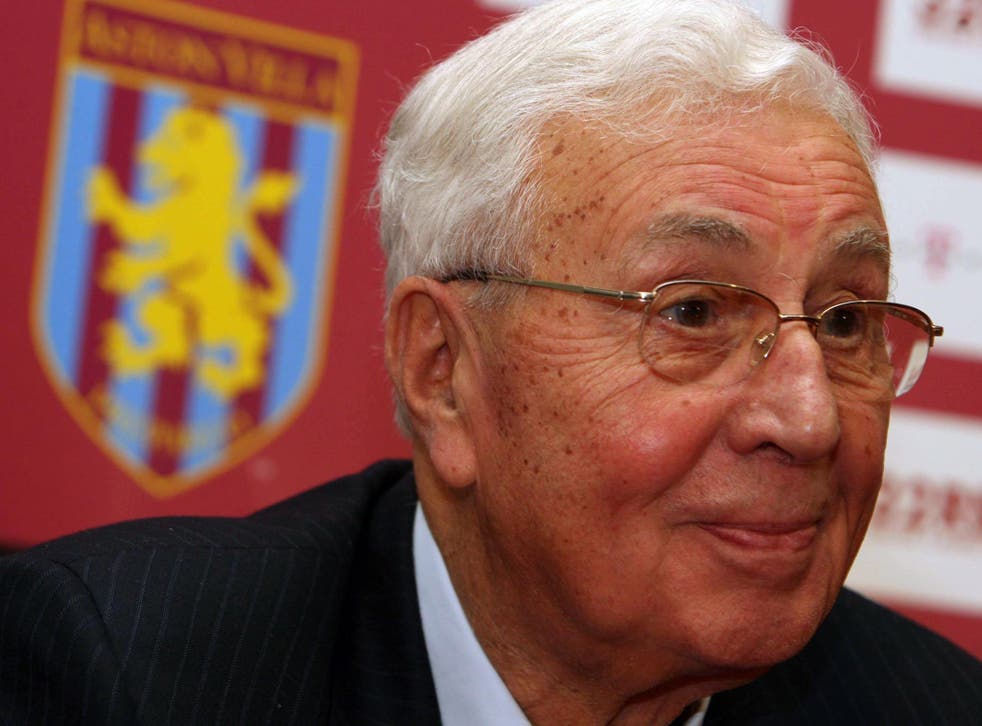 Doug Ellis's tenure as chairman of Aston Villa stretched over four decades and often found him cast by supporters as parsimonious, unambitious and self-serving. While the stereotype of the pantomime villain was not without foundation – a penchant for sacking managers led to his being branded "Deadly Doug" by television pundit Jimmy Greaves and he once claimed to have invented the bicycle-kick – it belied his achievements in building a stable club and developing its stadium and training centre.
Ellis, who has died at the age of 94, first took the helm at Villa Park in 1968 and initially remained chairman for seven years. After serving as a director until 1979 he was ousted by Ron Bendall, under whom Villa won the Football League championship and European Cup. Regaining control in 1982, he finally relinquished it in 2006, having helped create a set-up attractive enough for American billionaire Randy Lerner to pay £63m for it.
Villa gained fresh leadership and spending power; Ellis became honorary life president. For a time Lerner and manager Martin O'Neill looked capable of vindicating those who had raised "Ellis Out" banners on the Holte End. But O'Neill resigned abruptly and Lerner seemingly adopted a more conservative attitude. After five successive struggles against relegation culminated in dropping to the Championship in April 2016, the Ellis era began to take on a rosier glow.
Brought up in Ellesmere Port by his impoverished, widowed mother, Ellis joined the Royal Navy during the Second World War. In the first of two autobiographies, Deadly!, he wrote that flu forced him to miss a boat which was sunk with all hands lost. In 1946 he joined Frames Travel Agents and within two years was sent to manage a branch in Birmingham. In the mid-1950s, using capital of £2,500, he founded the Ellis Travel Agency, pioneering package holidays in Spain. By 1962 he was a millionaire.
Ellis was asked to join the Villa board in 1964 only for one director to oppose his membership with a unanimous decision required. Birmingham City had no such qualms, though he said three years at St Andrew's taught him "how not to run a football club". In December 1968, however, he accepted an invitation from Villa and the chance to test his prudent motto of "generate income before you spend it". The club, struggling in the Second Division before crowds of 12,000, was "technically insolvent".
He appointed Tommy Docherty as manager, the first of 14 he employed and seven he sacked at Villa Park. Not long after "The Doc" responded to Ellis saying he was "right behind him" by quipping that he preferred him in front of him, where he could see what he was up to. Villa fell into the Third Division but returned to the top flight by 1975. Ellis insisted Brian Clough twice tried to persuade him to employ him. "There's only one boss at Aston Villa," he maintained he told the then Derby manager, "and that's me."
Ellis's 1974 appointee Ron Saunders delivered the League title in 1981, although by then Bendall had edged him off the board. The European Cup followed – won, he would argue, by a side built around products from the youth academy he established. After a bizarre 10-day spell as chairman of Wolverhampton Wanderers, which ended when accountants revealed the club was bankrupt, he bought his way back into the chairmanship of Villa in late 1982.
But five years after conquering Europe, they were relegated. Ellis's inspired appointment of Graham Taylor, from Watford, transformed the team, and Taylor left Villa as runners-up to Liverpool when he became England manager in 1990. Ellis' next move, to lure Czechoslovakia's Jo Venglos, was bold, no other leading club having appointed a foreign manager. He was gone inside a year, Ellis turning to Ron Atkinson. When Ellis interrupted him at his introductory press conference "Big Ron" said: "See, he's interfering already." Villa won the League Cup in 1994 but Atkinson never got on with Ellis, who fired him after a disastrous run.
The first full season of Brian Little's reign, 1995-96, proved the high point of Ellis's time at Villa, who routed Leeds in the League Cup final, reached the FA Cup semi-finals and finished fourth in the Premier League. Ellis had financed the club-record signing of Savo Milosevic for £3.5m, and in 1997 Little bought Stan Collymore for £7m. Personal problems drove Little to resign and similar difficulties contributed to Collymore's mercurial form.
John Gregory, Ellis's longest-serving manager with four years' service, had to apologise to him in 2000 after complaining he was "stuck in a time-warp". Long-serving former chief operations officer Steve Stride has since revealed that EIlis was then (justifiably) suspicious of the massive spending going on at Leeds United, which Villa fans saw as proof that their rivals were more ambitious. Perhaps stung by criticism, Ellis sanctioned another record outlay, £9.5m, for Juan Pablo Angel in 2001.
Reportedly the first club director to pay himself a salary after the Football Association changed the rules, Ellis floated the club on the stock market in 1997, reducing his 47 per cent holding to a third by selling shares. He was a prime mover in the plan for a Midlands-based national stadium, which was overlooked in favour of rebuilding Wembley. A member of the FA's international and finance committees, he was also on Fifa's media and television committee.
During his final years as Villa chairman Ellis overcame prostate cancer and triple heart bypass surgery, but kept travelling to games by Rolls-Royce (boasting the number plate AV1) and remained "claret and blue through and through". He was awarded the OBE in 2005 and knighted in 2012. "That was essentially for my charity work," he said, "although I'd like to think Villa fans appreciate what I did for the club too."
And the real origins of that nickname? "It had nothing to do with football," he said in 2013. "Jimmy Greaves and I were doing a show for ITV about fishing. I took the priest – that's the heavy tool used to kill fish when caught – off him and was leaning over Jimmy to help him out. The priest nearly hit him and he suddenly said, 'You're deadly, Doug!' That's how it happened and that's how the name came about.
"It had nothing to do with football but the public and the press like to think it did just because I sacked 11 managers."
Ellis is survived by his wife, Heidi (nee Kroeger), and their two sons, Oliver and Simon. Peter, the son from his marriage to Audrey Slater, predeceased him.
Sir Herbert Douglas Ellis OBE, football-club administrator and businessman, born 3 January 1924, died 11 October 2018
Register for free to continue reading
Registration is a free and easy way to support our truly independent journalism
By registering, you will also enjoy limited access to Premium articles, exclusive newsletters, commenting, and virtual events with our leading journalists
Already have an account? sign in
Join our new commenting forum
Join thought-provoking conversations, follow other Independent readers and see their replies