Eddie Large: Buffoon-playing half of the TV comedy duo Little and Large
Their Saturday-evening BBC show replaced Morecambe and Wise, and ran for 13 years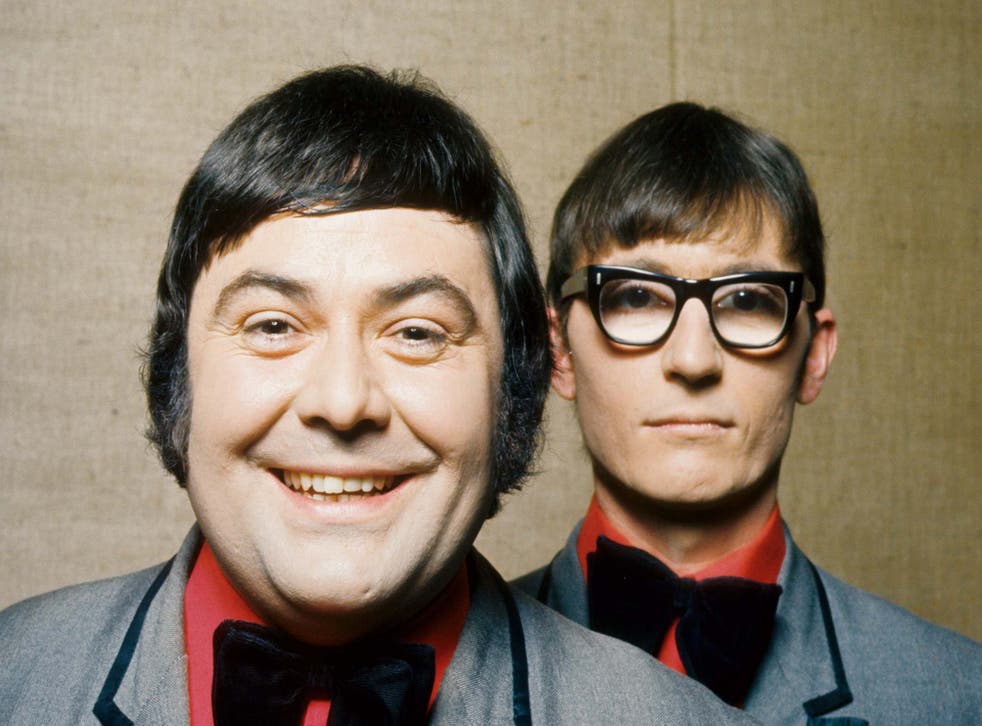 Eddie Large, who has died of coronavirus aged 78, was one half of Little and Large, who established themselves in the shadow of the great Morecambe and Wise, taking over the mantle of British television's most popular comedy double act after Eric Morecambe's death in 1984.
Large played the buffoon, putting great energy into a performance in which he would dart around the stage doing impressions of Rod Stewart crooning, "If you want my body and you think I'm sexy," and Kate Bush swooping and soaring to the words of "Wuthering Heights".
Deputy Dawg, Top Cat, the Flowerpot Men and Benny from the TV soap Crossroads were among other characters whom the 15-stone comedian mimicked while acting as a foil to the nine-stone, bespectacled straight man he called "Supersonic" Syd.
Large was born Edward Hugh McGinnis in the poverty-stricken Gorbals area of Glasgow in 1941, the son of Teddy, a sheet metal worker, and Jessie (nee McKenna). It was said that his mother had insisted on changing the family name from McGuinness because she was teetotal.
They moved to Manchester when he was nine and, within six years, the boy's talents on the football field led him to become an associate schoolboy with Manchester City, whose ground was next to their Moss Side home.
But he had to give up playing at the age of 17, after becoming an apprentice electrician, when he fell off his bicycle on the way to work and a bus ran over his ankle, breaking bones and damaging ligaments.
Robbed of his dream, he had no incentive to remain in peak condition. "I was proud of my fitness," said the man who had kept himself in trim as a teenager, "but, once I knew that I could never play professional soccer, I began to put on weight."
A new ambition surfaced when in 1960 McGinnis walked into The Stonemason's pub in Timperley, Cheshire, and saw Cyril Mead, who was dressed as a Teddy boy in crepe-soled shoes and drainpipe trousers, playing guitar and singing contemporary pop hits.
Mead, a Blackpool-born painter and decorator, invited McGinnis – who had been heckling him all night – to join him on stage and show he could do better. The pair teamed up as Cyril Mead and Friend, and established themselves as a comedy duo, with McGinnis constantly interrupting the singing Mead.
Later, McGinnis added impersonations to the act and, while working as semi-professionals in clubs and theatres for as little as £3 a night between them, they renamed themselves Syd and Eddie.
In 1963, as more and more bookings came in, they decided to give up their day jobs and go professional. But by the end of the decade Syd and Eddie felt they were going nowhere and were on the verge of breaking up.
Then came their big break with an invitation to appear on the television talent show Opportunity Knocks in 1971 and the decision to change their professional name again for the programme, to Little and Large.
"It was a depressing time," said Large, "and then, out of the blue, we were involved in a car accident that ruined most of our equipment. We were seriously considering packing it in completely, then fate took a hand."
Winning Opportunity Knocks led Little and Large to become resident comedians in the children's show Crackerjack in 1972 and appear regularly in Who Do You Do? alongside an ensemble cast of impressionists between 1973 and 1976.
The pair then landed their own ITV programme, The Little and Large Telly Show (1976-77), before moving to the BBC for the long-running, Saturday-evening entertainment show Little and Large (1978-91), intended to replace Morecambe and Wise when that comedy duo switched channels.
During more than 80 episodes and specials at the BBC, Little and Large attracted a peak audience of 18 million viewers in 1980. Large himself contributed to the scripts.
When the television show was finally axed, the pair returned to their club roots and summer seasons. The end of such a successful screen run was very sudden. "The critics were laughing at us for the wrong reason," said Large. "They laughed at us the same way they laugh about Des O'Connor's singing. That wasn't the public, because we were still getting great ratings. It was the TV critics and the telly bosses."
Large later appeared on screen as himself in two programmes. In the television industry satire Bob Martin (2001), he was seen as a contestant in a fictional game show hosted by Michael Barrymore.
Then, he took his real-life role as a Manchester City fan in the BBC drama The King and Us, part of the Waiting for the Whistle series (2002). It featured the crucial 1973-74 final Division One game of the season, when Manchester United were relegated after losing to their arch rivals in a derby match. Denis Law, United's "King" of the title, also guest-starred.
He then played an Eddie Large lookalike in the TV movie Viva Blackpool (2006) and Barney, one of the young pet-sitters' neighbours, in the sitcom pilot Dappers (2010).
The comedian's autobiography, Larger Than Life, was published in 2005. Two years earlier, he had undergone a life-saving transplant after suffering a heart attack in 2002. This spelt the end of the Little and Large partnership, although they reunited on screen in Ant & Dec's Saturday Night Takeaway in 2018 and Pointless Celebrities a year later.
Large's first marriage, to Sandra Bigwood in 1965, ended in divorce. He is survived by his second wife, singer Patsy Ann Scott, whom he married in 1983, their son, and two daughters from his first marriage.
Eddie Large (Edward Hugh McGinnis), comedian, born 25 June 1941, died 2 April 2020
Register for free to continue reading
Registration is a free and easy way to support our truly independent journalism
By registering, you will also enjoy limited access to Premium articles, exclusive newsletters, commenting, and virtual events with our leading journalists
Already have an account? sign in
Register for free to continue reading
Registration is a free and easy way to support our truly independent journalism
By registering, you will also enjoy limited access to Premium articles, exclusive newsletters, commenting, and virtual events with our leading journalists
Already have an account? sign in
Join our new commenting forum
Join thought-provoking conversations, follow other Independent readers and see their replies