Eddie Van Halen: Pioneering guitarist who gave his name to one of the world's most electrifying bands
The Dutch-born musician popularised the technique of two-hand tapping and described his group's sound as like 'Godzilla waking up'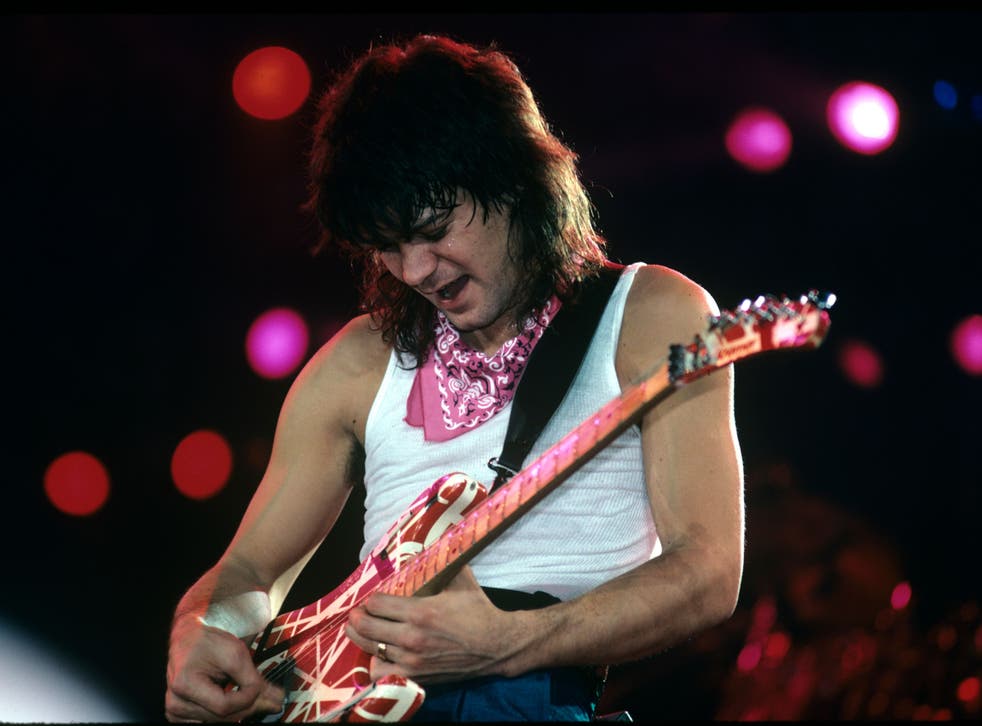 Eddie Van Halen, who has died of cancer aged 65, was a leading pioneer of rock guitar playing in the post-Jimi Hendrix era – and gave his name to one of the world's most energetic and exciting hard rock bands.
After Van Halen's formation in the mid-1970s, he provided the driving force behind the extrovert stage antics of original frontman David Lee Roth – and became famous for popularising the technique of "two-hand tapping", using both on the fretboard of his instrument.
The Dutch-born guitarist was influenced by seeing the "reckless abandon" of Jimmy Page performing a solo on Led Zeppelin's song "Heartbreaker" – and said the result helped to make his own band sound like "Godzilla waking up" as it mixed hard rock and heavy metal.
An early example of the style was displayed on "Eruption", from Van Halen's 1978 self-titled first album, with a dazzling 1 minute 42 second solo of lightning-fast licks, ringing harmonics and smeared, dive-bombing effects.
He also customised his own black-and-white "Frankenstrat" guitar by combining elements of a Fender and a Gibson and, later, created an EVH Wolfgang, named after his son.
The band – with Eddie's older brother, Alex, on drums – had a string of platinum-selling albums in their first two decades and sales eventually topped 80 million worldwide.
Their hit singles included "Dance the Night Away" (1979), "(Oh) Pretty Woman" (1982), "Why Can't This Be Love" (1986) and "When It's Love" (1988).
But their only No 1 in the US – also making the UK Top 10 – was the anthematic "Jump" (1983), written by all the band members, but with a distinctive synthesiser riff composed and performed by the versatile guitarist, who as a child also played drums and excelled as a pianist.
Roth left to turn solo in 1985 following constant rifts with Eddie Van Halen – and reports that the charismatic vocalist was unhappy with him performing outside the band, notably providing an uncredited solo on the 1983 Michael Jackson single "Beat It", from the mega-selling Thriller album.
Predictions of the group's demise proved unfounded. Sammy Hagar, who had a flair for power ballads, took over as singer and four consecutive No 1 albums followed in the US between 1986 and 1995.
But the Van Halens and Roth were eventually reunited in the band – with the guitarist's son, Wolfgang, on bass – for a 2007-08 North American tour. Two further tours followed, the last in 2015, climaxing with two dates at the Hollywood Bowl.
Edward Lodewijk Van Halen was born in Amsterdam in 1955. When he was seven, the family moved to Pasadena, California, where his father, Jan, worked as janitor of a Masonic temple and washed dishes at a hospital while playing clarinet and saxophone at weekend gigs. His mother, Eugenia (nee Van Beers), originally from Java, in the Dutch East Indies, worked as a maid.
In 1973, while studying at Pasadena City College, Eddie and his brother met Roth and formed the group Mammoth to perform covers of others' hits in local clubs.
By the following year, complete with bass guitarist Michael Anthony, they were established as one of Los Angeles's loudest bands and changed their name to Van Halen.
A record deal eluded them until a Warner Bros executive spotted them at the Starwood club, in West Hollywood.
In 1978, a tour of Britain as support act to Black Sabbath helped their first album to reach the fringes of the UK Top 30. A year later, Van Halen II signalled even bigger sales and a headlining British tour.
For several years in the late 1990s, Gary Cherone was the band's singer, but Hagar returned briefly before Roth took centre stage again.
As well as touring, there was a final studio album with Roth, A Different Kind of Truth (2012), which reached the Top 10 on both sides of the Atlantic.
Years of drinking and drug-taking led Van Halen himself to enter rehab in 2007 and he said he was clean a year later.
However, he had already been diagnosed with mouth cancer and had part of his tongue removed in 2000.
His 1981 marriage to actor Valerie Bertinelli ended in divorce in 2007. He is survived by their son and his second wife, actor and publicist Janie Liszewski, whom he married in 2009.
Eddie Van Halen, rock guitarist, born 26 January 1955, died 6 October 2020