Eduard Shevardnadze: Politician who helped end the Cold War and dismantle the Soviet Union then served as president of troubled Georgia
Harry Shukman
Monday 07 July 2014 18:47 Comments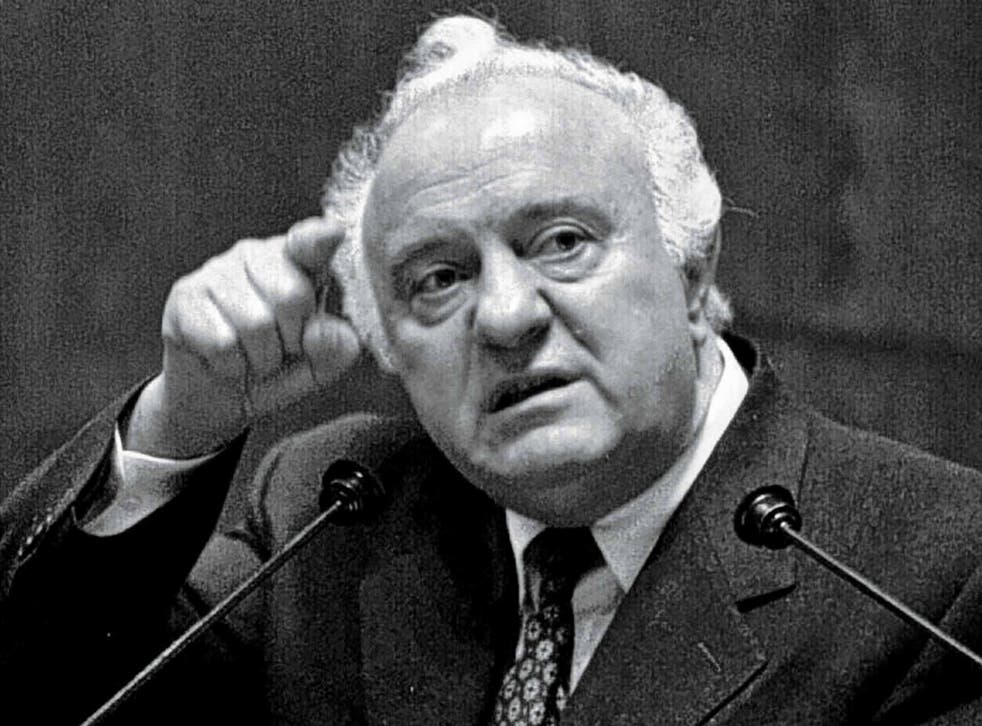 It had long been accepted by observers of the Soviet scene that nothing would change fundamentally in domestic or foreign policy as long as the geriatric Khrushchev and Brezhnev generation survived in the leadership. The emergence of the Mikhail Gorbachev as General Secretary in March 1985 was interpreted as heralding a decisive break with the past.
The change was confirmed by the elevation to the Presidency of Andrei Gromyko, Foreign Minister since 1957, and his replacement by a relatively unknown figure from the Georgian Republic, Eduard Shevardnadze. This appointment, almost as much as that of Gorbachev's, was to be responsible for the profound shift of attitudes and soon the policies that would bring about the demise of the People's Democracies in Eastern Europe, the collapse of the Soviet Union and the end of the Cold War.
If Gorbachev was the architect of these changes, Shevardnadze was their most effective executor. Foreign policy was in the hands of a man whose public persona was that of the civilised conciliator, gentle in manner, pleasant and affable, with an engagingly human smile.
Soviet diplomats became more open to discussing previously taboo subjects, and adopted a less strident demeanour, conducting discourse on more equal terms, and in due course even expressing a desire "to learn from the West". It was a refreshing moment in East-West relations, and indeed it was a time when "the new thinking" came into play. Shevardnadze was well-suited to his new job.
Eduard Amvrosievich Shevardnadze was born in 1928 in the village of Mamati in Georgia. The son of a schoolteacher father, he joined the Komsomol in 1946 and the Communist Party two years later. He became the Komsomol's First Secretary in 1957 and spent 25 years in Georgian Communist Party apparatus, rising to become First Deputy Minister for the Protection of Public Order in 1961 and from 1965-72 Minister of the same body, renamed Internal Affairs – effectively the Georgian KGB. He launched the campaign that was to make him a resolute advocate of reform, and a close friend and confidant of Gorbachev.
Shevardnadze famously exposed the most corrupt party officials by asking them to raise their hands a meeting and then promptly sacking all those wearing expensive watches on their wrists. And using his access to the personal dossiers in his Ministry he made a case against First Secretary Vasili Mzhavanadze, who had ruled like a Mafia godfather, so strong that he was forced to retire, replaced by Shevardnadze.
He fought organised crime and corruption and introduced something approaching a liberal regime. Material that would have been labelled as dissident often appeared without penalty. A film called The Blue Mountains that satirised censorship was screened; another, Atonement, lampooned the monstrous Beria and brought the theme of the gulags to the screen.
When Gorbachev became the new Soviet leader he made Shevardnadze a full member of the Politburo and Foreign Minister. A critic of intervention in Afghanistan, and intent on reforming relations with the West, he set about repatriating Soviet forces and winding down military involvement in the Third World.
But the loss of Eastern Europe and of the Party's authority at home caused a build-up of blood pressure in the old guard. For them, Shevardnadze's "new thinking" was nothing less than a treacherous policy of concessions to the West. Gorbachev's position became increasingly precarious as the power and authority of the Union dwindled and the conservatives became more strident. In December 1990 Shevardnadze dropped a bombshell by resigning as Foreign Minister because, as he put it, the state was threatened by a new dictatorship.
As the South Ossetians, Abkhazians and other ethnic groups began to assert their claims to sovereignty Shevardnadze became Georgia's elder statesman in 1992, returning to his homeland, becoming president and, following elections, Chairman of the Georgian Parliament.
How much influence he exerted on events is unclear, but the Georgian campaign to suppress the dissident territories by violence intensified in the winter of 1992-93. By August 1993, with 90 per cent of Georgians below the poverty line and amid military upheavals, the cabinet resigned at a stormy session of parliament, and Shevardnadze was given two weeks to deputise as Prime Minister and form a government.
Abkhazian forces captured their capital, Sukhumi, in summer 1993, and Shevardnadze had to call for help. He he signed a treaty under which Russia trained and armed the Georgian army and kept bases in the country.
Corruption in the countries of the former Soviet Union had become synonymous with organised crime, and in 1995 Shevardnadze came close to becoming one of their victims. A car-bomb exploded as he left an apartment block but he escaped with cuts and bruises.
Russia wanted to counter Shevardnadze's ambition to secure a pipeline from the Caspian through Georgia but Shevardnadze's international standing meant he could be overcome only by gangster methods. In February 1998 more than a dozen gunmen attacked Shevardnadze's motorcade for several minutes, blasting it with rockets, grenades and automatic fire. The President's bullet-proof car took a direct hit from a rocket and two of his bodyguards died, but he emerged without a scratch. The scale and professionalism of the attack suggested that he was the target of well-trained locals employed by Russian hard-liners.
In 2003, with a huge gap between the impoverished majority and a rich and corrupt minority, the population broke into the Parliament building while Shevardnadze was declaring a state of emergency. The disillusioned politician resigned, opted for an honourable dénouement, declaring, "I have never betrayed my people." He was often reviled as a typical, calculating, tough Party boss. But it seems he was overwhelmed by the pain of watching the hopes of a well-intentioned generation turn to dust. He spent his retirement at his house near Tbilisi.
Eduard Amvrosievich Shevardnadze, politician: born Georgia 25 January 1928; married 1951 Nanuli Tsagareishvili (died 2004; one daughter, one son); died Tbilisi 7 July 2014.
Harry Shukman died in 2012.
Register for free to continue reading
Registration is a free and easy way to support our truly independent journalism
By registering, you will also enjoy limited access to Premium articles, exclusive newsletters, commenting, and virtual events with our leading journalists
Already have an account? sign in
Join our new commenting forum
Join thought-provoking conversations, follow other Independent readers and see their replies