Elena Gremina: Moscow theatre rebel whose plays addressed the turmoil of post-Soviet Russia
Known for her enthusiastic defiance of convention and authority, the director staged documentary-style plays to tackle some of the most charged political subjects of her time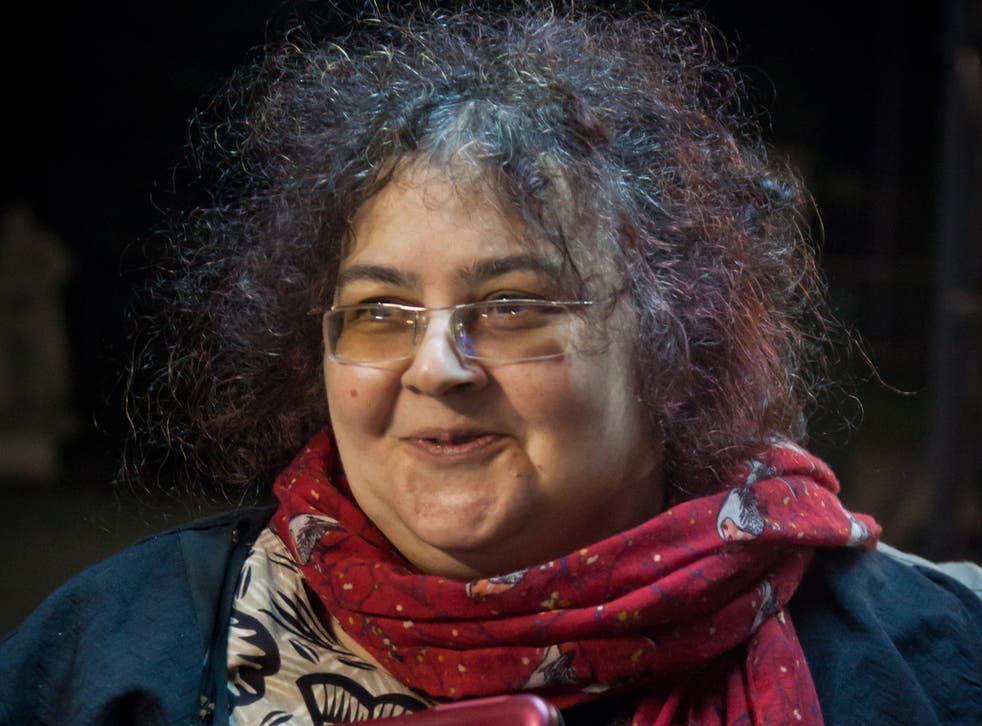 On the eve of the premiere, Moscow's police crowded the theatre, searching its premises and questioning its staff. But even such intimidation failed to halt the controversial production.
Despite the politically sensitive nature of the play, Elena Gremina, the theatre director, was determined to go through with it. The Bolotnaya Square Case, as it is titled, recounts the real-life prosecution of 28 individuals who took part in a demonstration against Vladimir Putin. Tickets for the play, which premiered on the third anniversary of the protests, quickly sold out, as theatregoers flocked to see what promised to be a frank take on the anguish of state oppression.
As one reviewer put it, "the performance was almost a social action group psychotherapy".
Gremina, who was one of the most prominent Russian playwrights and stage directors of her generation, favoured the documentary form, often focusing on real events and people – and using their speech verbatim – to tackle some of the most charged political subjects of her time. Through her work, and the work of others whom she championed, Gremina sought to explain the society Russians lived in – and to provide some measure of solace to her audiences.
"I know that the theatre is healing," she once told the newspaper Novaya Gazeta.
Elena Anatolievna Grebneva was born into Moscow's cultural elite in 1956, the second child of Georgian parents Anatolii Grebnev, a famous screenwriter, and of Galina Mindadze, a literary translator. Aleksandr, her elder brother, also followed the parents' artistic inclination, becoming a well-regarded screenwriter in his own right.
The surname Gremina, a contraction of Grebnev and Mindadze, she adopted to make her own way, separate from her father's success. But it also had a fitting resonance for the Russian stage, reminiscent as it was of Prince Gremin, a character in Tchaikovsky's opera Eugene Onegin.
A graduate of the Gorky Literature Institute in Moscow, Gremina put on her first significant production, The Myth of Svetlana, in 1984. In keeping with much of her later career, the play was well received by the public and censored by the state.
But her major breakthrough came a whole decade later with Behind the Mirror, which told the story of Catherine the Great's tragic love affair with a man half her age. The play's success owed much to Galina Vishnevskaya, the opera diva, who unexpectedly took on the role of Catherine. "I couldn't have been more surprised if someone had told me the Statue of Liberty was going to play the lead," a delighted Gremina said at the time.
Critics discarded the play as yet another "commercial" show, but it was a huge popular success and displayed many of the traits characteristic of her work: irony, tenderness and a steadfast commitment to describing the realities of Russian life.
As Gremina jokingly put it herself, she had previously only been famous "among select circles". Now her new name carried weight.
But she was as much interested in the success of her peers as she was in her own. In 1992 she helped set up a yearly retreat just outside Moscow where young writers could experiment with texts that played with, or outright broke, the codes of Russian theatre. It greatly influenced theatrical expression in the early post-Soviet era.
Still, Gremina and her husband Mikhail Ugarov, a fellow playwright, were convinced contemporary Russian theatre lacked the ability to describe the sudden and dramatic transformations that accompanied the fall of the USSR.
Inspiration on how to address this shortcoming came to her in 1999, when a seminar given in Moscow by London's Royal Court Theatre touched on the subject of "verbatim" documentary theatre, that is, theatre based partly or in full on interviews.
Gremina was immediately taken with the idea and from then on promoted it relentlessly, writing plays employing this technique, and encouraging many others to do so, too. As a result, documentary theatre became perhaps the most vibrant and prolific genre on the Russian stage. As her friend and sometimes translator Sasha Dugdale put it, Gremina and her husband armed the country's new writers with "a zeal for the real".
Theatr.doc, a small basement theatre in central Moscow co-founded by Gremina in 2002, provided the focal point for this artistic movement. At first standing out for its use of nudity and vulgar language – another import from the British stage, namely in-yer-face theatre – Theatr.doc soon deployed the full political potential of verbatim work by staging plays based on interviews with prisoners, migrant workers and homeless people, as well as on xenophobic exchanges posted on internet forums.
One such political play was Gremina's One Hour Eighteen Minutes, which examined the death in police custody of the Russian lawyer Sergei Magnitsky. Another was The Bolotnaya Square Case.
Authorities did not ban Theatr.doc, but such performances, and the echo they generated in Russia and abroad, far beyond the theatre's capacity of just 100 seats, made it a target of constant surveillance, and at times intimidation. Twice Theatr.doc was evicted from the premises it occupied and had to find a new home. On one occasion, Gremina said, she was summoned to the Ministry for Culture where she was warned that further police raids could be ordered against her theatre.
But she dismissed such threats, and was able to keep working. Avoiding broad-brush condemnations of the state, she told The Guardian in 2016 that she did not believe the ministry censored new plays, only that it tended to approve grants to "ideologically sound" productions. "But these are questions of allocating money," she said. "You can put on what you want, at least for now."
Though in some ways self-effacing, Gremina was made conspicuous by her distinct mop of curly black hair and the long, colourful scarves she wore above her usually dark clothes. She was known for her enthusiastic defiance of convention and authority and her dogged promotion of younger authors.
Beyond the stage, Gremina wrote frequently for the television and radio, which was a more lucrative line of work than the theatre.
Gremina is survived by her son from a previous marriage, the writer and actor Aleksandr Rodionov. Her husband Ugarov predeceased her in April.
Wary of the perils of patriotism, Gremina once said she cautioned herself against becoming a "good citizen", saying she would rather be a good person. But that preference never implied a disengagement from public life.
"You see, we cannot just live and agree," she once said. "We must participate, try to change things – to testify."
Elena Gremina, Russian playwright and theatre director, born 20 November 1956, died 16 May 2018
Join our new commenting forum
Join thought-provoking conversations, follow other Independent readers and see their replies