Eli Wallach: Early proponent of method acting whose many stage and film roles included Tuco in The Good, the Bad and the Ugly
Wednesday 25 June 2014 23:56 Comments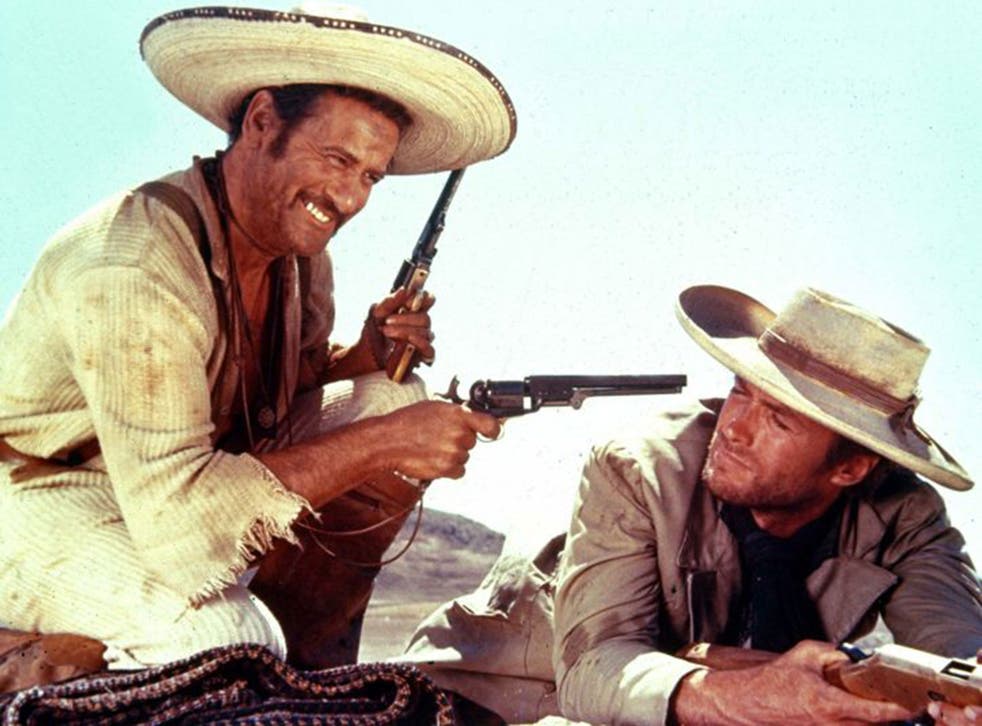 An accomplished star of screen, stage and television, and a practitioner of the "method" style of acting, Eli Wallach will be best remembered for his roles in two classic Westerns: as Calvera, the leader of the terrorising bandit gang in The Magnificent Seven (1960), and as wily outlaw Tuco in Sergio Leone's The Good, the Bad and the Ugly (1966), but his diverse gallery of memorable characters included his role as the prospective seducer of the child-like bride in Elia Kazan's sensational Baby Doll (1956), the actor's screen debut at the age of 40, which won him a Bafta award as "best newcomer".
His numerous other screen roles included one of the cowboys whose time has passed in The Misfits (1961) with Marilyn Monroe and Clark Gable, and Don Altobello in The Godfather Part III (1990). Television roles included Mr Freeze in the popular series Batman in the 1960s ("I received more fan mail about that role than all my others put together"), and in 1954 London theatregoers saw him in the West End as the star of the hit comedy, The Teahouse of the August Moon at Her Majesty's Theatre. He was still acting in 2010, when at the age of 94 he appeared in Roman Polanski's The Ghost.
Wallach was born in 1915 in Brooklyn, the son of Polish Jewish immigrants who ran a confectionary store. He graduated from the University of Texas in 1936 with a degree in history; while there he acted in a play with future stars Ann Sheridan and Walter Cronkite. He also learnt to ride a horse, a skill that would later prove useful.
He went on to study at City College of New York where in 1938 he received a master's degree in education. He also began to attend the Neighbourhood Playhouse School of the Theatre in New York City, where he studied under Sanford Meisner and first encountered the method style of acting.
During the Second World War, he served in the army, in a military medical unit. On his return to New York, he became one of the first members of the Actors' Studio, alongside Marlon Brando and Montgomery Clift. When Marilyn Monroe joined the Studio, Wallach became a close friend, and later worked with her in The Misfits, stating, "I'll say this about Marilyn; she makes every male think that she is trapped in the castle tower and each one of them will rescue her. That was her ability to capture the male imagination."
Wallach made his Broadway debut in Harry Kleiner's Skydrift (1945), as the crew chief of seven paratroopers killed while flying a mission over Japan then granted one last visit to their loved ones. The fantasy ran for only seven performances, after which Wallach was part of the short-lived American Repertory Theatre in 1946 productions of King Henry VIII (as Thomas Cromwell) and Androcles and the Lion (as Spintho).
In 1948 he co-starred with actress Anne Jackson in an off-Broadway production of Tennessee Williams's This Property is Condemned. "We had a few arguments about how the roles should be played", he related. "We settled it all by getting married." The couple, who frequently worked together on stage, had three children together.
He was a sailor in the hit play, Mister Roberts (1949), but his first major triumph was his superb depiction of an earthy Sicilian truck-driver opposite Maureen Stapleton in Williams's The Rose Tattoo (1951), for which he won the best actor Tony award. He returned to Williams for his role as a fighter in Camino Real (1953), and after starring in London as the mischievous Oriental interpreter in John Patrick's comedy The Teahouse of the August Moon, he took over the role in the Broadway production.
One of the most controversial incidents in Wallach's career came when he was cast as army private Angelo Maggio in the film From Here to Eternity (1953). He was abruptly replaced by Frank Sinatra shortly before filming commenced, and although Wallach later claimed that he turned the role down to appear in Camino Real, more sinister rumours – involving Sinatra's Mafia connections – have always persisted.
Elia Kazan, a mentor since his days at the Actors' Studio, gave him his first movie role in Baby Doll, that of a cotton-gin owner who spends a provocative day with the child bride ("under-age and over-developed") of his rival. Set in a particularly sleazy South, the film was described by Time magazine as "just possibly the dirtiest American picture ever legally exhibited", but received four Oscar nominations and won Wallach the Bafta award as best newcomer.
He returned to the UK in 1957 to appear in Rudolph Cartier's production of Elmer Rice's gripping drama, Counsellor at Law for BBC Television's Sunday Night Theatre, after which he lectured in Rome with Anna Magnani before returning to New York to play a 95-year-old man in an off-Broadway version of Ionesco's The Chairs.
Ionesco's Rhinoceros and Murray Schisgal's absurdist comedy Luv were further examples of Wallach's enthusiasm for the off-beat rather than the safe choice.
Despite having once said that "Movies, by comparison to the stage, are like calendar art next to great paintings", he made more than 70 films, including Henry Hathaway's splendid caper movie Seven Thieves (1960), with Rod Steiger and Joan Collins; How the West Was Won (1962), as another villainous outlaw; Lord Jim (1965), as a wicked feudal war lord; How to Steal a Million (1966, a comedy in which he was Audrey Hepburn's fiancé and an obsessive art collector), The Deep (1977); The Two Jakes (1990); and Night and the City (1992). In 1995 he narrated the documentary Elia Kazan: A Director's Journey, and his last screen role was that of a respected financier in Oliver Stone's Wall Street: Money Never Sleeps (2010).
Wallach, who was given an honorary Academy Award in 2010, once said, "Acting is the most delicious experience in life. When I'm supposed to be feeling despair on the stage, what I really feel is that I'm sitting on top of the world."
TOM VALLANCE
Eli Herschel Wallach, actor: born Brooklyn, New York 7 December 1915; married 1948 Anne Jackson, (one son, two daughters); died New York City, 24 June 2014.
Register for free to continue reading
Registration is a free and easy way to support our truly independent journalism
By registering, you will also enjoy limited access to Premium articles, exclusive newsletters, commenting, and virtual events with our leading journalists
Already have an account? sign in
Join our new commenting forum
Join thought-provoking conversations, follow other Independent readers and see their replies