Elisabeth Sladen: Actress who came to fame as Dr Who's assistant and later had her own spin-off series
Thursday 21 April 2011 00:00 BST
Comments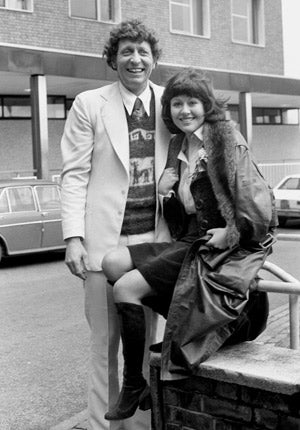 As Sarah Jane Smith, the titular Time Lord's assistant in Doctor Who, Elisabeth Sladen played one of the sci-fi programme's longest-running characters, who was voted the Doctor's most popular companion by fans, gained cult status – and was catapulted to her own spin-off series, The Sarah Jane Adventures.
The actress joined Jon Pertwee, the third Doctor, in 1973 as an investigative reporter infiltrating a top-secret research facility and sneaking aboard the Tardis. This led her to help him, as well as the United Nations Intelligence Taskforce, led by Brigadier Alistair Gordon Lethbridge-Stewart (Nicholas Courtney), in various adventures. Staying until 1976, accompanying both Pertwee and the next reincarnation of the Time Lord, played by Tom Baker, Sladen was seen battling against some of Doctor Who's most infamous enemies, the Daleks, the Cybermen and the Sontarans.
She was cast in the same role for the pilot programme K-9 and Company, a 1981 Christmas special that teamed Sladen with her own companion, a new incarnation of the robot dog K-9. Although the BBC decided against turning it into a series, Sladen reprised Sarah Jane in The Five Doctors, a 1983 adventure celebrating the programme's 20th anniversary.
The following decade, after Doctor Who had been axed, the character's cult status was confirmed with an appearance in the 1993 Children in Need special Doctor Who: Dimensions in Time. Sladen also acted Sarah Jane in various radio and audio dramas, as well as the 1995 video spin-off Downtime.
Then, in 2006, a year after the original programme's revival by the writer Russell T Davies, she was brought back for the "School Reunion" story and took part in a further four Doctor Who adventures over the next four years.
In the meantime, Davies created the CBBC channel's series The Sarah Jane Adventures (2007-10) for Sladen, whose character covertly investigates alien activity from her Ealing manor house, aided by her supercomputer Mr Smith (voiced by AlexanderArmstrong). A fifth series was uncompleted at the time of the actress's death from cancer.
"She's still a journalist, she's still very forthright, very go-getting, very inquisitive," enthused Sladen on her return to the role in the 21st century. "It's still very upbeat and fighting monsters, and doing good in the world."
Born in Liverpool in 1946, Sladen excelled at dancing as a child and even performed as a mouse with the Royal Ballet. However, after leaving her local grammar school, she decided on acting as a career, attended the city's Shelagh Elliot-Clarke School of Drama, then joined Liverpool Playhouse as an assistant stage manager.
When she made her stage début as a corpse in a 1966 production of The Physicists, another actor, Brian Miller, kept giving her the giggles with his whispered comments. Two years later, they married and eventually moved to Manchester.
Sladen had already made her screen début, as an extra, in the 1965 film Ferry Cross the Mersey, starring Gerry and the Pacemakers. Her first television appearance was as a hotel maid in the ITV play If Only the Trains Come (1968), based on a Chekhov story. She followed it two years later with a short run in Coronation Street as Anita Reynolds, a barmaid at the Rovers Return's rival, the Flying Horse, who had a relationship with Len Fairclough, even though the firebrand builder had gone to school with her father.
Moving to London in 1972, Sladen continued to appear on television, in programmes such as Z -Cars (two roles, 1971, 1972), Doomwatch (1972), Some Mothers Do 'Ave 'Em (1973) and Special Branch (1973). After Doctor Who brought her public recognition, she returned to Liverpool and starred as Josie in the Granada Television sitcom Take My Wife (1978-79), with Duggie Brown as her husband, Harvey Hall, a comedian on the Northern club circuit – like the actor himself.
There were also appearances in a television production of Gulliver in Lilliput (1982, as Lady Flimnap), an episode of Dempsey and Makepeace (1985) and the film Silver Dream Racer (1980, as a bank secretary), and Sladen was a presenter of the first four series of the pre-school programme Stepping Stones (1977-80).
She then went into semi-retirement to bring up her daughter, Sadie, who was born in 1985, although she appeared on television again in Alice in Wonderland (1986) and an episode of The Bill (1989), and had a short run in Peak Practice (1996). Sladen was also in commercials, made a handful of comeback appearances as Sarah Jane and accepted invitations to Doctor Who conventions – before the chance of a more high-profile return came.
Her husband, a prolific television actor, provided Dalek voices in 1984 and 1988 episodes of Doctor Who, and later had a role in a 2009 Sarah Jane Adventures story. Their daughter, Sadie, has taken several screen acting roles and played Natalie Redfern in the audio series Sarah Jane Smith (2002-06).
Anthony Hayward
Elizabeth Claira Heath Sladen (Elisabeth Sladen), actress: born Liverpool 1 February 1946; married 1968 Brian Miller (one daughter); died Southall ,London 19 April 2011.
Join our commenting forum
Join thought-provoking conversations, follow other Independent readers and see their replies