Elyse Knox: Actress who became queen of 1940s B-movies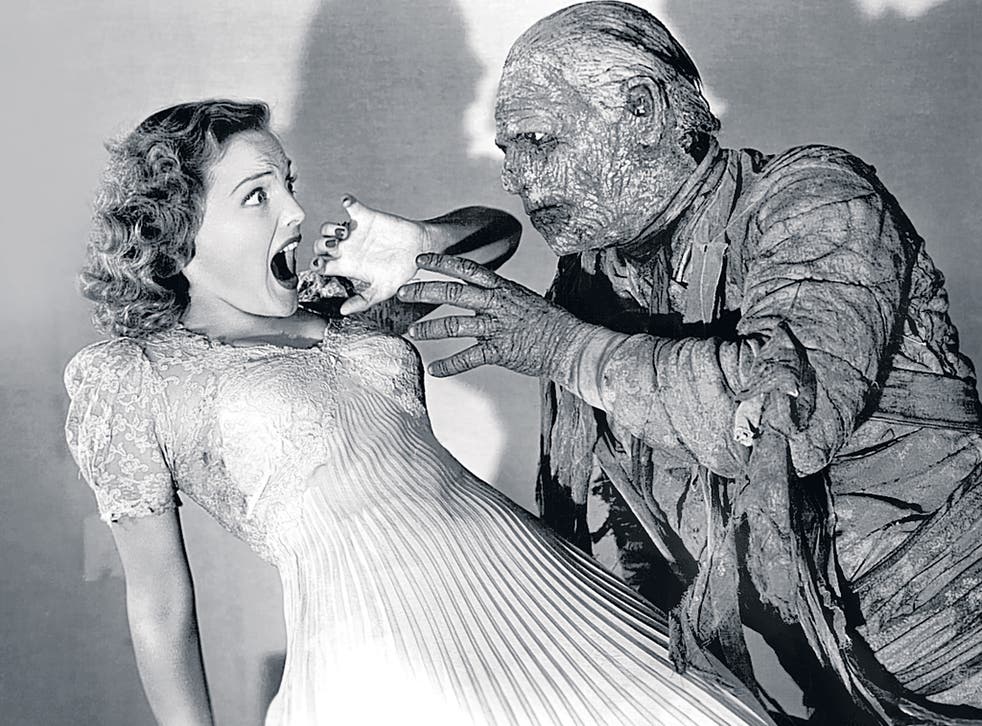 Elyse Knox was one of the most popular and prolific leading ladies of 1940s B-movies, the heroine of such diverse fare as the spine-tingler The Mummy's Tomb; the slapstick comedy Hit the Ice, and the film noir I Wouldn't Be in Your Shoes. A beautiful blonde, she usually epitomised all-American wholesomeness, as in Sheriff of Tombstone, co-starring the singing cowboy Roy Rogers. But she also could be seductively sultry, as demonstrated by her voluptuous harem girl in Arabian Nights (1942). A fashion designer and Vogue model before entering films, she was a popular pin-up during the Second World War.
Born Elsie Lillian Kornbrath in 1917 in Hartford, Connecticut, she was the daughter of William Franklin Kornbrath, who would later change his surname to Knox and become Secretary of the Navy under President Roosevelt. On graduation she moved to New York to attend the Traphagen school of fashion but soon moved into modelling, appearing regularly in Vogue. After signing with the prestigious John Powers agency she appeared in a newsreel called Fashion Forecasts where she was spotted by a 20th Century-Fox talent scout who offered her a contract.
Her screen debut was in the musical, Wake Up and Live (1937), one of several uncredited roles, though some sources list her first film as Free, Blonde and 21 (1940), a B-movie about a hotel for women. Although she played Alice Faye's sister in the musical Lillian Russell (1940), she was barely visible in the final print, and she had equally unimportant roles in five other films in the same year, after which she asked to be released from her contract.
At RKO in 1941 she was in the comedy Footlight Fever and the popular western Sheriff of Tombstone. A move to Universal brought greater success; after Top Sergeant (1942), she was cast in the (now) cult classic The Mummy's Tomb (1942), starring Lon Chaney Jr. She said she enjoyed making the film, and was amused that Chaney had straps fastened to his arms to enable him to sweep her into his arms and carry her up stairs.
In 1942 Knox married the photographer Paul Hesse, who had worked with her on fashion shoots, but the marriage ended within a year. Knox was still a favourite model, and twice appeared on the cover of the weekly service magazine, Yank (in 1943 and 1944).
In the serial Don Winslow of the Coast Guard (1943) she was the female lead, but her next film, Mister Big (1943), showcased the song-and-dance team of Donald O'Connor and Peggy Ryan and Knox's part was minimal. Nevertheless she later credited it, and the comic Lou Costello with helping her career. "My guardian angel is Lou Costello", she said. "Before I ever met him, he saw me in some little picture and went to the front office insisting that I be given better parts."
Next came Hit the Ice (1943), starring Costello and his comedy partner Bud Abbott, in which she had a prominent role. Hi'ya, Sailor (1943) was followed it with a farce, So's Your Uncle (1943), co-starring Donald Woods as a man who impersonates his own elderly uncle to evade creditors. She was herself in the morale-boosting musical Follow the Boys (1944), in support of USO troops, and she did several bond-selling tours. After appearing as a lady rancher in the musical Moonlight and Cactus (1944), starring the Andrews Sisters, Knox left Universal to freelance, and ominously signed with Monogram Pictures, known as a Poverty Row studio.
Her first film there, A Wave, a WAC and a Marine (1944) was produced by Costello, and had higher production values than the average at the studio. After finishing the movie, Knox married Tom Harmon, the all-American football star of the University of Michigan, who had won the Heisman Trophy in 1940. He had also starred in a feature film, Harmon of Michigan, made in 1941. While in the Army Air Corps he received the Purple Heart for his valour in combat, having been shot down over China.
For her wedding, Knox wore a white silk gown fashioned from the parachute that saved Harmon's life – it still had two bullet holes in it. "Tom had played dead in the parachute," said Knox, "so it had great sentimental value."
Knox returned to the screen as a boxer's socialite girl-friend in Joe Palooka, Champ (1946), based on the long-running comic strip. It was successful enough to start a series – 10 more were made, though Knox withdrew after her sixth, Joe Palooka in The Counterpunch (1949).
Other films included an engaging musical drama, The Sweetheart of Sigma Chi (1946); the western Black Gold (1947), the first film to give Anthony Quinn a starring role, and Linda Be Good (1947), in which she played an author who becomes involved with a burlesque company.
Ironically, she was given the sort of dramatic role she had long aspired to as her acting career was coming to an end. I Wouldn't Be in Your Shoes (1948), based on a story by Cornell Woolrich, was a moody suspense tale in which Knox was part of a dance team with her husband (Don Castle), who throws his shoes out of the window at noisy cats, then finds his footprints have been planted to convict him of murder. Her last film was the mediocre There's a Girl in My Heart (1949).
Knox then retired to concentrate on her family life and painting, in which she became very accomplished. Her husband became a sports broadcaster when his war injuries halted his football career and the couple had two daughters and a son, Tom Mark Harmon, who is now a well-known actor whose many credits (as Mark Harmon) include the long-running crime series NCIS.
Elsie Lillian Kornbrath (Elyse Knox), actress and model: born Hartford, Connecticut 14 December 1917; married 1942 Paul Hesse (divorced 1943), 1944 Tom Harmon (died 1990; two daughters, one son); died Los Angeles 16 February 2012.
Register for free to continue reading
Registration is a free and easy way to support our truly independent journalism
By registering, you will also enjoy limited access to Premium articles, exclusive newsletters, commenting, and virtual events with our leading journalists
Already have an account? sign in
Register for free to continue reading
Registration is a free and easy way to support our truly independent journalism
By registering, you will also enjoy limited access to Premium articles, exclusive newsletters, commenting, and virtual events with our leading journalists
Already have an account? sign in
Join our new commenting forum
Join thought-provoking conversations, follow other Independent readers and see their replies