Erin Moran, obituary: the child star best known for playing vivacious teenager Joanie Cunningham in Happy Days
Like too many young actors, she struggled to match her early success and tragically fell on hard times
Chris Maume
Monday 24 April 2017 18:16 Comments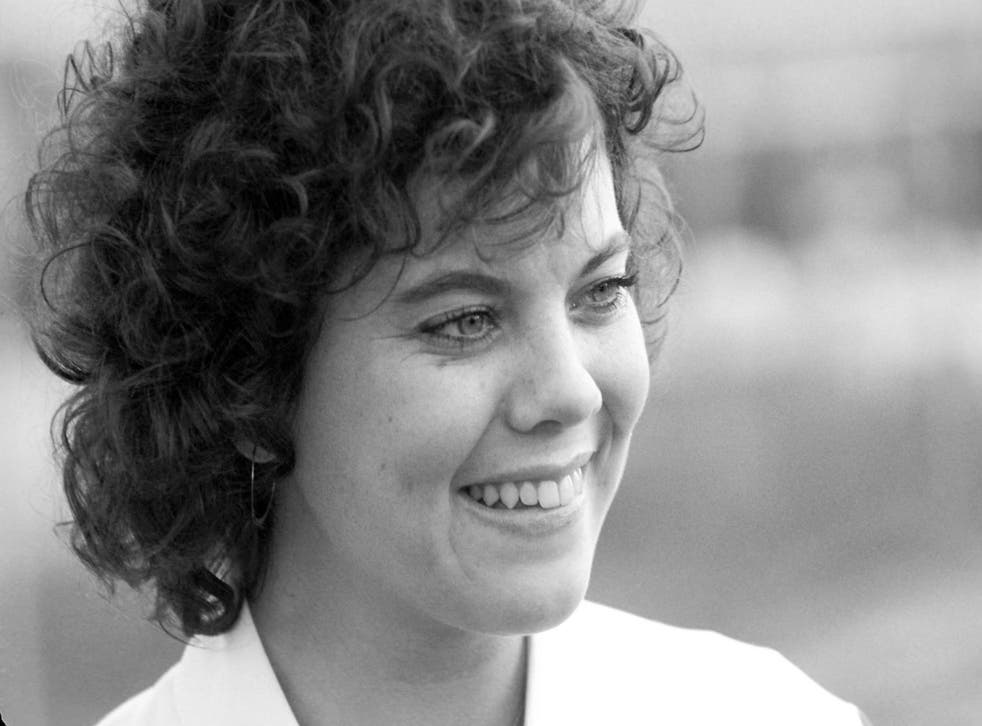 Erin Moran, who has died at the age of 56, endured the all-too familiar trajectory of the child star whose career flounders in adulthood. She played the feisty, vivacious teenager Joanie Cunningham in the hugely successful American sitcom Happy Days, but after the series ended in 1984 she struggled to match her early success.
Joanie was the sister of Richie Cunningham, straight man to Henry Winkler's leather-jacketed car mechanic Fonzie. Richie was played by the future film director, Ron Howard, who would go on to win an Oscar for A Beautiful Mind. Fonzie – Arthur Fonzarelli – took Joanie under his wing, calling her "Shortcake" and sticking up for her as she negotiated the pitfalls of adolescent life in 1950s small-town America.
Moran was born in 1960 in Burbank, California and raised in Hollywood; her father was a finance manager, while her mother signed her up with a talent agency when she was five. The following year she was cast in the final season of Daktari (1966-69), the series set in a centre for studying animal behaviour in Africa – best known for the exploits of Clarence the cross-eyed lion – playing an orphan who became part of the central family's household.
She had several roles in films, and in television series such as Gunsmoke, then when she was 14 she took the part of Joanie. In 1982 she had her own short-lived spin-off series, Joanie Loves Chachi, but Scott Baio, who played Chachi, recalled that the spin-off failed largely because "some of the people on the show had chemical issues". They returned for the final series of Happy Days and were married in the final episode.
She had a few other roles, but her career did not flourish after Happy Days. She married a singer, Rocky Ferguson, and moved away from Hollywood to live in the California mountains – where, she later said, she suffered from depression. She divorced Ferguson and in 1993 married Steve Fleischmann. Short of money, they lived in trailer parks and motels.
In 2010, her home was repossessed, and the following year, along with several other members of the Happy Days cast, she sued CBS, who owned the rights to the show, for $10m (£7.8m) for breach of contract and fraud. They had not been paid, they alleged, for merchandising royalties, but the case was settled out of court and they received only $65,000 each.
In 2014, after a drunken brawl with Fleischmann's mother she was ejected from the Indiana trailer park where she and her husband had been sharing her mother-in-law's home. Winkler tried to help her get a part in his TV show Arrested Development, but she reportedly spent her final years homeless, and died of cancer.
Erin Moran, actress: born 18 October 1960; died 22 April 2017
Register for free to continue reading
Registration is a free and easy way to support our truly independent journalism
By registering, you will also enjoy limited access to Premium articles, exclusive newsletters, commenting, and virtual events with our leading journalists
Already have an account? sign in
Join our new commenting forum
Join thought-provoking conversations, follow other Independent readers and see their replies