Ernest Borgnine: Actor renowned for playing tough guys who also won an Oscar for his sensitive performance in 'Marty'
Marriage to Ethel Merman lasted the honeymoon: 'By the time we got home it was hell on earth'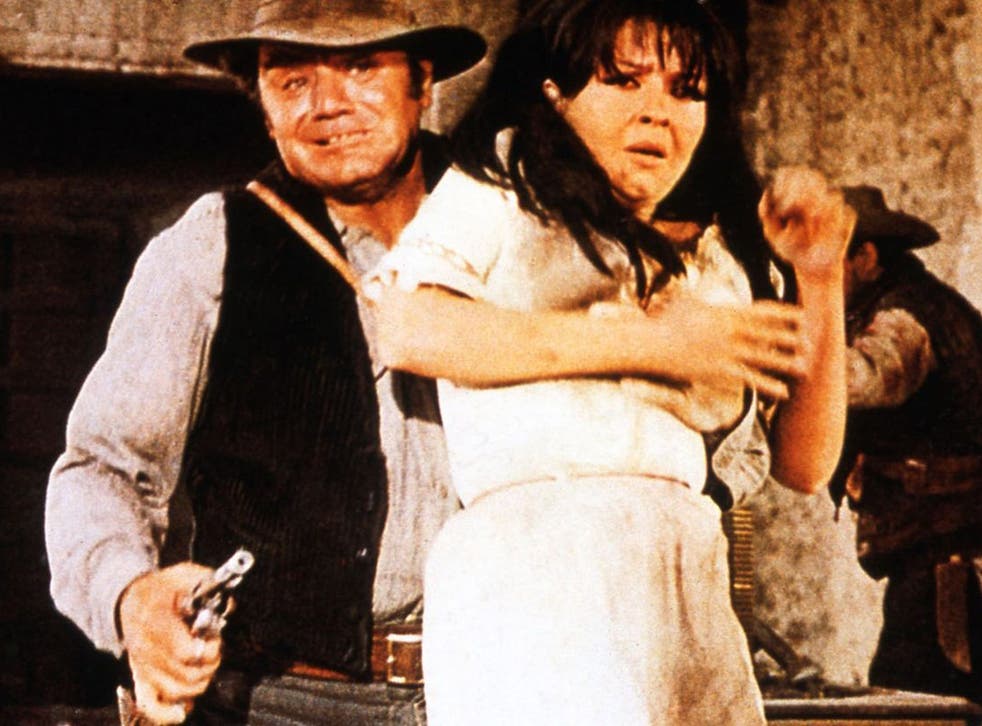 Ernest Borgnine first made a major impact when he played the sadistic Sergeant "Fatso" Judson, who persecutes and later beats to death an Italian private, played by Frank Sinatra, in From Here to Eternity (1953). His formidable presence – burly, gap-toothed and beady-eyed – and convincing display of gloating brutality may well have made him destined to specialise in villainous roles, but his casting as the lonely butcher in the film Marty (1955) gave him the opportunity to display other facets of his talent.
His glowing performance as the kindly, frustrated 35 year-old facing a bleak and loveless future was described by the New York Times critic Bosley Crowther as "a beautiful blend of the crude and the strangely gentle and sensitive". It won Borgnine not only the Oscar as Best Actor (against strong competition from James Cagney, Spencer Tracy, James Dean and Frank Sinatra), but the British Film Academy Award, the New York Critics Award and the Grand Prize at the Cannes Film Festival.
Paddy Chayevsky's screenplay was based on his acclaimed television play which had starred Rod Steiger, who had been first choice for the movie but was busy filming Oklahoma! It was a brilliantly written portrait of New Yorkers coping with age, monotony and looming loneliness, and Borgnine skilfully captured the sensitivity beneath his character's clumsy, bumbling surface. Its memorable scenes included the exchanges between Marty and his best friend Angie (Joe Mantell) as they wonder how to spend Saturday night: "What do you feel like doing tonight, Marty?" "I don't know. What do you feel like doing?"
The mousy girl he awkwardly woos ("You're not such a dog as you think you are," he tells her) was played with heartbreaking conviction by Betsy Blair, who later wrote of the pleasure the teaming with Borgnine gave her. "There was no tension between us… we were 'playing', in the sense of acting and as in a great game of tennis."
Born Ermes Effron Borgnino in 1917 in Hamden, Connecticut, he was the son of Italian immigrants from Modena, Italy. His parents divorced when he was two and his mother took him to live in Milan for five years, then returned to Hamden, where he attended public schools before serving in the Navy for 10 years from 1935. Leaving the service as Gunner's Mate, First Class in 1945, he was unsure what to do as he was untrained in any profession. He later related that his mother told him, "You always liked making a darn fool out of yourself. Why don't you take up acting?"
Under the GI Bill he studied at the Randall School of Dramatic Art in Hartford, Connecticut, and in 1946 began a four-year spell with the famous Barter Theatre in Abingdon, Virginia. He made his Broadway debut in 1949 when he took over the role of a sanatorium attendant (originated by Jesse White) in the long-running comedy Harvey. He made his screen debut as a treacherous Chinaman in the adventure film China Corsair (1951), starring Jon Hall, and similarly menacing roles in The Mob (1952) and The Stranger Wore a Gun (1953) preceded his memorable "Fatso".
He was a convincing trainer of gladiators in Demetrius and the Gladiators (1954), but it was back to bad guys in such films as Johnny Guitar (1954), Vera Cruz (1954), Violent Saturday (1955) and one of his most repellent pre-Marty roles, the small-town bully who meets his match in a one-armed veteran and judo expert (Spencer Tracy) in John Sturges' tense thriller, Bad Day at Black Rock (1955). The role of the good-hearted Bronx butcher in Marty changed the course of his career, though Borgnine objected when columnists hinted that he had been playing himself. "I'm not a playboy," he stated, "but I'm no dumb slob either."
Borgnine followed Marty with three superior films. In Delmer Daves' Jubal (1956), a western with overtones of Othello, he was the decent, simple rancher provoked by a jealous farmhand (Rod Steiger) into a fatal gun battle with his best friend (Glenn Ford). Michael Curtiz' The Best Things in Life Are Free (1956), the story of songwriters De Sylva, Brown and Henderson, was one of Hollywood's finest musical biographies, entertainingly depicting the collaboration of three disparate men – playboy De Sylva (Gordon MacRae), family man Henderson (Dan Dailey) and rough diamond Brown (Borgnine), whose tough East Side upbringing comes in handy when gangsters try to exploit the team. Borgnine's energetic, amusing performance even managed to incorporate some singing and the execution of a few dance steps. In another Chayevsky piece which started life on television, The Catered Affair (1956, UK title Wedding Breakfast), Borgnine was a Bronx-dwelling Irish cab driver whose wife (Bette Davis) wants to give their daughter (Debbie Reynolds) a handsome wedding, despite their poverty. The film's director, Richard Brooks, was unhappy that MGM forced their contract player, Reynolds, on to him, and Reynolds later credited both Borgnine and Davis with encouraging her and rehearsing with her to counter-act Brooks' disparagement.
While making the western The Badlanders (1958) Borgnine met the Mexican actress Katy Jurado, who became the second of his five wives. He had met his first, Rhoda Kemins, in the Navy during the Second World War, and they had a daughter, Gina. His most publicised marriage was that to Broadway's queen of musical comedy, Ethel Merman, in 1964. "From the reaction of the press," said Merman, "You would have thought that war had been declared. Headlines! 'Merman-Borgnine To Wed'."
The union was unanimously greeted with cynicism and bewilderment, and it barely lasted their honeymoon. In her autobiography Merman titled Chapter 28, "My Marriage to Ernest Borgnine". A blank page follows. The marriage lasted 38 days, and Merman later stated, "I've never been able to discuss details of those 38 days with even my closest friend." According to Borgnine, things disintegrated on their honeymoon when he received more fan attention than the competitive Merman: "By the time we got home, it was hell on earth."
In 1965 Borgnine married Donna Rancourt, with whom he had a son and daughter, and in 1972, the year of their divorce, he wed Tova Traesnaes, whom he met on a blind date. The marriage endured until his death. Traesnaes was a glamorous beauty products entrepreneur, and Borgnine helped launch her on a multi-million-dollar mail order beauty empire. He helped promote her products in advertisements ("I have not had a face lift – I use my wife's product") and friends such as Paul Newman, Joanne Woodward and Frederico Fellini also provided endorsements, claiming astounding results. "It is Ernie to whom I owe my success," his wife said. "I went with him to Mexico where he was making a film and I discovered the cactus formula which I brought back to California and tested on Ernie."
Borgnine's film career continued at a prodigious rate. He made more than 100 films, among them Richard Fleischer's The Vikings (1958), in which he was the father of Kirk Douglas (though Douglas was two months older), the Australian drama Summer of the Seventeenth Doll (1959), and Richard Wilson's Pay or Die (1960), in which he portrayed detective Joseph Petrosino, who fought the powers of the Mafia in New York's Little Italy district at the turn of the century.
From 1962-66 Borgnine starred in the comedy television series, McHale's Navy, which also served as the basis for a feature film in 1964. In the popular war film The Dirty Dozen (1967) he was the general who authorises the training of 12 convicted GIs for a suicide mission in Nazi-held France. He was one of the marauding killers in Sam Peckinpah's controversially violent western, The Wild Bunch (1969), and he was one of the passengers trying to escape from a capsized liner in Ronald Neame's The Poseidon Adventure (1972). In Franco Zeffirelli's TV mini-series Jesus of Nazareth (1977), he was the Centurion, and he starred as a veteran helicopter pilot in the adventure series Airwolf from 1984-86.
He featured as himself in a 1993 episode of The Simpsons, and he provided the voice of elderly superhero Mermaid Man in television's cartoon series, SpongeBob Square Pants. Despite having both knees replaced in 1999, Borgnine never stopped working – he was in the television film in A Grandpa For Christmas in 2007 – and he had also become the first winner of a Best Actor Oscar to be alive on his 90th birthday.
In 2009 he was nominated for an Emmy award for his guest appearance in the final two episodes of the long-running television hospital drama, ER, and last year he completed a role in the film, The Man Who Shook the Hand of Vincente Fernandez, which has yet to be released. His autobiography, Ernie, was published in 2008, and in 2010 he was given a Life Achievement Award by the Screen Actors Guild.
Ermes Effron Borgnino (Ernest Borgnine), actor: born 24 January 1917, Hamden, Connecticut; married 1948 Rhoda Kemins (divorced 1958; one daughter), 1959 Katy Jurado (divorced 1963), 1964 Ethel Merman (divorced 1965), 1965 Donna Rancourt (divorced 1972; one son, one daughter), 1973 Tova Traesnaes 1973; died Los Angeles 8 July 2012.
Register for free to continue reading
Registration is a free and easy way to support our truly independent journalism
By registering, you will also enjoy limited access to Premium articles, exclusive newsletters, commenting, and virtual events with our leading journalists
Already have an account? sign in
Register for free to continue reading
Registration is a free and easy way to support our truly independent journalism
By registering, you will also enjoy limited access to Premium articles, exclusive newsletters, commenting, and virtual events with our leading journalists
Already have an account? sign in
Join our new commenting forum
Join thought-provoking conversations, follow other Independent readers and see their replies