Etta James: Acclaimed soul singer who fought to overcome her personal demons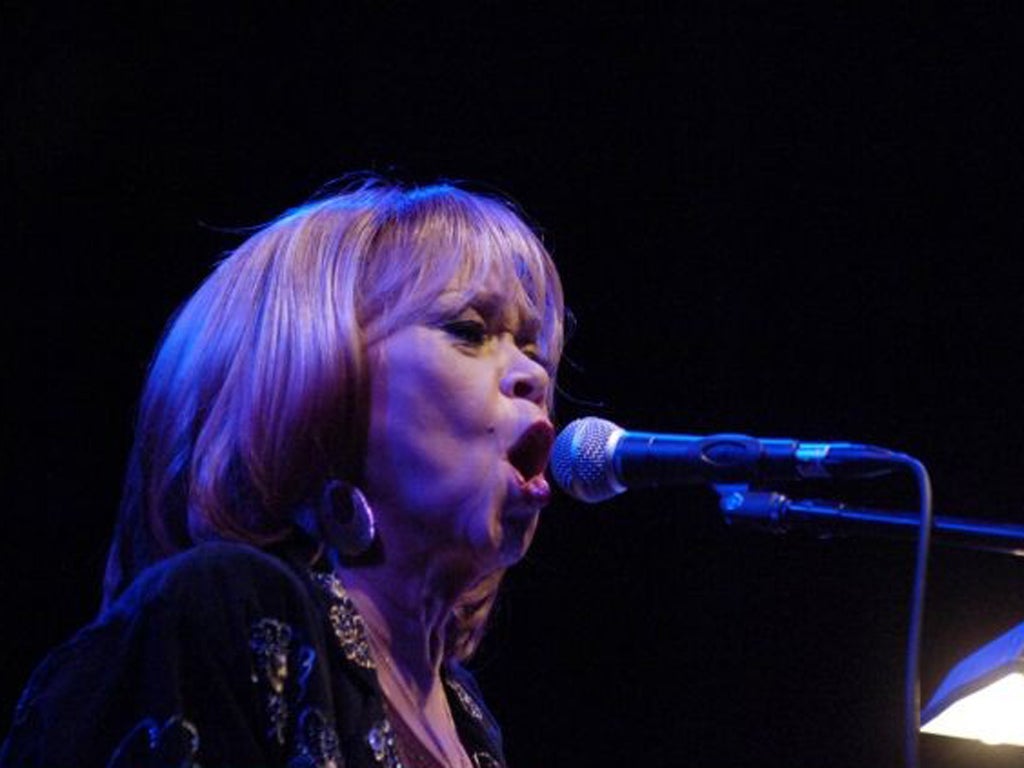 If Etta James's life had not been weighed down with personal problems, mostly bad management, ghastly lovers, obesity, incarceration and heroin addiction, she would have been acclaimed as a remarkable female soul singer alongside Aretha Franklin, Nina Simone and Tina Turner. Her fans know how good she is but the general public in the UK only know her for her Top 10 single, the gritty and sensuous "I Just Want To Make Love To You", recorded in 1960 but a hit through a TV ad in 1996.
Etta James was born Jamesetta Hawkins in Los Angeles in January 1938. Her mother was a sexually active,14-year-old black girl, Dorothy, who never revealed the identity of herfather. He was possibly Italian but James was convinced it was the pool player, Minnesota Fats, as she possessed many of his characteristics. The mixed parentage contributed to her distinctive looks. She was light-skinned with almond-shaped eyes, a turned-up nose andnatural red hair. She was raised by two friends of Dorothy's, Lulu and James Rogers.
The young child sang in St Paul's Baptist Church, where the choirmaster would punch her in the chest to make her sing from the gut. This unconventional and highly suspect method resulted in her developing a huge voice, especially for a child. However, James Rogers had an argument with the pastor and they moved to another church. By way of protest, she refused to sing and instead played bass fiddle in the school orchestra.
Lulu Rogers died in 1950 and James moved to San Francisco with Dorothy. She became a delinquent, drinking hard and ignoring school. She formed a street corner group, the Creolettes, whichwas heard by the rhythm and blues bandleader, Johnny Otis (obituary, 20 January). He suggested that she reversed her first name, becoming Etta James, and he gave her the sobriquet, "Miss Peaches".
James had written an answerto "Work With Me Annie", an innuendo-laden song by Hank Ballard andthe Midnighters, calling it "Roll With Me Henry". The song, with Richard Berry singing an unaccredited male part, was released on the Modernlabel and topped the US R&B chartsfor four weeks. It had been retitled"The Wallflower" under the pretence that it promoted a dance rather than sex. The composition was attributedto James, Hank Ballard and Otis' wife, Phyllis. As "Dance With Me Henry",the song then topped the US charts for Georgia Gibbs.
James lived with Otis's family and was paid $10 a performance. Although Otis took most of her earnings, $14,000 from writing royalties for "Dance With Me Henry" was held in trust until she was 21. Her only other hit on Modern was "Good Rockin' Daddy", also in 1955, and a song that refers, way before time, to dancing "the crazy twist", although this was really sexual innuendo.
James's many singles for Modern demonstrate her versatility and used top New Orleans musicians including Allen Toussaint. She recorded an answer version to Muddy Waters' "I'm A Man", "W-O-M-A-N"; she sang gospel with Sister Rosetta Tharpe's "Strange Things Happening"; and recorded the playful, "The Pick-up", which features a saucy conversation with Harold Battiste's tenor sax. She sang background vocals on Jesse Belvin's doowop classic, "Goodnight My Love (Pleasant Dreams)" (1956).
In 1959, James recorded "If It Ain't One Thing" with Harvey Fuqua of the Moonglows as Betty and Dupree. Fuqua, also her boyfriend, brokered a contract for her with Leonard Chess of Chess Records in Chicago. She scored immediately with a heart-wrenching ballad, "All I Could Do Was Cry", written by Billy Davis. He was dating Gwen Gordy, the sister of Berry Gordy, who started Tamla-Motown records. Their relationship ended when Gwen took up with Fuqua, so the song predicted what would happen. It had a theme that was replayed in numerous James' records – her boyfriend with another woman.
Leonard Chess indulged James by allowing her to record with an orchestra and her beautiful interpretation of "At Last" with Riley Hampton's orchestra is her crowning moment. The At Last album (1960) included a sultry "Sunday Kind Of Love", arguably the best-version of this much covered song. She recorded the gospel-based "Something's Got A Hold On Me", "Stop The Wedding" and the pushy "Pushover", and she added backing vocals to other Chess records including "Almost Grown" and "Back In The USA" by Chuck Berry.
Etta James only received $10,000 in 14 years from Chess as the record company kept its artists happy with Cadillacs, hence the film, Cadillac Records (2008), in which she was portrayed by Beyoncé Knowles. Her income came from live performance and it hardly mattered that she was being cheated as her money went on drugs. In 1964, her manager, John Lewis, was sent to prison for pushing drugs and James was jailed twice for passing bad cheques. She realised that something was sadly wrong with her life when she was asked to give oral sex to an 80-year-old man in exchange for heroin.
In 1966, James recorded a disco favourite, "In The Basement", with her former schoolfriend, Sugar Pie DeSanto, and moving to Muscle Shoals, Alabama, she recorded for the producer Rick Hall. Her 1967 single "Tell Mama", was a superb performance of a Clarence Carter song on which she sounds like a female Otis Redding, but the B-side, was her poignant blues ballad "I'd Rather Go Blind", written with a prisoner she had met, Ellington Jordan. To protect her income (or so she thought), she named her lover of the moment, Billy Foster, as co-writer instead of herself. Their son, Donto, was born in 1968.
"I'd Rather Go Blind" became a UK Top 20 hit for Chicken Shack in 1969 as well making the charts for Ruby Turner (1987) and Sydney Youngblood (1990). The best known version comes from Rod Stewart on his 1972 album Never A Dull Moment. In 1968 James was produced by Paul Simon and they wrote some songs together, but the sessions have never been released.
James had been taking hard drugs since 1961 and was becoming increasingly unreliable. In 1969, she tried methadone but was soon back with heroin. Her one and only husband,Artis Mills, attempted to get her off drugs but he took the rap for her when drugs were found and was given a 10-year sentence. While Mills was inside, James took up with a ex-junkie turned therapist, Sam Dennis, and their son, Sametto, was born in 1976.
In 1973, James was arrested for passing bad cheques and entered hospital for rehabilitation. She kicked the habit at the Tarzana Clinic, Los Angeles. Although cured of her addiction, she put on weight, reaching as much as 24 stone.
James thought that Janis Joplin had risen to fame by copying her performance. She made two albums with Joplin's producer, Gabriel Mekler, Etta James (1973) and Come A Little Closer (1974). He encouraged her to sing Randy Newman's songs including the savagely satirical, "God's Song", a highly unusual choice for someone raised on gospel music.
In 1976 James recorded the rip-roaring live album Etta Is Betta Than Evvah! in 1976. She made a highly successful appearance at the 1977 Montreux Jazz Festival. In 1978, she recorded Deep In The Night (1978) for the producer, Jerry Wexler, but by her standards it was strangely muted. With songs from the Eagles, Alice Cooper and Kiki Dee, Wexler was seeking a white, rock audience. To promote the album, she opened for the Rolling Stones on a US tour. Her next album, Chains (1980), was produced by Allen Toussaint, but she returned to Wexler for The Right Time (1992), which included a duet, "Give It Up", with Steve Winwood.
Throughout her later years, James released a succession of albums including Life, Love And Blues (1998), Matriarch Of The Blues (2000) and a tribute to Billie Holiday, Mystery Lady (2007). She recorded standards on Blue Gardenia (2001) and All The Way (2006), but the title song of Blue Gardenia was sung by her mother. She was so impressed by Martin Scorsese's TV series The Blues that she recorded Blues To The Bone (2004), for which Scorsese wrote the CD booklet.
James was inducted into the Rock And Roll Hall Of Fame in 1993 and she wrote her autobiography, Rage To Survive, with David Ritz in 1995. James was suffering from dementia and leukaemia and was rushed to hospital in December with breathing problems. She was discharged earlier this month but died a few days short of her 74th birthday.
Jamesetta Hawkins (Etta James), singer: born Los Angeles 25 January 1938; married 1969 Artis Mills (two sons); died Riverside, California 20 January 2012.
Join our commenting forum
Join thought-provoking conversations, follow other Independent readers and see their replies