Eunice Gayson: First Bond girl and originator of his most famous line
Appearing alongside Sean Connery in Dr No, she would speak the immortal words: 'Trench. Sylvia Trench' – before Bond ever did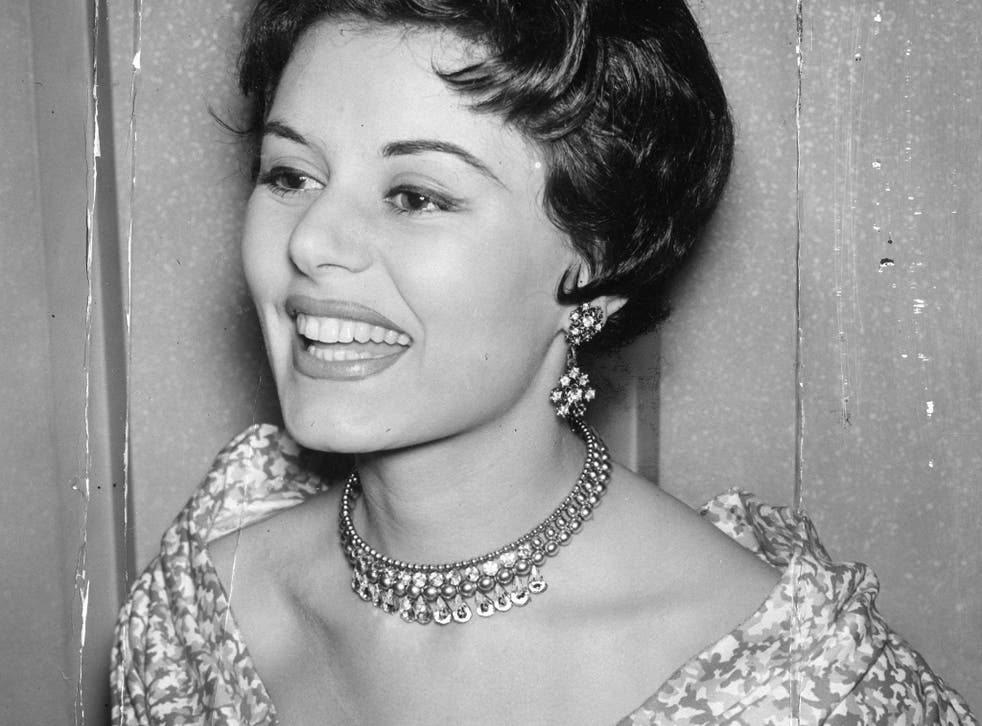 "Trench. Sylvia Trench."
Sound familiar? In fact, these words were spoken by the first Bond girl, in the first Bond film – before they were even a twinkle in Sean Connery's eye.
Sylvia Trench, Bond's first love interest, was played by Eunice Gayson, who has died aged 90. It was to be her seminal cinematic role.
Born in Croydon, Surrey, in 1928, Gayson and her twin sister grew up with a tough mother and a barely present-father. She began working as a singer and dancer, and appeared in several films before Bond, including The Revenge of Frankenstein in 1958.
Gayson was originally supposed to be cast as Miss Moneypenny – a part which would later go to Lois Maxwell – until she was chosen to play the very first "Bond girl", and appeared in Dr No (1962) alongside Sean Connery in his Bond debut.
Her character, Sylvia Trench, appears in a casino in a show-stopping red dress – one-shoulder with a dramatic back story.
She would later explain in her autobiography, The First Lady of Bond, that there had, in fact, been a "wardrobe disaster". When she appeared on the lush set, all gold and brown decadence, her equally lush gold and brown dress sent her disappearing right into the background.
The director sent her and the wardrobe mistress running to a nearby dress shop – which, they discovered, no longer sold dresses. On the way out, they saw one red dress hanging in the back: a size 20. The wardrobe mistress sliced a good load of the material away to fit the size 8 actress.
When she appears in the scene and meets Bond, in Le Cercle Club casino, her dress was held together with pegs.
After Trench loses a few rounds of cards, she suggests that they up the ante – to which Bond replies: "I admire your courage, Miss… ?"
"Trench, Sylvia Trench."
She continues with: "I admire your luck, Mr…?"
And then, one of the most famous lines in film history:
"Bond, James Bond."
According to Gayson, Connery had been struggling with nerves during the scene, and kept fluffing the line. In fact, Gayson – who had known Connery for years before – said it was the most nervous she had ever seen him, and even though he was supposed to be on the wagon, she had to take him for a drink to calm him down.
Her character Sylvia Trench would get to know Bond as well as she knew Connery. Gayson might have been the first in a long line of fabulous co-stars, from Ursula Andress (Honey Ryder) to Eva Green as Vesper Lynd, but she is also the only Bond girl to have appeared twice.
Trench returned in 1964 for From Russia with Love as a renewed old flame. Originally, the idea would be that she'd continue as a recurring character, as Bond's sort-of girlfriend, but Goldfinger director Guy Hamilton would later abandon this idea in preference for a steady parade of new women.
As Gayson famously said, "That's show business."
She was also one of the only early Bond girls who seduces the spy, rather than the other way around. As James Chapman, professor of film studies at the University of Leicester wrote in 2012, "What's interesting is that Sylvia Trench is there as an independent woman – she's the one who comes on to him with a double entendre-laden dialogue.
"It's 1962 and right on the cusp of sexual revolution. The scene is saying it's OK for this woman to be unaccompanied in a casino, picking up men.
"The scene is historically and culturally specific. If you were remaking Dr No today, I don't think you could introduce Bond in the same sort of way."
The eight contenders to be the next James Bond

Show all 9
That said, she may have appeared twice in the Bond movie franchise, but her voice never did. Like many Bond "girlfriends" of the decade, her lines were recorded by voiceover actor Nikki van der Zyl – although her real voice can be heard in the original trailers.
She married her first husband in 1953, scriptwriter and producer Leigh Vance, who was a founding officer of the British Writers' Guild. A proto-reality star, they were wed live on American television. They divorced four years later, and she went on to marry photographer Brian Jackson.
She later appeared in TV series The Avengers and The Saint, which starred future Bond Roger Moore, and at the height of her fame co-starred in a West End run of The Sound of Music. She even appeared on The Goon Show with Peter Sellers and Spike Milligan.
Sadly, she was forced to bid so long, farewell, auf Wiedersehen goodbye to a lot of her on-screen work, when she was arrested for shoplifting after her second marriage fell apart.
But she continued to be associated with the Bond franchise, appearing on a promotional tour for the 50th anniversary and attending conventions in countries all over the world to interact with fans.
In fact, her daughter Kate (with with second husband Jackson) even appeared in the 1995 Bond film GoldenEye – in a casino scene, like mother like daughter.
Bond producers Michael G Wilson and Barbara Broccoli have said: "We are so sad to learn that Eunice Gayson, our very first 'Bond girl', who played Sylvia Trench in Dr No and From Russia With Love, has passed away. Our sincere thoughts are with her family."
But Gayson, Eunice Gayson, will live on in oral history.
Eunice Gayson, actor, dancer and singer, born 17 March 1928, died 8 June 2018
Register for free to continue reading
Registration is a free and easy way to support our truly independent journalism
By registering, you will also enjoy limited access to Premium articles, exclusive newsletters, commenting, and virtual events with our leading journalists
Already have an account? sign in
Register for free to continue reading
Registration is a free and easy way to support our truly independent journalism
By registering, you will also enjoy limited access to Premium articles, exclusive newsletters, commenting, and virtual events with our leading journalists
Already have an account? sign in
Join our new commenting forum
Join thought-provoking conversations, follow other Independent readers and see their replies