Fateh Singh Rathore: Conservationist known as 'The Tiger Man of India'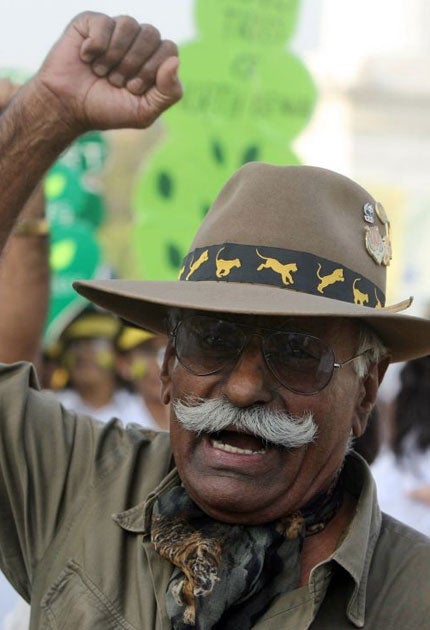 Fateh Singh Rathore dedicated his life to the conservation of tigers. Not for nothing was he called the Tiger Man of India, dark, rugged and fearless with his white handlebar moustache, eyes beaming underneath his trademark olive-coloured stetson and tiger-print silk cravat. The big cats in Ranthambore – a habitat for tigers he had developed with consummate skill, and guarded possessively – recognised him. And he knew them, by their stripes, their pugmarks, habits and behaviours. He called them "my tigers" and named them after Mughal rulers and Hindu deities. When the mood seized him he would talk to them; and they seemed to understand him. He had an uncanny ability to predict the predators' whereabouts in Ranthambore, claiming that he could identify his tigers even if they were mixed with, as, he said, "10,000 others".
A Rajput born in a desert village near Jodhpur in Rajasthan, Rathore was the eldest son in a family of six boys and five girls. A mischievous, fun-loving boy, he bore the brunt of anger of his father, a police officer, and grandfather, a Subedar in the army, though his mother defended him. He went to boarding school, where he acted, and took an arts degree from Rajputana University. Though he was a nature and wildlife lover, it was not until 1960, when he was working for the Maharaja of Udaipur and joined the Rajasthan Forest Service as a game ranger, that he developed his passion for protecting tigers.
He was posted to Sariska game reserve, his immediate task to arrange a hunting expedition for the Queen and Duke of Edinburgh in 1961. The first tiger he saw was one shot by the Duke.
After a stint at Mount Abu game reserve, and following training in wildlife management at Dehradun, he was transferred to Ranthambore as a wildlife warden in 1971. It marked a turning-point: from what essentially was a mere game reserve with a couple of big cats, Ranthambore became the world's tiger capital.
The jungles of Rajasthan were once teeming with tigers, but hunting was a favourite pastime of indigenous royalty and British officers. The first census put the number of tigers in India at 1,827; the government banned hunting and launched Project Tiger in 1973 – and Rathore ensured that Ranthambore, once a private hunting preserve for Jaipur royalty and considered non-viable for tigers, was included. It became one of the first nine designated tiger reserves and Rathore set about making it an ideal habitat.
He had the daunting task of moving the villagers out of Ranthambore, but he succeeded in turning acres of desert into a beautiful, lush forest with lakes and grassland, creating bodies of water and carving out tracks for patrolling rangers. He also carried out the resettlement of 13 hamlets – nearly 10,000 families. "The people hugged the trees and wept," he said. "They felt their future was utterly bleak. They said, 'We've already passed our entire lives here, let us die here.' I was crying with them because, inside me, I knew they were paying the price for something they may never understand."
Slowly the animals, not just the tigers, began to return. One day Rathore saw a tigress with four cubs in the sunlight; he named her Padmini after his eldest daughter and, "wonderstruck", followed them day and night. "Initially, the tigress was unhappy with my presence, but eventually she began to trust me and seemed to treat me as a friend," he said. Made field director, he banned the use of live animals as bait to attract tigers and prohibited night-driving in the sanctuary. In 1980, Ranthambore was declared a National Park.
While Rathore's efforts were praised by many, including Bill Clinton, who visited Ranthambore in 2000, there were people who didn't appreciate his work. In 1981 he was all but linched by illegal grazers and woodcutters, while later in the decade he was suspended after he caught a nobleman – who went on to become a minister in the Rajasthan government – shooting wild boar. In 1993, he informed authorities that 20 out of the 45 tigers had vanished from Ranthambore; convinced it was the work of poachers, he caught one of them, who confessed to having killed eight tigers. But nobody seemed minded to take any action.
Three years after retiring in 1996 Rathore was appointed honorary wildlife warden for Ranthambore. He set up Tiger Watch, an NGO dedicated to saving the Ranthambore tigers, offering facilities to the local people – particularly the nomadic hunter tribes, living on the periphery – such as schools and hospitals and alternative sources of income to poaching.
But he continued to have problems with the forest people and poaching went on unbridled. Thanks to Tiger Watch the police arrested 47 poachers, who admitted to killing more than 20 tigers, and recovered guns, traps, skins, claws, teeth and other body parts. The forest authorities recorded no poaching incidents. When Rathore revealed in 2004 that there were only 18 tigers left in Ranthambore, his office was ransacked and demolished by forest officials.
Fateh Singh Rathore, conservationist: born Choradia, Rajasthan, India 10 August 1938; married (one son, two daughters); died Sawai Madhopur, Rajasthan 1 March 2011.
Join our commenting forum
Join thought-provoking conversations, follow other Independent readers and see their replies