Fay Kanin: Screenwriter who was blacklisted before becoming president of the Academy
Kanin was a true pioneer, who began her career when the film industry was dominated by men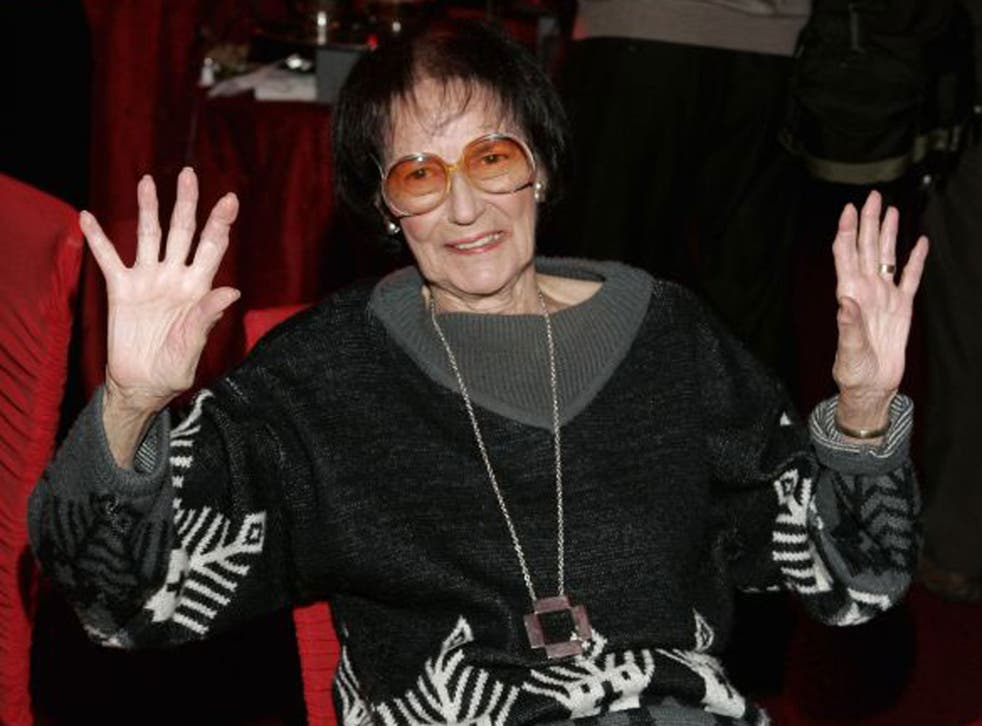 Fay Kanin shared an Oscar nomination in 1958 for the screenplay of the Clark Gable-Doris Day comedy Teacher's Pet and won two Emmy awards for television scripts. She also served as president of the Motion Picture Academy of Arts and Sciences from 1979 to 1983, only the second woman to do so – the first was Bette Davis, who relinquished the post after two months. Kanin was noted for her commitment to the Academy's preservation programme, and was considered a pioneer who began her career in the late 1930s, when the industry was dominated by men.
Born Fay Mitchell in Maryland in 1917, but raised in Elmira, New York, she was the daughter of a clothing store manager and a retired vaudeville actress. At 12 she won the New York State Spelling Championship and as a schoolgirl she contributed articles to the local newspaper and produced a children's radio show. Having studied acting and writing on a scholarship to Elmira College, she persuaded her parents to move to Los Angeles so that she could fulfil an ambition to work in films.
After graduating from the University of Southern California with a bachelor's degree, she became a story editor at RKO. Michael Kanin, brother of stage and screen writer Garson Kanin, was working as a writer in RKO's "B" unit, and in 1940 they married.
Together, they adapted a New Yorker short story about a boarding house for boxers, "Sunday Punch", and sold it to MGM. During the Second World War, Kanin promoted women's participation in the war effort by hosting and writing a radio show, A Woman's Angle, and co-writing a "B" movie, Blondie for Victory (1942).
In 1947 she made a rare screen appearance as a Shakespearean actress in A Double Life, a film written by her brother-in-law, Garson Kanin, and his wife, Ruth Gordon. Though Fay and Michael found that collaborating put too much strain on their marriage – "The time came when I felt as if we were together 48 hours a day" – they had trouble selling solo efforts ("We were hyphenated in people's minds").
In 1948, Michael produced a play written by his wife, Goodbye, My Fancy, the story of a congresswoman (played by Madeleine Carroll) who returns to her alma mater to accept a degree. She is actually hoping to rekindle a romance with a former student, now the Dean, and she is shocked to find that the former radical is now a hidebound conservative anxious to placate the board of governors. "I'm a big feminist," said Kanin. "I've put into my play my feeling that women should never back away from life." Goodbye, My Fancy ran for over a year, and Vincent Sherman directed a film version for Warners with Joan Crawford in the lead and with some political elements diluted.
Fay and Michael teamed up again as writers to pen My Pal Gus (1952), starring Richard Widmark as a single father, but they were then blacklisted by the House Un-American Activities Committee because of their affiliation with some left-leaning writers' organisations. "It was ridiculous, but it was very real and there was nothing we could do about it. We took a larger mortgage on the house and started writing a play, but we didn't work in films for almost two years."
They returned when director Charles Vidor persuaded MGM to hire them as writers on Rhapsody (1954), a vehicle for Elizabeth Taylor which has a cult reputation for its heady mix of passion, lush Technicolored locations and lashings of Rachmaninov and Tchaikovsky. Though The Opposite Sex (1957), a remake of the all-women play The Women, first filmed in 1939, was inevitably compared unfavourably with the original, it was fashioned by the Kanins into a splendid piece of wickedly wisecracking entertainment in its own right. It was followed by their most lauded work, Teacher's Pet, in which Clark Gable masquerades as a would-be reporter in Doris Day's journalism class, though he is actually a newspaper editor.
In 1959 they converted Kurosawa's admired drama Rashomon, with its multiple versions of the same incident, for the stage, and then they adapted that into a film script titled Outrage for director Martin Ritt. In 1961 the team wrote the only musical comedy libretto they did together, The Gay Life, an adaptation of Arthur Schnitzler's play The Affairs of Anatol, starring Walter Chiari and Barbara Cook. Though the score by Arthur Schwartz and Howard Dietz was ravishing, the libretto was weak and Chiari was often unintelligible.
Kanin was able to establish herself as a solo writer when she moved into television. Her first TV movie was Heat of Anger (1972), a vehicle for Susan Hayward, who starred as a high-powered lawyer – but it failed to become a hoped-for series. Tell Me Where It Hurts (1974) won two Emmys, and Hustling (1975), in which a prostitute (Jill Clayburgh) recounts her life to a reporter (Lee Remick), was praised for its authenticity.
But Kanin's most lauded project was the Emmy-winning Friendly Fire (1979). Based on fact, it told of a mother (Carol Burnett) who challenges the military's official version of her son's death in Vietnam – that he had been accidentally killed by American troops. Kanin said she understood the mother's anguish because one of her own two sons died of leukaemia at the age of 13. In 1980 she produced for television a story of harassment in the workplace, Fun and Games, starring Valerie Harper, and her final teleplay was Heartsounds (1984), with Mary Tyler Moore and James Garner as a couple dealing with heart disease. One of her last scripts was for a stage musical about a burlesque house, Grind (1985), which was directed by Harold Prince, but lost nearly $5m.
Having served four terms as president of the Academy of Motion Picture Arts and Sciences (the maximum), Kanin returned to serve on the Board of Governors in 2001.
Fay Kanin, screenwriter: born Baltimore, Maryland 9 May 1917; married 1940 Michael Kanin (died 1993; one son, and one son deceased); died Santa Monica, California 27 March 2013.
Register for free to continue reading
Registration is a free and easy way to support our truly independent journalism
By registering, you will also enjoy limited access to Premium articles, exclusive newsletters, commenting, and virtual events with our leading journalists
Already have an account? sign in
Register for free to continue reading
Registration is a free and easy way to support our truly independent journalism
By registering, you will also enjoy limited access to Premium articles, exclusive newsletters, commenting, and virtual events with our leading journalists
Already have an account? sign in
Join our new commenting forum
Join thought-provoking conversations, follow other Independent readers and see their replies