Ferguson Smith: War hero who became a Special Branch spy catcher
Wednesday 25 September 2013 19:16 BST
Comments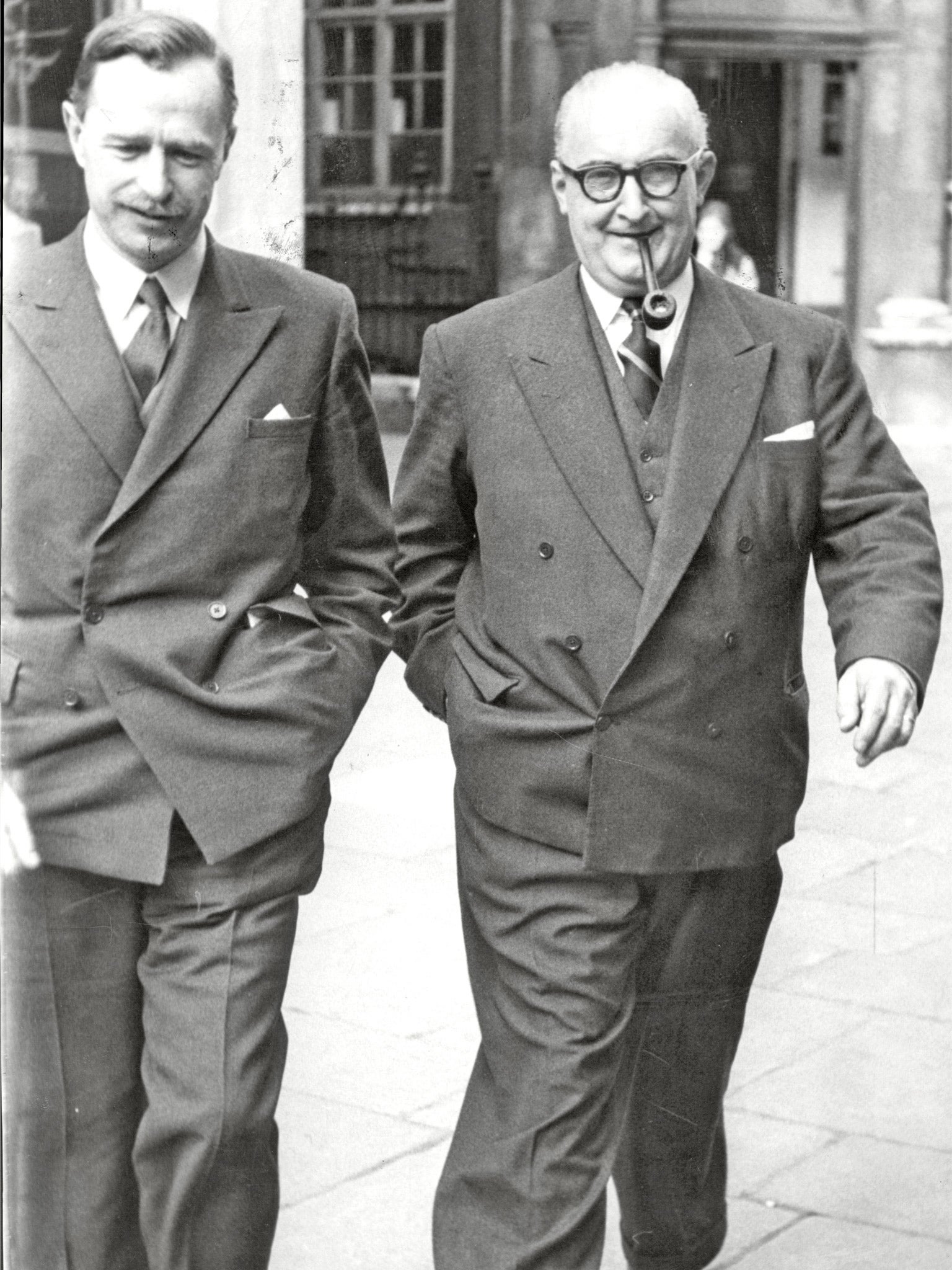 His neighbours in the London suburb of New Malden would be amazed to learn that the quiet man who had lived in their street for the past 60 years, 40 of them in retirement, had been involved in two of the most exciting and dangerous activities of the mid-20th century.
Ferguson Smith, who has died aged 98, was not only a war hero who won a DFC and bar in Bomber Command in the Second World War, but he went on to become one of the country's most successful spy catchers as an officer, and later Head, of Special Branch at Scotland Yard.
Those who spoke to him occasionally would have learned nothing of this. Nor of the fact that he had travelled with the Queen on overseas tours and was protection officer for the Duke of Windsor on his infrequent visits to Britain after the Abdication (once, when he was offered a gratuity, he told the former king, "I don't take tips.") All they might have gleaned was that he read poetry, loved mountains and was learning Spanish (he wouldn't have mentioned that he was already fluent in French, German and Russian). His window cleaner was quoted as saying this week: "He was a real gentleman, but I would never have guessed he had done such amazing things."
Ferguson George Donaldson Smith (known as Fergie) was born in Aberdeen and educated at Aberdeen Grammar School, where he was head boy and captain of rugby and cricket. His father was a wholesale grocer who prided himself on bringing Robertson's golden shred marmalade to the breakfast tables of northern Scotland. Being brought up within a cycle ride of the Cairngorms, he developed a lifelong love of climbing. When he joined the Metropolitan Police on leaving school, his mother thought it was "a waste of a good education."
After 18 months on the beat he was drafted into Special Branch in 1936 and stayed there (interrupted by five years' war service) until his retirement in 1972. In 1941 he volunteered for the RAF and was selected for aircrew training in Canada. He was then posted to 101 Squadron, which flew Lancaster bombers from its base at Ludford Magna in Lincolnshire.
The squadron suffered more casualties in the war than any other in Bomber Command. The main reason was that some of their planes, including the one in which Smith operated as navigator, were fitted with special antennae that were used to scramble German messages to their night fighters hunting the bombers. This made the planes a prime target for the Luftwaffe.
Despite this, Smith completed 30 missions. In January 1944, during the Battle of Berlin, his plane was badly damaged by a night fighter over the German capital. Despite suffering serious wounds to his chest, back and leg, he worked heroically to free two gunners trapped in their turrets. Despite the damage, injuries and loss of life, Smith successfully guided the plane to its bombing targets and skilfully steered the defenceless aircraft home to an emergency landing. He and the pilot were awarded immediate DFCs. Smith's citation said that "his courage, fortitude and determination were worthy of the highest praise." After recuperating from his injuries he returned to combat for another year and was awarded a bar to his DFC.
Back at the Met after the war, he rose rapidly in Special Branch. He was involved in the investigation of Klaus Fuchs, a German-born nuclear scientist who had worked on the Manhattan project in the United States that produced the first atom bomb and was later employed in England at the Atomic Energy Research Centre at Harwell. He had been passing top-level secrets to the Russians since 1943. After his arrest in 1950, Smith hid in a cupboard in Brixton prison to overhear an incriminating conversation Fuchs had with a German scientist.
But his main claim to fame was his role in the capture of the Portland spy ring. This was a group that stole and passed on to Russia top-level secrets from the Admiralty Underwater Weapons Establishment at Portland in Dorset. A clerk at the base, Harry Houghton, persuaded his mistress, Ethel Gee, to copy top-level documents, which he then passed on to a shady figure called Gordon Lonsdale. Lonsdale in turn took them to a couple in Ruislip, Peter and Helen Kroger, who had an antiquarian book business. Smith, who had tracked all these contacts, moved against the group on 7 January 1961. Houghton, Gee and Lonsdale were caught together at a meeting in London. Gee's handbag contained a number of top secret plans, including details of the first British nuclear submarine, HMS Dreadnought.
Meanwhile, Smith himself had gone to the Krogers' bungalow in Ruislip, where he asked them to accompany him to Scotland Yard for questioning. When Mrs Kroger asked if she could stoke the boiler first his suspicions were aroused and he examined the contents of her handbag. They contained microdots which, it later transpired, were hidden in Kroger's antiquarian books and given to Lonsdale, who sent them on to Russia with personal letters addressed to his sister. A search of the suburban villa uncovered a mass of spying equipment.
The Krogers were later identified as Morris and Lona Cohen, who were well-known to the CIA as spies who had worked with Julius and Julius Rosenberg; the Rosenbergs had been executed in the US for espionage in 1953. Lonsdale stuck by his Canadian alias and refused to speak at his trial. It was only later, when he was exchanged by the Russians for the British spy, Greville Wynn, that his real identity became known as Konon Trofimovitch Molody.
Later that year Smith assisted in the arrest of George Blake, the most notorious of double agents, and in 1962 he arrested John Vassall, the Admiralty clerk who had been blackmailed into spying by the Russians over his homosexuality. In 1966 Smith got his reward when he became head of Special Branch as Deputy assistant Commissioner of Scotland Yard. On his retirement he was awarded the CVO for his work on royal protection.
Donald Trelford
Ferguson George Donaldson Smith, soldier and policeman: born Aberdeen 5 October 1914; CVO, DFC and bar; married 1944 Margaret (Rita) Murphy (died 2002; one son, one daughter); died 15 September 2013.
Join our commenting forum
Join thought-provoking conversations, follow other Independent readers and see their replies