Flight Lieutenant Jack Sherburn: Pilot awarded a DFC for his gallantry against the Mau Mau who went on to serve in Suez and fly with Yuri Gagarin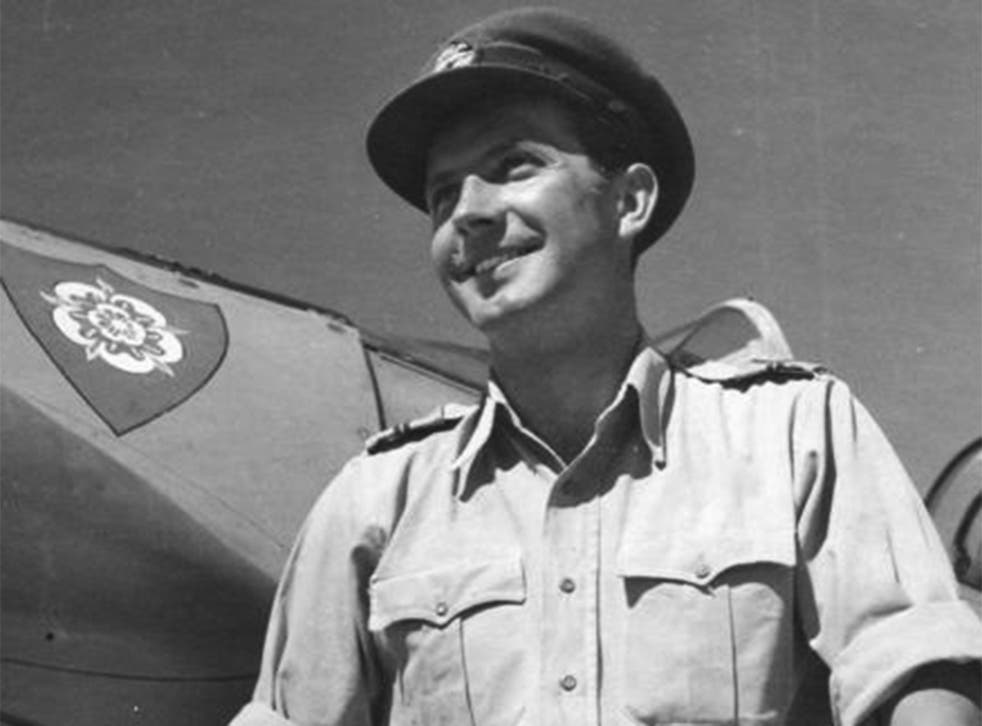 Jack Sherburn swooped over the Aberdares, the lush forests and tumbling waterfalls on the mountainsides yielding no clues – or so it seemed – to where Kenya's rebels were hiding.
Dusk, and the propeller's whirr from his single-engined Harvard, a glimpse of a camp-fire flame – now he had them. But there was no need for any of his eight 20lb bombs. Shadowy figures scattered, fleeing the aircraft's noise which proved terrifying enough.
The flying was as difficult as it could be, sometimes 20,000 feet above mean sea level – the mountain tops reach 14,000 feet – from a dirt runway at Mweiga. He made the short hop back to the rough strip and got down safely: another sortie done. It was one of a total of hundreds, more than 450, each one of which he noted down in his dark blue log book.
The Mau Mau gangs kept their home-made weapons concealed beneath the trees, and Britain, the colonial power, meant to overwhelm them with a show of force. Flying Officer Sherburn's duties – under his CO, soon-to-be-Wing Commander Charles "Porky" Jeffries commanding No 1340 (Harvard Flight) – included dropping leaflets to persuade Kenya's Kikuyu population to reject the Mau Mau. Winston Churchill was again Prime Minister, and his view was: "The more they saw an aircraft overhead, the more they would feel that all their movements were under observation."
Sherburn, a proud Yorkshireman who flew with the county's white rose emblem painted on his aircraft, trained in South Africa and volunteered for Kenya in 1953. His DFC was one of only a handful – only four are documented – to be awarded for gallant and distinguished service in operations against the Mau Mau. General George Erskine, GOC-in-Chief, East Africa Command, told pilots at a parade at RAF Eastleigh, Nairobi, in 1955 that the RAF's participation had allowed the army to be smaller, by several regiments and a brigade, than it would have had to be without air assistance.
Kenya would get her independence within the decade, on 12 December 1963; in Egypt there had already been a revolution. Sherburn was reassigned there in 1956, as Britain sought to regain control of the Suez Canal from Colonel Gamal Abdel Nasser, who had seized power in 1954 after a military coup in 1952 and nationalised the strategically important waterway. Flying a Canberra with No 18 Squadron, Sherburn was given bombing targets including Cairo Radio and Kabrit airfield, and dropped markers for parachutists at Port Said.
Sherburn's prowess in the air would catapult him straight from the fading age of empire to the heart of the Cold War, when, after leaving the RAF in 1962, and becoming a development test pilot for the aircraft manufacturer Shorts Brothers, he found himself flying with Yuri Gagarin, the first man in space. He and the Russian astronaut were appearing at the Paris Air Show in 1965, and got on so well that Gagarin took Sherburn up for a spin in a Soviet helicopter.
Sherburn was in Paris to demonstrate Shorts' freight aircraft Skyvan and its STOL (short take-off and landing) capability; he spent about 1,600 hours developing and demonstrating Skyvan around the world. He also tested naval aircraft just out of storage, new or refitted, for operational service, and worked with flight systems, especially on auto land trials, for Shorts' Belfast aircraft destined for the RAF.
Sherburn notched up more than 8,000 flying hours – a high figure for a fighter and test-pilot – filling two large log-books to a thickness of several inches each. Before leaving the RAF, as an experimental test pilot at Farnborough he had helped to develop early fly-by-wire technology, flying the Avro Delta 707, the delta-wing prototype that had led to the Vulcan; his last posting, at RAF Gaydon, was to instruct on, and fly, the Valiant.
In his career he flew Hurricanes, Hornets, Mosquitos,and the Spitfire Mk 22, jets including the Meteor Sea Hawk, Javelin and Hunter, and, at Shorts, many others including civil and naval aircraft.
A heart attack while he was demonstrating Skyvan in Zambia in 1970 forced him to take ground-based postings, but these still meant going as far away as Woomera in Australia. He controlled pilotless drones there, and at the British establishment at Llanbedr in Wales. On retiring from Shorts in 1979 he helped to train British Airways pilots at Hamble Air Training College in Hampshire.
Jack Sherburn was born in Howden, East Yorkshire, the youngest, with his twin sister, of six children. From early childhood he longed to fly, having watched spellbound as a biplane came in to land near the town. He left school aged 14 in 1938, and took work as an office clerk for the local council, but kept up studies by himself, and in 1942, as soon as he could, joined the RAF, making his first flight in a Tiger Moth. He progressed to Hurricanes, and in 1945 joined 78 Squadron as a Sergeant Pilot, flying Dakotas in Egypt and elsewhere in the Middle East. He was commissioned as an officer in 1952.
In 1955, when he won his DFC, he converted to flying the Canberra jet bomber, and it was a Canberra T4, number WE188, that would soon win him a wife. WRAF Pilot Officer Thelma-Joyce Luscombe could not resist asking him to take her up in his aircraft after the couple were introduced to one another at a dance, and 10 weeks later, in 1957, they were married. They had two sons, and many years later found "their" Canberra again, on display at the Solway Aviation Museum, Carlisle.
Jack Sherburn made his last flight in 2011, a birthday-present ride in a Tiger Moth, the same type he had trained on. He outlived all his siblings; his wife and sons survive him.
ANNE KELENY
Jack Sherburn, aviator: born Howden, Yorkshire 18 August 1924; DFC 1955; married 1957 Thelma-Joyce Luscombe (two sons); died Somerton, Somerset 17 July 2014.
Register for free to continue reading
Registration is a free and easy way to support our truly independent journalism
By registering, you will also enjoy limited access to Premium articles, exclusive newsletters, commenting, and virtual events with our leading journalists
Already have an account? sign in
Register for free to continue reading
Registration is a free and easy way to support our truly independent journalism
By registering, you will also enjoy limited access to Premium articles, exclusive newsletters, commenting, and virtual events with our leading journalists
Already have an account? sign in
Join our new commenting forum
Join thought-provoking conversations, follow other Independent readers and see their replies