Franco Zeffirelli: Film and opera director who revelled in the lavish and theatrical
The last of Italy's post-war cinema giants, Zeffirelli worked with many of the greatest stars of the 20th century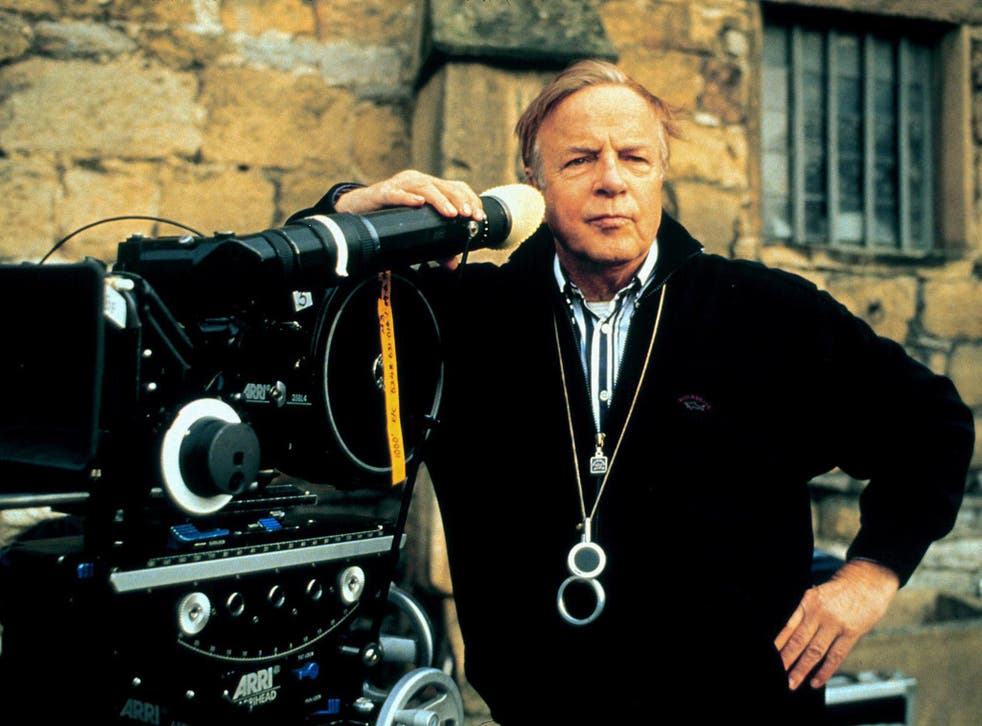 Franco Zeffirelli, who described his style as "lavish in scale and unashamedly theatrical", was one of the most influential, flamboyant and controversial designer-directors of the 20th century. His Florentine background and love of the Renaissance permeated his diverse work, which encompassed theatre, cinema and his greatest love, opera.
Initially an actor, then designer of sets and costumes, Zeffirelli – who has died aged 96 – confounded his mentor and lover Luchino Visconti by successfully becoming a prolific director who triumphed at La Scala, Milan, with his first operatic production, then stunned Covent Garden with his vivid staging of Cavalleria Rusticana and Pagliacci. His Shakespearean productions at the Old Vic included a legendary version of Romeo and Juliet with Judi Dench, and a rapturously received Much Ado About Nothing with Maggie Smith, Albert Finney and Robert Stephens.
His best films were either Shakespearean or operatic ones, and included The Taming of the Shrew with Taylor and Burton, a Romeo and Juliet with two teenage unknowns, and Hamlet with Mel Gibson – plus a sumptuous film of La Traviata and a sweepingly dramatic, though drastically reshaped and cut, version of Verdi's Otello with Placido Domingo. The treasured Covent Garden productions of Lucia di Lammermoor with Joan Sutherland and Tosca with Maria Callas were his work, and he created one of the most lavish opera productions ever seen with his Turandot at the Metropolitan.
On television his epic production Jesus of Nazareth has become a worldwide staple. He worked with both Olivier and Gielgud, and he gathered together an all-star cast for his film Tea With Mussolini, loosely based on his own childhood memories of the expatriate British ladies in Italy who helped raise him just before the Second World War. He also fought with the Italian resistance during the conflict, found God when he was nearly killed in a car accident with Gina Lollobrigida, and since 1960 had been heavily involved in right-wing politics, eventually becoming a member of the Italian senate, representing the Forza Italia party in 1996.
Born out of wedlock in Florence, Italy in 1923, his surname was the result of an accident. Since his father would not acknowledge him, and his mother was married, he had to be given an invented name and his mother chose Zeffiretti, after the "little breezes" of an aria in Cosi Fan Tutte, but it was misspelt in the register as Zeffirelli. He was raised by a peasant woman for two years, then after his mother was widowed she took him into her family, but her death when Zeffirelli was six years old resulted in his being passed to his father's cousin, Aunt Lide.
His initial ambition was to be an architect, but Lide's lover Gustavo was an amateur baritone, and he introduced the boy to opera and the cinema, both of which were to be life-long passions. He later described his reaction to his first opera, Die Walkure, as "hardly a refined appreciation, more like a child of today gawping at Star Wars".
He had his first real taste of theatre when, while fighting with the partisans in the Second World War, he met the music and ballet expert Richard Buckle and helped him stage a troop show. Seeing Olivier's film of Henry V chrystallised Zeffirelli's ambition. He recalled: "I knew then what I was going to do. Architecture was not for me; it had to be the stage. I wanted to do something like the production I was witnessing."
After the war, he was working as an assistant scenic painter when he met the man he described as "probably the single most important person I have ever known", the director Luchino Visconti. On their first meeting backstage he told Visconti that he was an actor, to which Visconti replied: "So you should be, with your looks."
Visconti gave the youth small parts in his stage productions of Crime and Punishment (1946) and Eurydice (1947), and he made his screen debut in Luigi Zampa's L'Onorevole Angelina (1947) starring Anna Magnani, after which Visconti used Zeffirelli and Francesco Rosi as his assistants on his film La Terra Trema (1948), filmed on location with a cast of Sicilian fishermen, and distinguished by its superb photography. Said Zeffirelli: "This is my main debt to Luchino in filmmaking: his passionate attention to detail. Everything was always researched to a point far beyond the needs of the actual scene. You immersed yourself in the period, the place, its culture, so that even though the audience might not take in every detail they would be absolutely convinced of its essential 'rightness'."
For a production of As You Like It (1948) Visconti hired Salvador Dali as designer but, when the surrealist's plans proved impractical, Visconti asked Zeffirelli to help out. He then gave Zeffirelli the first work for which he was independently credited, as designer of Tennessee Williams' A Streetcar Named Desire (1949).
Visconti and Zeffirelli were now living together in Rome, but worked separately for a spell before reuniting for the film Bellissima (1951) starring Anna Magnani, on which Zeffirelli again served as an assistant. After working briefly with Rossellini and Antonioni, he designed one of Visconti's greatest theatrical triumphs, a production of Chekhov's Three Sisters (1952), and worked as his assistant on the film Senso (1954), but the often stormy relationship of the two men was coming to an end.
When Zeffirelli was asked to design a production of Rossini's L'Italiana in Algeri at La Scala, he saw it as an opportunity to break with the world of Roman theatre. With its cast clad mainly in light blues and whites, the sunny production of 1953 was rapturously received and the manager of La Scala, Antonio Ghiringhelli, decided to follow it with La Cenerentola (1954) with the same creative team.
But director Corrado Pavolini had fallen ill, and Zeffirelli, with the backing of Simionato, asked if he could be both director and designer. The result was another great success, and the director's first experience of handling a large chorus.
Zeffirelli was immediately asked to direct two productions the following season, Donizetti's L'Elisir d'amore and Rossini's Il Turco in Italia (both 1955). He was also told that Maria Callas wanted to sing Donna Fiorilla in the Rossini and had specifically asked that he should direct it.
Zeffirelli had first met Callas when As You Like It had been running in Rome at the same time as Parsifal, in which Callas sang the role of Kundry. Tullio Serafin, who was a major influence on Zeffirelli, introduced both him and Visconti to "this very plump Greek-American girl with a terrible New York whine allied to a rather prim, matronly manner. She sounded awful and looked worse." Then she had sung, and Zefirelli had been entranced. "I followed her to Florence to see her Traviata and hung around her dressing room like a lovesick boy," he recalled.
Zeffirelli would shortly realise his longstanding ambition to direct a film. Camping (1957) was a modest, sentimental story of two young lovers on a motorcycle, but the public liked it. He was then called back to Dallas, Texas, to stage La Traviata for Callas, and succeeded in eclipsing Visconti's previous staging with an audaciously cinematic production, using multiple sets and dispensing entirely with the interval between the second and third acts.
At the end of 1959 Zeffirelli was invited back to Covent Garden to create new productions of Cavalleria Rusticana and Pagliacci, which were to prompt the Old Vic to ask him to direct Romeo and Juliet, with the particular request that he reproduce the Mediterranean feeling of his opera productions. For this Zeffirelli was determined to use a truly youthful leading pair and cast two young players starting out, Judi Dench and John Stride. "Judi was small and doll-like and looked even younger than her age, just the way I'd always imagined Juliet should be," he said. The production, so different from all previous accounts of Shakespeare's tragedy – the director even replaced the balcony with battlements – was loathed by London's theatre critics next day, who condemned the acting, the sets and the direction. But the following Sunday London's most respected critic, Kenneth Tynan, called it "a revelation, even perhaps a revolution ... The Vic has done nothing better for a decade." Romeo and Juliet immediately became a sell-out and extended the length of its season.
The following year, 1961, Zeffirelli directed Fastaff at Covent Garden, then made his debut at Glyndebourne with L'Elisir d'amore. In Dallas, he staged a controversial Don Giovanni with Joan Sutherland and Elizabeth Schwarzkopf, setting the opera in the burnt-out aftermath of a catastrophe, then returned to England to create an Othello for the Royal Shakespeare Company at Stratford. It turned out disastrously. Wanting an elegant, cultured Othello, he cast John Gielgud, with young Ian Bannen as Iago. "Whatever chemistry makes a director and his actors work was missing with us three ... Gielgud and Bannen were like oil and water and somehow Gielgud and I never seemed to react together." A few months later the Old Vic Romeo and Juliet opened in New York and was a critical and commercial triumph, with Zeffirelli receiving a special Tony Award for design and direction.
In 1967 he directed his first major film, The Taming of the Shrew (1967), starring Elizabeth Taylor and Richard Burton, and described by one critic as "a mixture of classical Shakespeare, the Marx brothers and a Renaissance painting". It was a great success, and Zeffirelli followed it with Romeo and Juliet (1968), starring newcomers Leonard Whiting and Olivia Hussey. Writer Bruce Robinson, who played Benvolio in the film, later claimed that Zeffirelli tried to seduce him, and that he was the model for the lecherous Uncle Monty in Robinson's 1987 film Withnail and I.
Given a small budget by Paramount, Romeo and Juliet made $50m – the highest ratio of investment to earnings in the history of the studio. "The effect on me was stunning," he said. "It made me a lot of money, transforming me from someone who'd always lived at the limits of his income to someone who could be described as rich, and it elevated me from being a European celebrity to someone who was famous internationally."
A few months later Zefferelli was critically injured when the car he was in, driven by Gina Lollobrigida, skidded and smashed into a barrier, sending him through the windscreen. Months of facial surgery preceded his return to work with a triumphant staging of Pagliacci and Cavalleria Rusticana at the Metropolitan. His accident had delayed his plans to film the life of Francis of Assissi, which he thought relevant to the "peace and love" movement of the Sixties. Titled Brother Sun, Sister Moon, the film appeared in 1972 and was criticised as simplistic and naive.
In 1975 Zeffirelli embarked on a project that would take two years to complete – an ambitious television miniseries based on the life of Christ, titled Jesus of Nazareth. Featuring a starry cast supporting Robert Powell as Jesus and Olivia Hussey as Mary, the series was screened worldwide over Easter and was given the exceptional accolade of a mention by the Pope in his Psalm Sunday message.
Zeffirelli next staged Alfred de Musset's Lorenzaccio for the Comedie Francaise, and a triumphant Otello at La Scala (both 1976). Starring Placido Domingo, Mirella Freni and Piero Cappuccilli, with Carlos Kleiber conducting, Otello was the first La Scala premiere to be televised live.
A second de Filippo play, Filumena, was another hit for the National, after which Zeffirelli went to Hollywood. Though his films The Champ (1979) and Endless Love (1981) attracted audiences, they were decried by critics.
Returning to La Scala in 1981 to stage Cavelleria Rusticana and Pagliacci, both starring Domingo, Zeffirelli filmed both productions, partly in the opera house and partly on location in Sicily. When shown on television in the US, Pagliaci won both a Grammy and Emmy. Teresa Stratas, the film's soprano, then starred in La Boheme for Zeffirelli at the Metropolitan, and he realised he had the perfect star for a filmed version of La Traviata. When Jose Carreras declined to play Alfredo, Domingo accepted the role.
Visually entrancing, and extremely moving, La Traviata is one of the finest opera films. The film version of Otello is comparable in its power and spectacle, though marred for purists by some drastic cutting.
In 1985 Zeffirelli designed his first ballet, Swan Lake, for La Scala, his revolutionary approach – particularly his replacement of tutus with calf-length dresses for the ballerinas – causing Mikhail Baryshnikov to withdraw from the production. He then made a film his detractors seized on – a ludicrous account of Toscanini's early years, Young Toscanini (1988). The director was happier with an impressive Hamlet (1990) starring Mel Gibson, and a television film of Don Carlos (1992). But a version of Jane Eyre (1996) suffered from the mismatching of its leads, Charlotte Gainsbourg and William Hurt.
The cast of Tea With Mussolini (1999) was high-powered, including Maggie Smith, Judi Dench, Joan Plowright, Lily Tomlin and Cher, and made Zeffirelli's labour of love watchable if unsatisfying.
His last films were Callas Forever (2002), a dramatisation of the singer's last years, and Tre Fratelli (2005). In 2003 he was nominated for a Laurence Olivier Award for his set designs for Absolutely! (Perhaps), and in November 2004 he was given an honorary knighthood.
In 2009, he was awarded the inaugural Premio Colesseo, which is given to those who have enhanced Rome's reputation.
Franco Zeffirelli, film and opera director, born 12 February 1923, died 15 June 2019
Join our new commenting forum
Join thought-provoking conversations, follow other Independent readers and see their replies