Frank Alamo:'Yeye' singer who stormed the French charts
Pierre Perrone
Wednesday 14 November 2012 01:00 Comments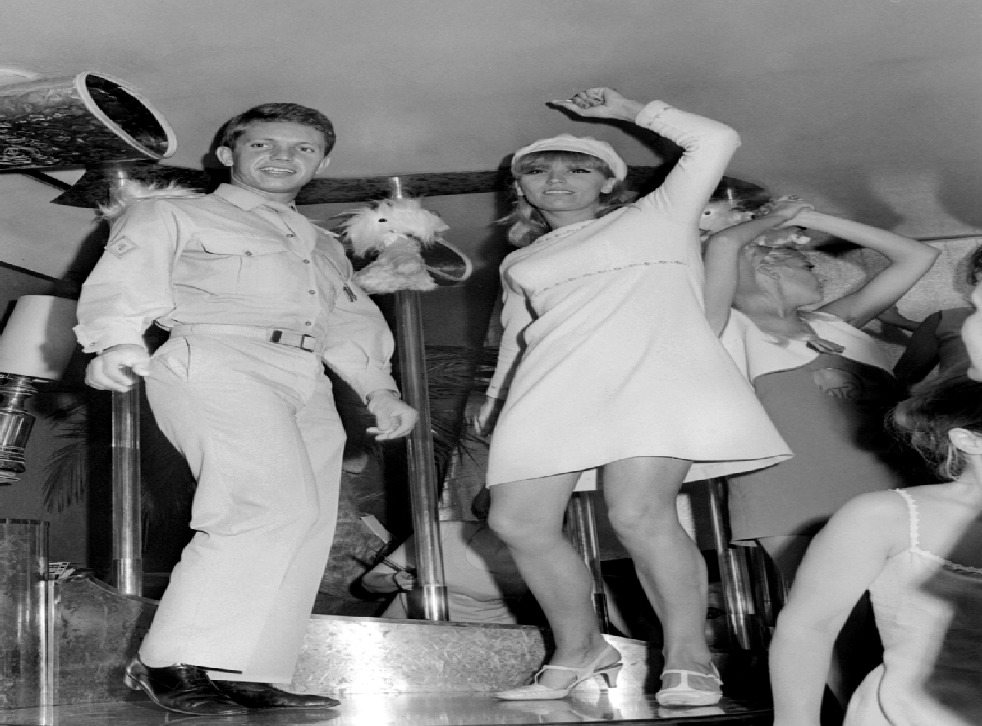 With his boy-next-door image and plaintive voice, the yéyé singer Frank Alamo was an engaging "idole des jeunes" – teenage idol – and a constant presence in the French charts between 1963 and 1969. Archetypal of the yéyé genre – so-called because vocalists of both sexes tended to ape British and American acts and their "yeah, yeah" exhortations – he followed in the footsteps of Johnny Hallyday and Claude François, relying like them on French language adaptations of UK and US hits for the majority of his repertoire, occasionally competing to cover the same song, as he did with Hallyday for The Ronettes' "Da Doo Ron Ron" and François for The Beatles' "I Want To Hold Your Hand".
Hallyday, who ehad started in the late 1950s, based his moody persona on Elvis Presley and the US rock'*'rollers, while François drew on James Brown and Motown and surrounded himself with dancing girls – les Clodettes, inspired by Ike & Tina Turner's Ikettes – but the clean-cut Alamo gave them a run for their money on the Salut Les Copains radio programme on the French commercial station Europe 1 and in the pages of the similarly-titled teen bible. However, when his fiancée gave him an ultimatum – "it's me or your fans" – in 1969, Alamo married her and left showbusiness. He returned in the mid-'80s and from 2006 was a mainstay of the Age Tendre Et Têtes De Bois nostalgia tours named after French television's equivalent of Ready Steady Go!
Born Jean-François Grandin in Paris in 1941, he was the son of an industrialist who manufactured and sold radios and televisions and who expected him to join the business. In his teens he sang for the altar boy choir Les Petits Chanteurs A La Croix De Bois but kept his early attempts at a pop career secret from his parents. Sent to the UK on a regular basis to improve his English, he gravitated towards the 2i's coffee bar in Soho where, guitar in hand, he met Cliff Richard and future members of the Shadows.
Back in France he began performing on the sly at L'Epi Club in Paris and also played impromptu gigs at "jeunesse dorée" resorts St-Tropez and Val d'Isère, where he met the French impresario Eddie Barclay in 1962.
Impressed by his "Alamooo" rallying cry, inspired by the John Wayne western, Barclay coined the Frank Alamo alias and offered him a recording contract, which he turned down in order to continue studying law. The following year, Barclay A&R man Léo Missir came back with another offer and secured Alamo's signature.
His first release, an adaptation of Johnny Thunder's novelty US hit `"Loop de Loop", fared reasonably well against rival covers, but he really made his mark with "(Biche Oh) Ma Biche", a French language version of "Sweets For My Sweet", the Doc Pomus and Mort Shuman composition which had made the US Top 20 for the Drifters and provided the Searchers with a chart-topping UK debut. Over the next few years Alamo became the conduit for a slew of Anglo-American best-sellers, including the Fab Four's "A Hard Day's Night" ("Je Me Bats Pour Gagner"); The Kinks' "Tired Of Waiting For You" ("Ma Vie A T'attendre"; the Turtles' "Happy Together" ("Heureux Tous Les Deux") and The Shangrilas' "Leader Of The Pack" – "Le Chef De La Bande", which necessitated so many takes of different motorbikes revving up to replicate the original that everyone in the studio almost passed out from the fumes. Most inventive was the adaptation of "Are You Getting Tired Of Your Little Toy", a flop for Lorraine Gray, into the irresistible "Allô Maillot 38-37" which exploited Alamo's yearning delivery to the full.
The singer's cute looks made him a natural to appear in Scopitones, the proto-pop videos teenagers could watch on televisual juke-boxes in French cafés. He co-headlined with Petula Clark at the Olympia in Paris and topped the bill over Dionne Warwick and Trini Lopez during two extensive summer tours of France.
After his marriage he turned his photography hobby into a profession and worked in advertising and fashion and also took pictures of the stars he had come to know. The death of his father, at sea off Morocco in 1973, forced him to take over the Grandin company but in 1978 he returned to photography and opened the Studio Berger in Paris.
He travelled on assignments for magazines as diverse as Mode Internationale and Lui. A keen sportsman and a car enthusiast, in 1983 he spotted the potential of the Dallas Jeep, built on a Renault 4 chassis, and bought the fledgling company. Over the next decade, Grandin Automobiles developed new versions of the Dallas jeep, first using polyester and then a new galvanised chassis and a fibreglass body, which became favourites for leisure use. Alamo sold the business in 1996 and manufacture stopped two years later, though Dallas jeeps remain highly collectable in France.
Alamo embraced the Sixties revival and featured in four A"ge Tendre Et Têtes De Bois" package tours alongside friends Danyel Gérard, Sheila and Les Surfs. Diagnosed with the motor neurone disease amyotrophic lateral sclerosis in 2008, he recorded a final album and toured until 2010. "I fulfilled my childhood dream: to be a singer and have thousands of fans. I just won't be able to still be singing when I'm 90," he told Ici Paris magazine in February. He was determined to celebrate his 71st birthday but died the day before.
Jean-François Grandin (Frank Alamo), singer, photographer and businessman: born Paris 12 October 1941; married (one daughter, one son); died Paris 11 October 2012.
Register for free to continue reading
Registration is a free and easy way to support our truly independent journalism
By registering, you will also enjoy limited access to Premium articles, exclusive newsletters, commenting, and virtual events with our leading journalists
Already have an account? sign in
Join our new commenting forum
Join thought-provoking conversations, follow other Independent readers and see their replies