Frank Kelly: Actor who found fame as Father Jack in the sitcom Father Ted
He died on the 18th anniversary of the death of his friend and Father Ted co-star, Dermot Morgan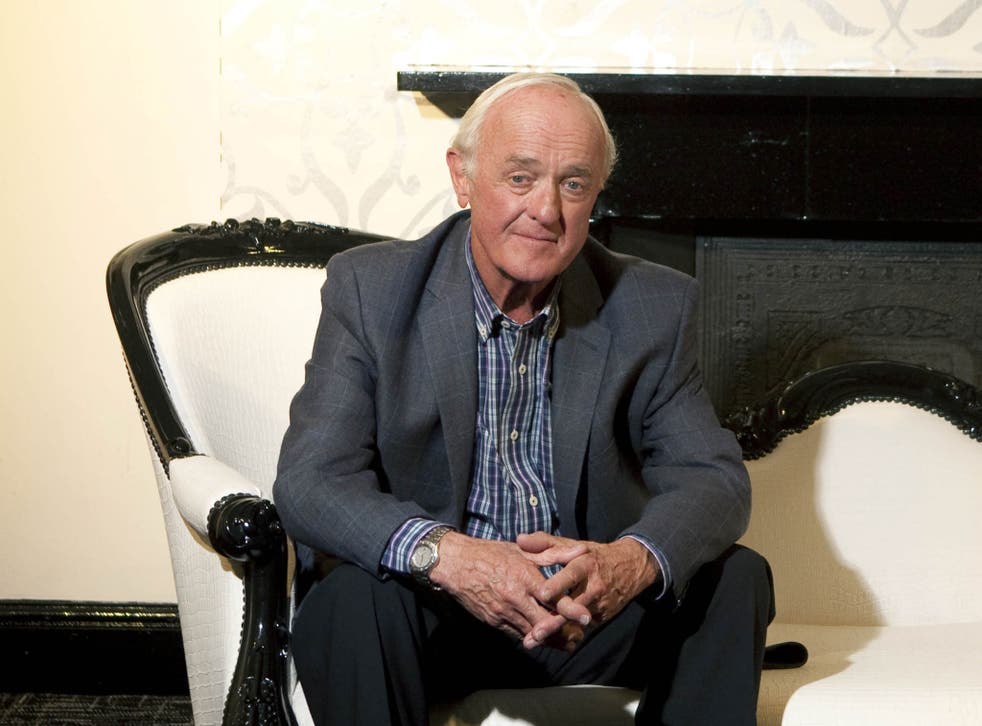 Frank Kelly, who has died at the age of 77, was the actor best known for playing Father Jack Hackett, the foul-mouthed alcoholic priest in the popular television comedy Father Ted, which was first shown on Channel 4 in 1995.
The scenario was an improbable one, featuring Kelly as one of three priests – Fathers Ted, Dougal and Jack – exiled on the fictional Craggy Island with their housekeeper, Mrs Doyle. Kelly combined a limited vocabulary – cries of "Feck!", "Drink!" and "Arse!" – with a dishevelled appearance and impeccable timing, to create his hilarious and unforgettable character. The programme has gone on to become a comedy classic perpetually rerun on television.
Kelly was born in Blackrock, County Dublin, in 1939, the son of the artist and cartoonist Charles E Kelly, one-time editor of the satirical magazine Dublin Opinion. He studied law at University College Dublin and was called to the Bar but never practised. His first acting role was an uncredited and non-speaking part as a prison officer in The Italian Job (1969) escorting Charlie Croker, played by Michael Caine, from jail.
He went on to write for Wanderly Wagon, a magical and surreal programme for children, also much watched by adults, shown in Ireland from 1967 to 1982, and appeared in the show as the villain, Doctor Astro. In parallel, he appeared on Hall's Pictorial Weekly, a satirical show broadcast on RTE from 1971-80. The editor, Frank Hall, already known for his Newsbeat comedy series, created political satire at its best, mocking the government and opposition. For example, in a 1980 show, Kelly appears as Charlie Hawkeye – imitating the then Taoiseach, Charles Haughey – to make a ministerial broadcast in riding gear, declaring, "As you know, the country is in a hell of a mess, and some of you, yea of little faith, are wondering if I can get you out of it..." before breaking into song in a version of "Accentuate the Positive".
Continuing in a musical vein, his Christmas Countdown, a comedy rendition of the 12 days of Christmas, reached No 26 in the singles charts in December 1983.
Father Ted, created by Graham Linehan and Arthur Mathews, was an immediate hit from its first broadcast in 1995, winning Best New Comedy at the British Comedy Awards the following year. Although it raised eyebrows in certain quarters, Kelly said in an interview last year, "The thing about Father Ted is you couldn't accuse the boys that wrote it of doing something highly irreverent... It's respectful and funny."
Kelly was even asked by members of the priesthood, wondering how his portrayal could be so close to real life, "How did you know about ours?" He explained, "You'll find very young men taking care of very old men, and for that reason I had that question asked... So, it's not without foundation in reality."
His fellow cast member, Ardal O'Hanlon, who played the hapless innocent, Father Dougal, summed up the actors' surprise at the success of Father Ted, which ran for three seasons and 25 episodes. "I knew it was good and odd and different, but I didn't think it would work for a mainstream British audience because it was very Irish in its sensibilities. I thought it'd be a cult show on Channel 4 at 3am."
The transition from the handsome Frank Kelly to the grotesque Father Jack was largely thanks to the work of make-up artists. "It took me two hours to be made up as Father Jack", Kelly recalled," I found it repulsive. If I was in costume, nobody would sit beside me. And I don't blame them. I had vaseline coming out of my ears as discharge, incontinence marks on my trousers, prosthetic teeth which I took out to eat, and one blind eye with an opaque lens."
Following the success of Father Ted, Kelly took a number of other minor roles in television and film. In The Deal (2003), a dramatisation of the Labour leadership pact between Gordon Brown and Tony Blair, he played a memorable John Smith, introducing Brown to Blair at his Westminster office.
Kelly joined the cast of Emmerdale in 2010, as the father of Declan Macey, when the Macey family took over the estate. However, he left after only five months as he said he was missing his family in Ireland. His last role was as the character Justice Cannon in the comedy adventure film Mrs Brown's Boys D'Movie (2014), a feature-length adaptation of Brendan O'Carroll's popular TV comedy.
Kelly had bowel cancer in 2011 and revealed last November that he had been diagnosed with Parkinson's disease but wished to continue to work. "I've been working as an actor for over 50 years and a shaky hand won't stop me", he said at the time. "I remain open to offers for work on stage and screen. I'm quite available and my mobile is always on."
He died on the 18th anniversary of the death of his friend and Father Ted co-star, Dermot Morgan (Independent obituary, 2 March 1998).
Francis Kelly, actor: born Blackrock, County Dublin 28 December 1938; married 1964 Bairbre Neldon (five daughters, two sons); died 28 February 2016.
Register for free to continue reading
Registration is a free and easy way to support our truly independent journalism
By registering, you will also enjoy limited access to Premium articles, exclusive newsletters, commenting, and virtual events with our leading journalists
Already have an account? sign in
Register for free to continue reading
Registration is a free and easy way to support our truly independent journalism
By registering, you will also enjoy limited access to Premium articles, exclusive newsletters, commenting, and virtual events with our leading journalists
Already have an account? sign in
Join our new commenting forum
Join thought-provoking conversations, follow other Independent readers and see their replies