Gary Speed: Footballer and Wales manager whose playing career spanned 22 years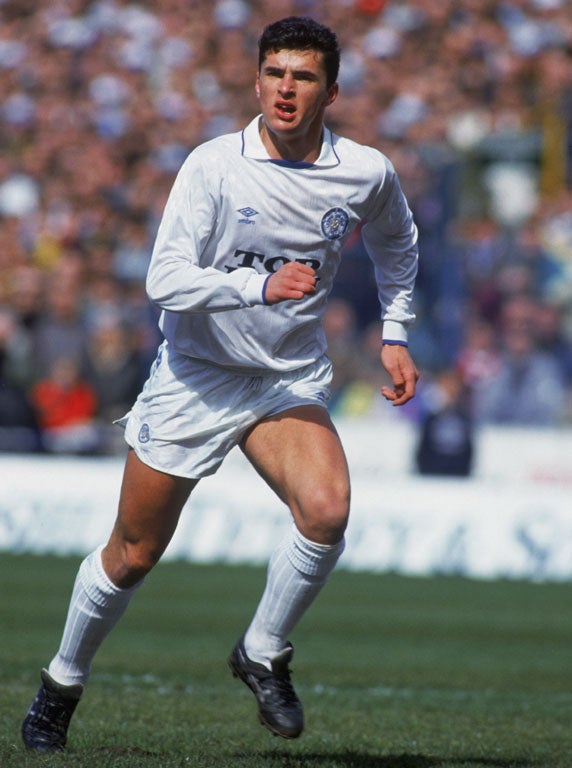 From the time he riveted attention as the brilliant baby of the beautifully balanced Leeds United midfield which was so integral to the Yorkshiremen's league title triumph of 1991-92, right through until he presided inspirationally over the unexpected recent renaissance of Wales as a force in international football, Gary Speed, who has apparently committed suicide, barely put a foot wrong.
As a player for Leeds, Everton, Newcastle United, Bolton Wanderers and Sheffield United, and for his country – between 1990 and 2004 he earned 85 caps, a record for an outfielder and second only to goalkeeper Neville Southall – invariably he was a colossally influential and versatile all-round performer. As one of the most promising young managers in the world game, his potential for long-term success appeared to be limitless; and as a character he was widely cherished as a down-to-earth, loyal, industrious, good-humoured individual, one of the most popular figures in Welsh sport.
After rising through the youth ranks at Elland Road, Speed made his senior debut as a 19-year-old left-sided midfielder during 1988-89, then earned a regular place towards the end of the following season, which Leeds finished on top of the old Second Division, the equivalent of today's Championship. Undaunted by elevation to the élite grade, the Welsh rookie rapidly became a key part of a superb centre-field quartet which also included the experienced and gifted Scottish duo Gordon Strachan and Gary McAllister, and the vigorous young local boy David Batty.
They gelled together fluently, with Speed based on the left flank, majoring on pace and athleticism, a prodigious work ethic and a stupendous aerial ability which was seen to maximum effect through his priceless knack of arriving late in opposing penalty boxes to direct powerful headers towards goal. In 1991-92, when Leeds deservedly outstripped Manchester United to become the last English champions of the pre-Premier League era, Speed contributed seven League goals, missed only one match and was named by manager Howard Wilkinson as his player of the season.
Clearly one of the outstanding prospects on the British scene, and a key member of the Wales team after making his full international entrance against Costa Rica in August 1990, Speed could contemplate the future with unbounded optimism, not least because if necessary he could fill virtually any position bar goalkeeper. But with Leeds failing to keep pace with the gathering force of Alex Ferguson's Old Trafford empire, a sense grew that the exhilaratingly talented Welshman's career could do with some fresh impetus, and it seemed that might be achieved when he was sold to Everton, the club he had adored all his life, for £3.5m in July 1996.
It seemed to be a dream move as he was greeted rapturously by the Goodison fans, and he was made captain at the outset of 1997-98, but while Speed did well enough personally, the Toffees toiled collectively and soon he outraged his erstwhile admirers by demanding a transfer. Duly in February 1998 he was sold to Newcastle for £5.5m, and at St James' Park he continued to mature into one of the finest midfielders in the land, especially after moving from the left to a central position.
Now he shone whether deployed as an anchorman or with a more attacking brief. His control, distribution, shooting, stamina and courage, his spring-heeled excellence in the air, his reading of the game, his composure under pressure and his leadership qualities, everything was impeccable and the Magpies always looked a far better side with Speed than without him.
He spent six years on Tyneside, experiencing FA Cup final defeats to Arsenal in 1998 and Manchester United in 1999, and sampling a taste of the Champions League, before switching to Bolton for £750,000 in July 2004. Yet again he contributed consistently, in 2006 becoming the first man to reach 500 Premier League appearances.
Early in 2008, by now in his 40th year, Speed joined second-flight Sheffield United, initially on loan, and featured regularly for the Blades – scoring a league goal for the 20th successive season – till laid low by back trouble in November 2008. He announced his retirement as a player in 2010, having made nearly 700 league appearances in his 22 years as a professional, and had served only four months as Bramall Lane boss when he was made manager of Wales that December.
At that point expectations were low, but Speed proceeded to confound them comprehensively. Although he would always be honoured for his international service on the pitch, which included captaining the side 44 times and scoring seven goals, few if any observers believed that he would bring about a swift and dramatic upturn in his nation's fortunes.
But he did. In the 10 games before his shocking death, he oversaw five victories, culminating in three in quick succession, the most recent being a 4-1 drubbing of Norway in a friendly at Cardiff earlier this month. In the process Wales climbed into the world ranking list's top 50, and suddenly the Principality's footballing future looked dazzlingly bright. It was a stunning development, and it was all down to Gary Speed.
Gary Andrew Speed, footballer and manager: born Mancot, Flintshire 8 September 1969; played for Leeds United 1988-96, Everton 1996-98, Newcastle United 1998-2004, Bolton Wanderers 2004-08, Sheffield United 2008; capped 85 times by Wales 1990-2004; managed Sheffield United 2010, Wales 2010-11; MBE 2010; married Louise (two sons); died Huntington, Cheshire 26 or 27 November 2011.
Join our commenting forum
Join thought-provoking conversations, follow other Independent readers and see their replies