Gauri Lankesh: Uncompromising journalist who spoke truth to power
The Indian newspaper publisher was murdered outside her Bangalore home last month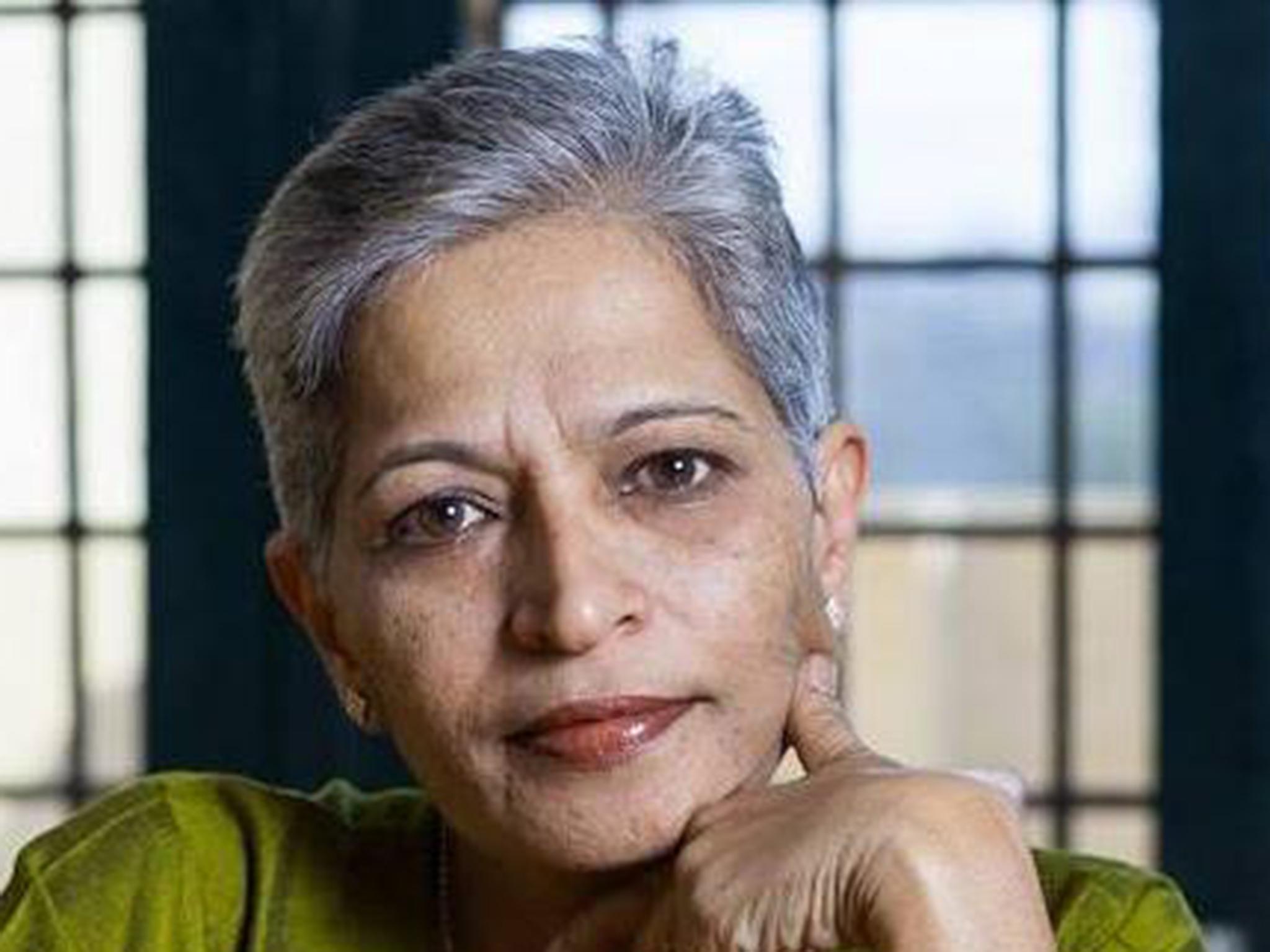 Under the weight of the pressures of political intimidation and accusations of being "anti-national", Gauri Lankesh refused to bend. A fearless and uncompromising journalist, Lankesh – who was gunned down outside her Bangalore home on 5 September – was at the helm of Indian tabloid Gauri Lankesh Patrike, one of the few newspapers in the country to sport a female publisher's name on its masthead.
For Lankesh, the newspaper was a conduit for speaking truth to power at a time when many other news outlets in India felt condemned to self-censorship after the election of Prime Minister Narendra Modi in 2014 saw a rising tide of Hindu nationalist sentiments. The outspoken writer was proud to call herself an activist and a fierce critic of Modi's government, nationalist organisations and India's deeply rooted caste system.
If the motive behind her murder was to silence her, news of Lankesh's death seems only to have amplified her voice around the world. Her death sparked outrage across the country, with as many as 15,000 people, including writers, journalists and academics, joining a protest condemning her murder. Many held placards reading "I am Gauri", while others spoke about the need to protect free speech.
More than a month after the murder, the perpetrators have not been found. The Committee to Protect Journalists (CPJ) has urged police in Bangalore to investigate "whether journalism was a motive" in Lankesh's murder. The organisation ranks India as a country with a poor record of safeguarding media and said in its statement: "India needs to address the problem of impunity in journalist murders an ensure the press can work freely." The CPJ estimates as many as 27 journalists have been murdered in relation to their work since 1992.
​Lankesh was born in 1962 to a prominent family in the Karnataka state. Her father, P Lankesh, was a celebrated writer who launched the Lankesh Patrike paper as a daring tabloid that defied convention in 1980. He shared – and in large part inspired – his daughter's strong anti-caste sentiments and critical view of religion.
As the eldest child of three siblings, Lankesh inherited the reins of the family newspaper when he died in 2000, maintaining the tabloid's punchy editorials and bold journalism. Five years later, however, disagreement within the family about how the newspaper should be run led to a falling out between Lankesh and her brother Indrajit. The feud prompted the journalist to launch a separate tabloid under her own name, the Gauri Lankesh Patrike.
​Lankesh was posthumously awarded a prestigious global award for her achievements – the Anna Politkovskaya Award, created in memory of the Russian reporter and political activist who was murdered in 2006. The Kannada journalist shared the award Reach All Women in War award with Gulalai Ismail, a Pakistani activist who faced death threats after speaking out against the Taliban.
"This award is a morale booster for people who want to write, and fight," Lankesh's sister, Kavitha, an award-winning filmmaker told the Thomson Reuters Foundation. "It honours what Gauri stood for – that you cannot silence me."
​The award committee said in a statement it wanted to celebrate Lankesh "and her fearless journalism as a strong critic of right-wing Hindu extremism, campaigner for women's rights, fiercely opposed to the caste system, and campaigner for the rights of Dalits. A senior Indian journalist and activist, Gauri, just like Anna Politkovskaya before her, was shot dead outside her home ... in order to silence her voice and her critical reporting and activism."
Last year Lankesh told Indian website Newslaundry that the "rabid hate" directed towards her online made her fear for the state of freedom of expression in India. She called on fellow journalists to stand up to threats from nationalist organisations.
In an editorial celebrating the 10th anniversary of her newspaper, Lankesh wrote: "When the world and hence the reality is divided along the class, caste and gender lines, objective journalism could become another way of self-deception. When truth is partisan, the journalists also need to take sides. My journalism is with a purpose line, the journalism pursued during the freedom movement by the leaders of the National Movement. No journalist can become a real journalist in this era of corporate capitalism and ascendent right-wing forces, unless he becomes an activist journalist – at least in the mindset."
In her final editorial, Lankesh offered timeless advice to journalists working in an age of fake news and "alternative facts". "Today, the mainstream media accepts the data given by the government ... as gospel truth, as if the government's claims cannot be challenged or questioned," Lankesh wrote in a translated copy of the piece.
She warned of how fake news stories could be used as "weapons", referring to a false report about the Karnataka government. "What is most shocking and sad is that people accepted it as truth without thinking – with their eyes and ears closed and brains shut off. I want to salute all those who expose fake news," Lankesh wrote in her final paragraph. "I wish there were more of them."
Lankesh leaves behind her two siblings, Kavitha and Indrajit, as well as her mother, Indira, who told The Times of India she was "proud of Gauri in many ways", calling her a "braveheart who loved to speak the truth".
​The publisher was married to fellow journalist Chidanand Rajghatta in the 1980s, but the marriage ended in divorce after five years, with the pair maintaining a close friendship up until Lankesh's final days. The writer never remarried, dedicating herself to her work and the young activists that she considered her "adopted children".
Rajghatta, an Indian-born columnist based in Washington DC, penned a poignant tribute to Lankesh in the wake of her death, describing the writer as "feisty" and "rebellious", but graceful. "One phrase keeps repeating and resonating in my mind: amazing grace," Rajghatta wrote. "Forget all other labels: leftist, radical, anti-Hindutva, secular, etc. For me, there is just this: My friend, my first love, she was the epitome of amazing grace."
Gauri Lankesh, journalist and activist, born 29 January 1962, died 5 September 2017
Join our commenting forum
Join thought-provoking conversations, follow other Independent readers and see their replies