General Jorge Rafael Videla: Dictator who brought terror to Argentina in the 'dirty war'
Only in 1998 did he admit that there had been a plan to get rid of left-wing groups in the country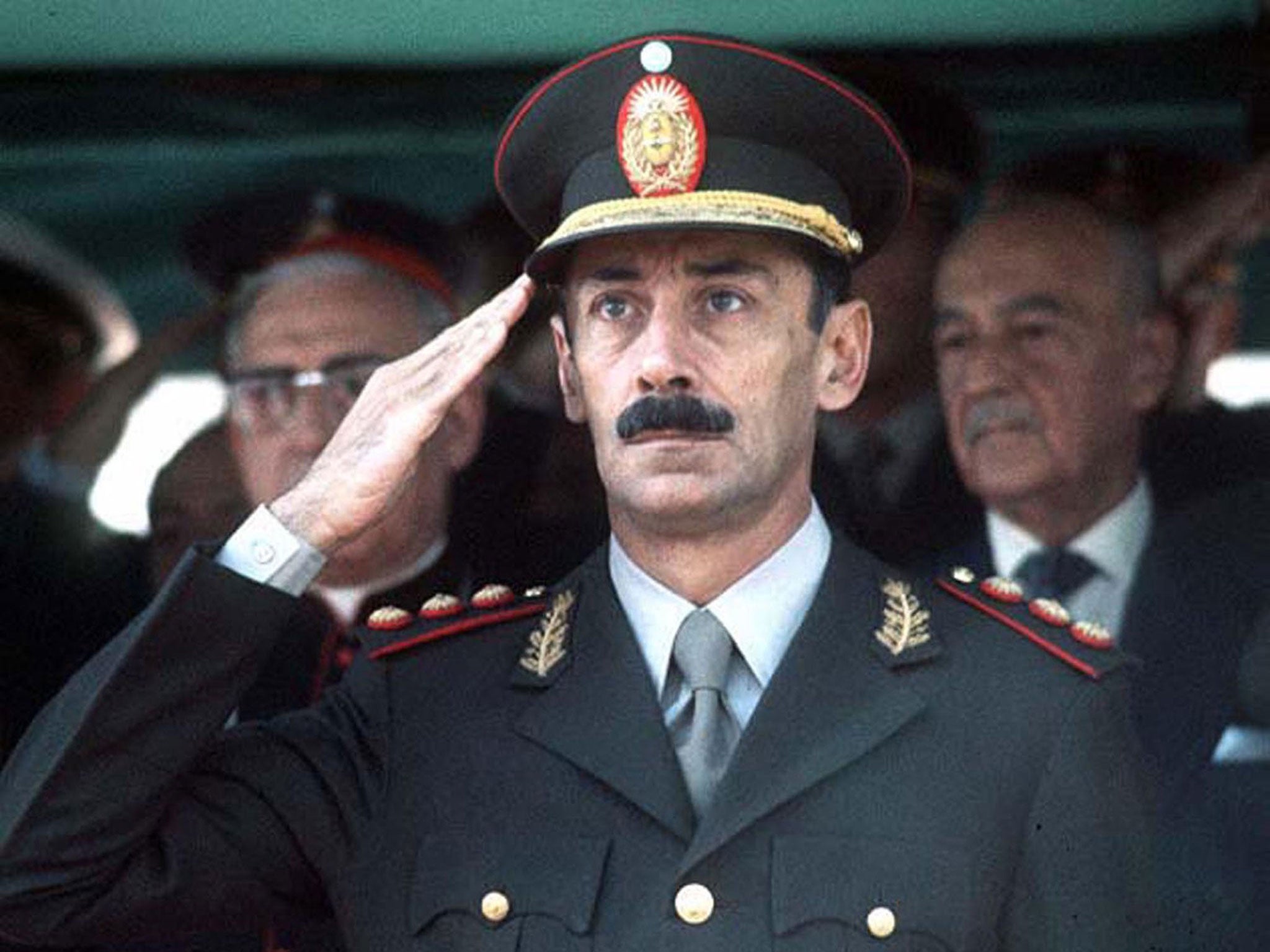 General Jorge Rafael Videla was the dictator who brought terror to his country in the second half of the 1970s, plunging it into a "dirty war" against subversion. At least 9,000 people were killed by armed forces under his direct command as president of the military junta which had seized power in March 1976. Videla always argued that he had merely been doing his duty. He claimed not only to have saved Argentina from political chaos, but to have defended "Western Christian civilisation" in its fight against communism. He remained unrepentant to his dying day, declaring in 1998 that " I reject the accusations made against me and on the contrary call on behalf of the Argentine nation and its armed forces in particular, for the honour due to victory."
He was born into a military family in the province of Buenos Aires in 1925. His father played an active role in the first military coup in 20th century Argentina, when the government of Hipólito Yrigoyen was overthrown. He went to a Catholic school (he remained a practising Catholic), then entered military college at 16 in 1942, when the Argentinian army was still highly politicised – and great admirers of Mussolini and national socialism. He graduated into the infantry and at 23 married Alicia Raquel Hartridge, a descendant of Irish immigrants to Argentina.
Through the 1950s and '60s, Videla was a career officer, in the general staff and at military college. He was known as a disciplinarian and a traditionalist, and managed to keep out of politics. In part it was because of his neutral position that he was appointed head of the Military College in 1971, with the rank of general, when the armed forces were once more in power but were considering handing power back to the civilians. He was also fortunate in not being high enough up in the military hierarchy to be dismissed when the leader of that civilian govenrment turned out to be Juan Peron.
After Peron´s death in 1974 his widow Isabel became president. It soon became obvious that her government was doomed, split as it was by internal rivalries and an increasing threat from armed guerrilla groups. By this time, Videla had risen to become commander of the army, and in October 1975 ordered his forces to concentrate on eliminating the "subversive threat".
He began planning with Emilio Massera, head of the Argentine navy, and Brigadier Agosti, the Air Force commander, for a military take-over, in what was known as "Operation Aries"- the zodiac sign for the month of March, when the coup was to take place. In order to avoid the emergence of one all-powerful figure, the three men agreed that each service would hold approximately one third of the power for at least two years, although as commander of the senior branch, General Videla would be nominated leader of the junta.
On 24 March 1976 the coup duly arrived. Isabel Peron was arrested with all her cabinet and hundreds of politicians, trade unionists and other leaders. The coup was bloodless, as no one lifted a finger to defend the Peronist government, but what Videla and his colleagues grandly termed the "Process of National Reorganisation" included a concerted campaign to kidnap, torture and kill anyone regarded as being part of or supporting the left-wing guerrilla groups.
Videla was installed as president on 29 March 1976 in a ceremony that lasted 20 minutes. He and the other junta members argued that they were at war with the subversives, although there are many indications that the guerrilla groups had already been substantially defeated. Videla and his colleagues decided that as their enemies were not a real army, any tactics were legitimate against them, so they declared that this was a "dirty war", under which the armed forces could torture and kill without any respect for legality, with no obligation to reveal to anyone what they were doing.
A total of 364 secret detention centres were used between 1976 and 1978 to receive the thousands of "disappeared", who were routinely tortured and killed, their bodies disposed of in mass graves, or thrown out of planes at night over the River Plate. Questioned by the press, Videla and the others insisted that they must have joined the guerrilla or gone abroad. Only one case of habeas corpus was ever admitted, and Videla refused to intercede even on behalf of relatives or the children of friends who were caught up in the violence.
It was only more than 20 years later, in 1998, that Videla finally admitted that there had been a plan to get rid of the left-wing groups in this way. "We could not put them all - say 5,000 of them - before firing squads. Argentine society would not have stood for that... At one time, we thought of publishing lists, but then there was an objection: if we say they have been killed, then the awkward questions will start: who killed them, where, how."
On 1 August 1978, with the "subversives" crushed, Videla stepped down as commander-in-chief of the army. He continued as president while a new junta of three service commanders was sworn in. Since the coup, it is estimated that as well as some 9,000 "disappeared" there were 10,000 political prisoners, while more than a quarter of a million had left to live in exile. But Argentina had won the football World Cup, and Videla was laying plans for a gradual return to democratic rule with himself as the leading presidential candidate.
His plans came to nothing after the Falklands Islands debacle (which he did not support), and the return of political parties to power at the end of 1983. His next public appearance was in the dock in April 1985, when President Alfonsín's government put the junta members on trial for human rights crimes. It was during the months of this trial that Videla acquired the nickname of "The pink panther", because of his bony face and the aloof disdain he showed for everything going on around him, as if he were above civilian justice.
For all his disdain, he was convicted of direct responsibility in 66 murders, 306 kidnappings, 93 cases of torture and four of theft. Videla was sentenced to life imprisonment and stripped of his general's rank and civilian rights. Refusing to try to justify himself any further, he accepted a comfortable prison in an army camp outside Buenos Aires.
There were further twists in the sequel to his years in power. When the Peronist Carlos Menem won the 1989 elections, he quickly pardoned the military and guerrilla leaders still in prison. Videla was among them, although he insisted in a public letter that he had not asked to be set free, and called on the new president to also restore the reputation of the armed forces.
Then in 1996 fresh proceedings were opened against Videla. This time it was for the kidnapping of five children from mothers who had disappeared after the 1976 coup. Shortly after they had given birth, their babies had been taken from them and placed in the families of military personnel or other childless couples. Although Videla had been pardoned for the crimes committed between 1976-1983, human rights groups argued successfully that the kidnapping of the children was still going on, and was therefore not covered by President Menem's pardon.
It was eventually estimated that around 500 babies had been kidnapped and given to new parents. By last year 105 of them, by then all in their 30s, had been identified through DNA tests and reunited with their blood families through the efforts of the Grandmothers of Plaza de Mayo, an association formed in the 1980s by the mothers of the women whose babies were stolen.
On 22 December 2010, Videla was sentenced to life in a civilian prison for the deaths of 31 prisoners following his coup d'état, and then, after a 16-year trial, last year he was sentenced to 50 years for the baby kidnappings. He died in his sleep of natural causes in Marcos Paz prison in the province of Buenos Aires.
Jorge Rafael Videla, soldier and politician: born Mercedes, Argentina 2 August 1925; married 1948 Alicia Raquel Hartridge (two daughters, four sons, and one son deceased); died Marcos Paz, Buenos Aires province, 17 May 2013.
Join our commenting forum
Join thought-provoking conversations, follow other Independent readers and see their replies