George Duke: Jazz virtuoso and collaborator with Miles Davis, Frank Zappa and Michael Jackson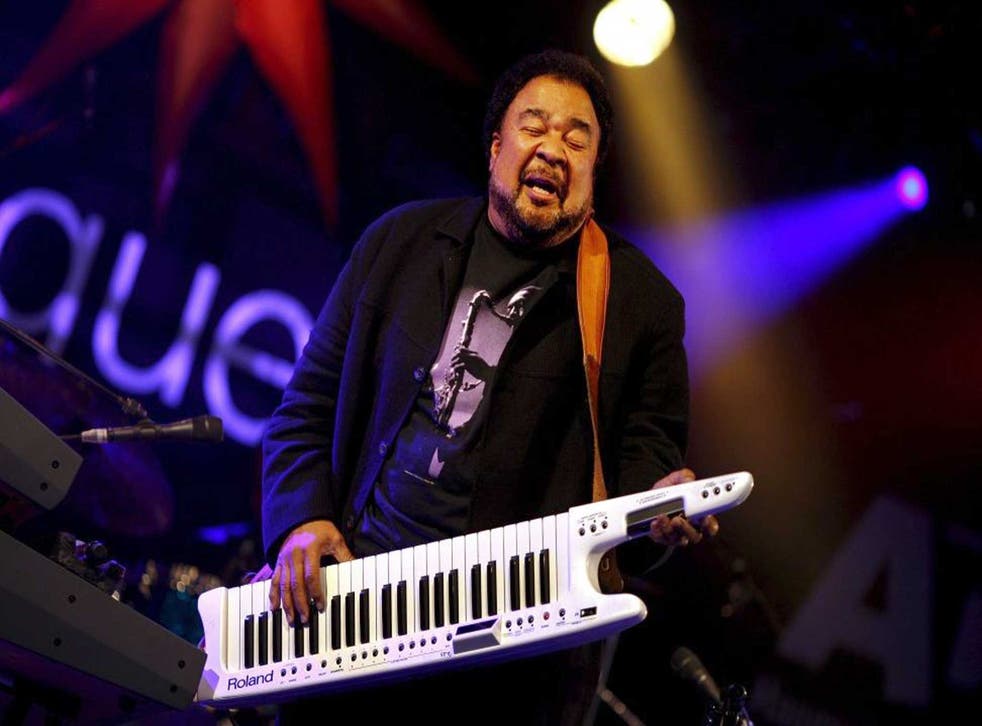 The keyboard-player, composer and producer George Duke enjoyed a multi-faceted career that lasted close to five decades and tapped into the collective consciousness from a variety of directions. His résumé read like a who's who of jazz, funk and soul and included collaborations with Cannonball Adderley, Frank Zappa and Miles Davis, as well as Al Jarreau, Anita Baker, Quincy Jones and Michael Jackson – particularly on the title track for the superstar's Off the Wall album in 1979.
Duke produced hit records for Jeffrey Osborne – the ballad "On the Wings of Love" in 1982, the floorfiller "Stay with Me Tonight" in 1983 – and Deniece Williams's ebullient US No 1 "Let's Hear It for the Boy", from the Footloose soundtrack in 1984. He also scored films and was musical director for myriad events, including 11 Soul Train Music Awards and Nelson Mandela: An International Tribute for a Free South Africa at Wembley Stadium in 1990.
Both as leader of his own jazz-fusion band and in partnership with the virtuoso bassist Stanley Clarke, he was a crossover colossus, making the most of his multi-instrumental skills as well as his affecting falsetto on the synth-led disco smash "Reach for It" (1978), the smooth ballad "Sweet Baby" (1981) and the irrepressible "Shine On" (1982), which all charted in the US and across Continental Europe. In the UK, his most popular album was A Brazilian Love Affair, reflecting his passion for the country and its music. It was recorded in Rio de Janeiro in 1979 with the vocalists Milton Nascimento and Flora Purim and the percussionist Airto Moreira.
The versatile and prolific Duke was also a mainstay of the Montreux Jazz Festival, where he performed over a dozen times and debuted his ambitious Muir Woods Suite for orchestra and small jazz band – subsequently released in 1995. "Serious black orchestral writers don't often have the opportunity to have their works performed, so I realise I was blessed to have this chance. Besides, I've always liked breaking down barriers," he remarked. "I used to call my music Multi-Stylistic. I grew up listening to all kinds of music, and I didn't see why I should be kept in a box musically. I felt that there is intrinsic worth in all forms of music, even the simpler forms. I've always wanted to bring cultures and music together – you know, make a nice stew."
Born in San Rafael, California, in 1946, he grew up in Marin City, located a few miles north of San Francisco. He demanded a piano after his mother took him to see Duke Ellington in concert when he was four, and he began taking lessons a couple of years later. He was already absorbing influences like the gospel he heard in his local Baptist church. "That's where I first began to play funky," he said. "I saw how music could trigger emotions in a cause-and-effect relationship."
By the early Sixties, he was playing jazz with fellow pupils at Tamalpais High School, and developing a style influenced by the West Coast luminaries Les McCann and Cal Tjader, as well as Davis. He would eventually collaborate with the trumpeter as composer, arranger and multi-instrumentalist on a brace of tracks on the Eighties albums Tutu and Amandla.
While studying trombone and composition at the San Francisco Conservatory of Music, he gigged with his own trio, and sometimes with Jarreau – then working as a rehabilitation counselor in the city, but soon to emerge as one of the preeminent jazz vocalists of the era. They reunited in the early Eighties when Duke played on Jarreau's Breakin' Away album and in 1988 when he produced the vocalist's Grammy-nominated Heart's Horizon album.
After depping for McCann on a quiet Monday night at The Jazz Workshop in San Francisco in 1966, Duke was approached by SABA Records to cut an album he felt didn't reflect his potential. "For some reason, I thought all I had to do was play the head of a tune real nice and then proceed to rattle off myriads of notes at high velocity. This did not make for a pleasing result, but it was all I knew," he said of his first studio recording.
Duke completed a Masters degree in composition at San Francisco State University and had a short spell teaching jazz and American culture at Merritt Junior College in nearby Oakland, before hooking up with the talented French violinist Jean-Luc Ponty after sending his US label World Pacific a note stating, "there is no other pianist for this guy but me." In September 1969, they recorded The Jean-Luc Ponty Experience with the George Duke Trio album live at Thee Experience club in Los Angeles, where Duke found himself playing a Fender Rhodes, since the requested acoustic piano was nowhere to be seen.
"The club was packed, so I knew I had to be on. Jean-Luc and I had developed a buzz on the West Coast because of our high intensity progressive jazz style. In attendance were Frank Zappa, Quincy Jones and Cannonball Adderley," he recalled of the groundbreaking jazz-fusion recording that preceded the emergence of the Mahavishnu Orchestra and Weather Report on the East Coast.
Zappa hired Duke for two spells, interrupted by a couple of years during which he toured with Adderley. The keyboard-player contributed to several albums central to the Zappa oeuvre, including Chunga's Revenge (1970), the soundtrack of the 200 Motels movie (1971), and the bestselling sequence of Over-Nite Sensation, Apostrophe, Roxy & Elsewhere (all 1974), One Size Fits All and Bongo Fury (both 1975) – also featuring Captain Beefheart. The concert I saw Zappa and the Mothers of Invention, with Duke, give in Marseilles in 1974 was astonishing – and memorable for both its virtuosity and wit.
Duke thrived with Zappa, building up confidence as a vocalist, even if he never considered himself a "proper singer", and taking up the synthesizer after the guitarist bought an ARP 2600 and presented it to him as a fait accompli. "He put it next to my Rhodes. It was as simple as that," recalled Duke. "At the time, there were no presets or ways of saving patches. Not only that, but you were limited to one note at a time. So overdubbing, a good memory and management system became very important."
Indeed, Duke became such a distinctive and proficient synthesizer player and programmer that his Seventies and Eighties recordings have since been sampled by electronic acts like Daft Punk and Mylo and hip-hop stars Kanye West and Ice Cube. He also helped to popularise the keytar – a light, portable keyboard, which he strapped on to venture centre-stage during his shows.
On the 40-plus, occasionally self-indulgent but mostly engaging and excellent albums he recorded under his own name, or in partnership with other jazz-fusion stalwarts, Duke collaborated with the drummers Billy Cobham and Alphonse Mouzon and the guitarist John Scofield. He produced albums for his cousin Dianne Reeves, the vocalist Dee Dee Bridgewater and the disco act A Taste of Honey – and also worked with Barry Manilow, Smokey Robinson, the Pointer Sisters, Natalie Cole, Gladys Knight, Dionne Warwick and Howard Hewett of Shalamar fame.
Duke seemed unstoppable, but the death of his wife, Corine, last year, hit him hard. He dedicated his recently released album, Dreamweaver, to her. He died from chronic lymphocytic leukemia in Los Angeles.
"I really think it is possible to make good music and be commercial at the same time," he wrote on his website. "I believe it is the artist's responsibility to take the music to the people. Art for art's sake is nice; but if art doesn't communicate, then its worth is negated, it has not fulfilled its destiny."
Pierre Perrone
George Duke, keyboard-player, singer, songwriter, producer: born San Rafael, California 12 January 1946; married Corine (died 2012, two sons); died Los Angeles 5 August 2013.
Join our new commenting forum
Join thought-provoking conversations, follow other Independent readers and see their replies