George Whitman: Proprietor of the Shakespeare and Company bookshop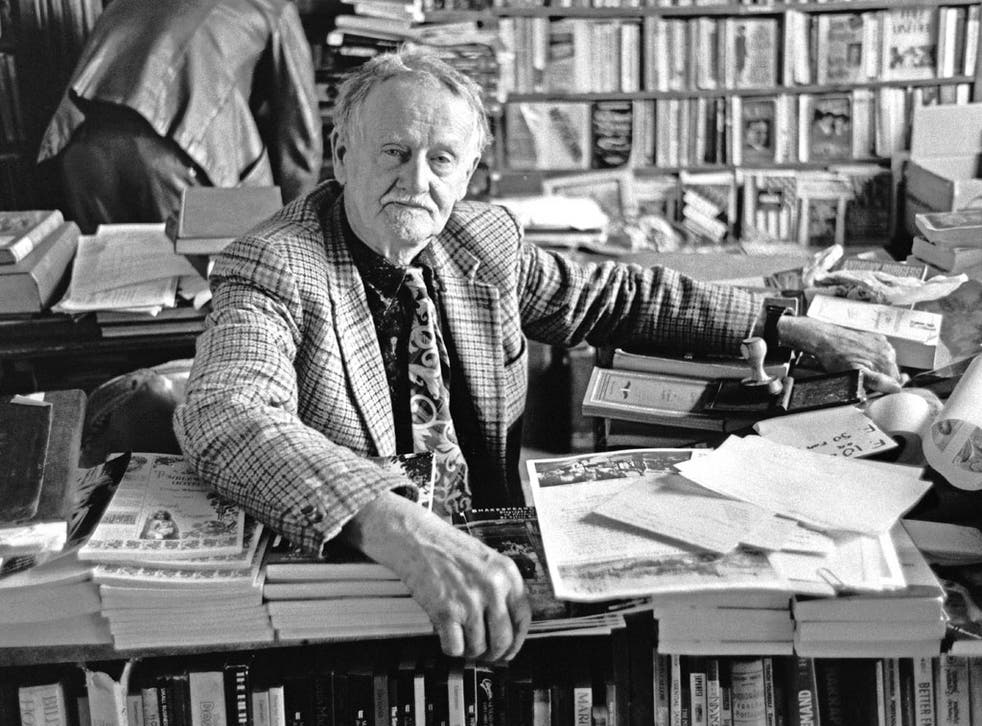 At George Whitman's Shakespeare and Company bookshop a sign above a door quotes two lines from Yeats: "Be not inhospitable to strangers / Lest they be angels in disguise". Whitman certainly lived by those words, in accommodating some 50,000 strangers over the last 60 years. These were the aspiring writers who stayed at this bookstore, free lending library and crash pad. Would-be writers can rest overnight here on condition that they read at least one book a day and help out in the shop for an hour or so. To its visitors, the residents of Paris and tourists alike, Shakespeare and Company remains a place of pilgrimage for all lovers of literature in the English language.
Whitman was born in 1913 in East Orange, New Jersey and grew up in Salem, Massachusetts. He would later claim as his grandfather the writer Walt Whitman, a case of geneaological poetic licence. Whitman enrolled at Harvard in 1939 and was called up for army service in 1941, taking a role as a medic, based in Europe. On his return to America he established his first bookstore, in Taunton, south of Boston, while still doing night duty for the army.
In 1948, thanks to the GI Bill, which allowed returning soldiers to continue their education, he travelled to Paris and studied French culture at the Sorbonne. Whitman created his bookshop, Le Mistral, in a 17th century building on the Rue de la Bûcherie, close to Notre Dame, in 1951. This in turn inspired Whitman's good friend, Lawrence Ferlinghetti, to open his own City Lights bookstore in San Francisco two years later. When Ferlinghetti and other poets of the Beat generation, including Allen Ginsberg, William Burroughs and Gregory Corso, visited Paris, Whitman's shop became their meeting place.
In 1964 Whitman changed the name of Le Mistral to Shakespeare andCompany, in honour of the previous Paris bookstore run until 1941 by Sylvia Beach, who had died two years earlier. Beach had, in 1922, famously published Joyce's Ulysses when no other English language publisher would touch it. Whitman himself claims to have been too shy to ask permission for the use of the name from Beach, whom he knew during her lifetime.
Throughout its history Shakespeare and Company has remained that quirky combination of bookstore and lending library, a place where the importance is on the reading rather than simply the purchase of a book. Or, as Whitman put it, this is "a Socialist utopia masquerading as a bookstore". Even the telephone and cash-till are only relatively recent additions. The upper part hosts the lending library, a quiet sanctuary where visitors are able to read – and sleep.
Workshops and authors' readings are announced in a regular newsletter. Whitman's last contribution, in this month's edition, reads:"When Walt Whitman said that who touches this book touches man, I feel that he could have been speaking for me. I like you to open my door the way you open a book, a book that leads into a magic world in your imagination. I created this bookstore like a man would write a novel. And the girls who come in here are coming into a novel."
In 2005 Benjamin Sutherl and Gonzague Pichelin directed a documentary of Whitman's life entitled Portrait of a Bookstore as an Old Man in a nod to Joyce's 1916 work. Shakespeare and Company also features in the film Before Sunset (2004), by Richard Linklater. Whitman received the award of the Officier des Arts et Lettres from the French Minister of Culture for his lifelong contribution to the arts,in 2006.
Whitman's daughter, Sylvia, who took over the day-to-day running of Shakespeare and Company in 2003, said in tribute to him: "After a life entirely dedicated to books, authors and readers, George will be sorely missed by all his loved ones and by bibliophiles around the world who have read, written and stayed in his bookshop... Nicknamed the Don Quixote of the Latin Quarter, George will be remembered for his free spirit, his eccentricity and his generosity."
Whitman died in the apartment above his bookstore just after his 98th birthday, following a stroke two months before.
George Whitman, book dealer: born East Orange, New Jersey 12 December 1913; one daughter; died Paris 14 December 2011.
Join our new commenting forum
Join thought-provoking conversations, follow other Independent readers and see their replies