Gilmar: Goalkeeper hailed by many as the greatest ever
His puma-like agility was allied to a dignified unflappability in the heat of hectic action
Ivan Ponting
Sunday 08 September 2013 18:36 Comments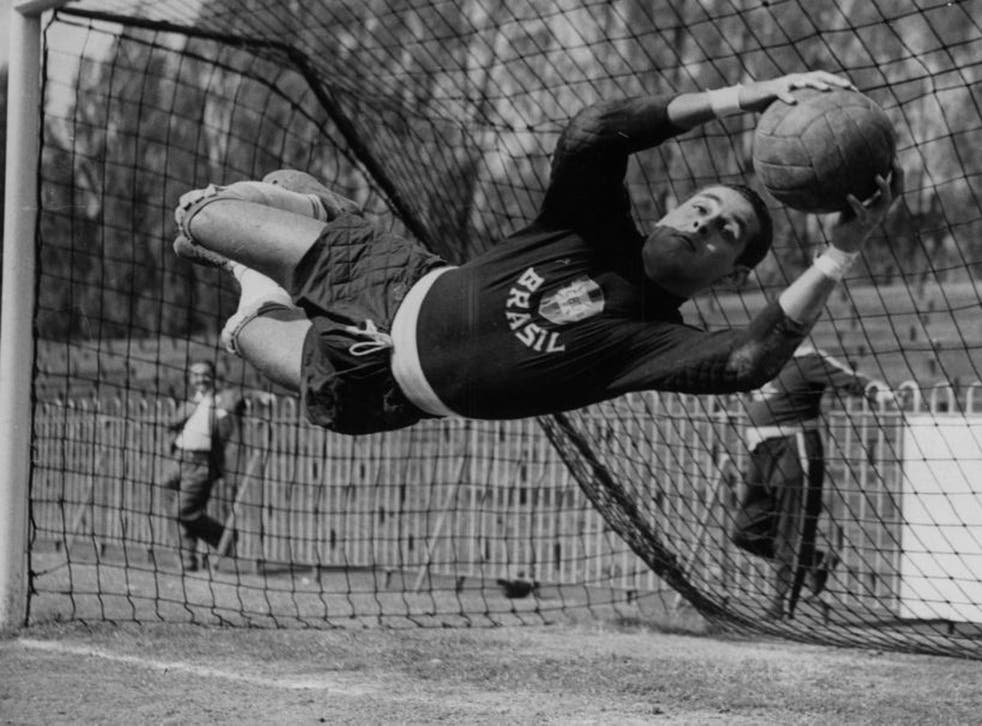 Universally hailed as the best South American goalkeeper of the 20th century, the elegantly athletic Gilmar would have been on any realistic shortlist to determine the greatest net-minder on the planet during the 1950s and '60s, the Brazilian's only rivals for that notional crown being two revered Eastern Europeans, Lev Yashin of the Soviet Union and Hungary's Gyula Grosics. Twice Gilmar reigned supreme and ever-present between his country's posts as they won the World Cup, in Sweden in 1958 and four years later in Chile, while his hoard of major club honours was colossal, the prizes collected principally during his gilded spell with the all-conquering Santos in the 1960s, but also with his first employers, Corinthians of Sao Paulo.
Tall, slim and with the clean-cut, handsome looks of a matinee idol, Gilmar cut a figure of dignified authority, his unflappability in the heat of the most hectic action as imposing as his puma-like agility. After emerging as a precociously gifted youngster with the small Jabaquara club in his home city of Santos, he was snapped up by Corinthians in 1951 and lost no time in making a spectacular impact.
Gilmar – whose professional name was spelt with an "i" although his given title was Gylmar dos Santos Neves – was a major factor as the Sao Paulo state title was lifted that year, then retained in 1952 and regained two seasons later. By then, in March 1953, he had made his full international debut in an 8-1 thrashing of Bolivia in a Copa America encounter, and soon he had overtaken Moacir Barbosa and Carlos Castilho to become Brazil's first-choice keeper.
Having experienced, towards the end of the decade, the dubious privilege of conceding the first professional goal registered by a teenaged prodigy named Pele, with whom he was destined to share myriad triumphs with club and country, Gilmar attracted global attention through his excellence in the 1958 World Cup finals. After keeping clean sheets in Brazil's first four games of the tournament – against Austria, England, the Soviet Union and Wales – he conceded twice in both the semi-final and final, against France and the host nation respectively. Each time, though, Brazil scored five, the scintillating forward line of Garrincha, Didi, Vava, Pele and Zagalo reaching sublime heights of artistry.
Gilmar remained a dominant influence as the Selecao successfully defended their crown on South American soil in 1962, letting in only five goals in the six matches, the climax being the 3-1 victory over a splendid Czechoslovakia side in the Santiago final. By then the 'keeper was a Santos player, having joined his home-city club in 1961, and thus being in the fortunate situation of linking up with the incomparable Pele. At Vila Belmiro, as a member of what was for several seasons arguably the finest team in the world, Gilmar helped to win five successive national championships from 1961 to 1965, five Sao Paulo state titles between 1962 and 1968, two Copa Libertadores in 1962 and 1963, and he capped it all in those last-mentioned years by overcoming first Benfica and then Milan to lift the Intercontinental Cup.
Throughout his career Gilmar often showcased his talents against England, whom he faced seven times, starting with a Wembley friendly in May 1956 which Brazil lost 4-2 but in which he saved two penalties, one taken by Bristol City's John Atyeo, the other by Roger Byrne of Manchester United. He had shone, too, in two World Cup encounters and had captained a transitional side in another friendly meeting at Wembley, a 1-1 draw in May 1963.
Gilmar's next action in England came as he hoped to complete a hat-trick of global titles in 1966, but after two apppearances at Goodison Park, in a 2-0 win over Bulgaria and a 3-1 defeat by Hungary, he was dropped along with eight others for the rugged clash with Portugal in which they were eliminated. Thereafter he fought his way back into the team, earning his 94th and last cap as a 38-year-old in a 2-1 friendly triumph over England at the Maracana in Rio de Janeiro in 1969, in which he was overshadowed by the brilliance of the reigning World Cup holder Gordon Banks. Some sources credit Gilmar, who finished his professional club career in the same year, as making more than a century of appearances for his country, but some of those outings were deemed to be in non-competitive matches.
Gylmar dos Santos Neves, footballer: born Santos, Brazil 22 August 1930; played for Corinthians 1951-61, Santos 1961-69; capped 94 times by Brazil 1953-69; died Sao Paulo, Brazil 22 August 2013.
Register for free to continue reading
Registration is a free and easy way to support our truly independent journalism
By registering, you will also enjoy limited access to Premium articles, exclusive newsletters, commenting, and virtual events with our leading journalists
Already have an account? sign in
Join our new commenting forum
Join thought-provoking conversations, follow other Independent readers and see their replies