Giulio Andreotti: Politician who dominated the Italian scene for more than half century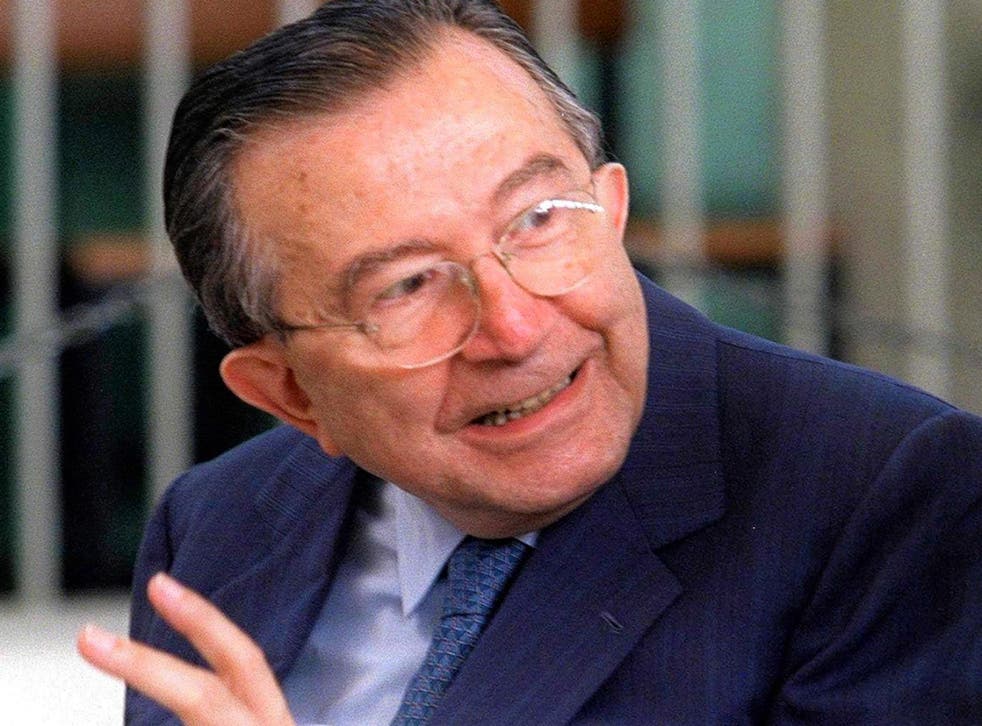 A riddle wrapped in a mystery inside an enigma" was how Winston Churchill once described the Soviet Union. Those words could equally apply to Giulio Andreotti, the man who quietly dominated Italian politics for almost half a century, as inscrutable as a sphinx and – in his own country at least – credited with even great power than that dreadful monster of antiquity.
In some ways Andreotti was the embodiment of post-war Italy, and not just because he was beyond argument, its most powerful politician, who was prime minister a record seven times and almost never out of government between the late 1950s and the early 1990s. During those years many forces combined to make sure Italy was governed by a Catholic party: the Church, obviously; but also the Americans with their Cold War priority of keeping the country out of the hands of western Europe's most powerful communist party; Italy's fast growing industrial and financial sectors, and last but not least, organised crime and the Mafia. At the centre of this web of influence sat – or was assumed to sit, it made no difference – Giulio Andreotti.
The concrete achievements of so long a career could be summed up in negatives. Italy did not go Communist. It did not relapse into totalitarianism and civil war, but instead grew to become, briefly at least, the world's fifth largest economy. But Italian leaders do not go into politics to change the world. In the fragmented and complex universe they inhabit, of factions, wheeler-dealing and secret collusion, the goal was power – or rather the perception of power. And in Italy no one was perceived to be more powerful than Andreotti.
On the other hand, no one looked the part less. Italian politicians tend to be bombastic and self-important. Andreotti was the reverse, softly spoken and unflappable, almost self-effacing, with a most unItalian sense of irony and self-deprecation. Yet these qualities, perversely, only increased his aura. For his countrymen he was the puppetmaster whose unseen hand was behind every major event of the day, be it a stock market collapse, a Mafia assassination or a terrorist outrage, not to mention the changes of government that occurred about every 10 months on average during the Andreotti era. He took the accusations with wry humour. "Apart from the Punic Wars, which I was too young for," he once said, "they blame me for everything."
For cartoonists he was a gift with his grave and priestly manner, the angular features that became more wizened as he grew older, and the batlike ears that protruded from the sides of his head. He was so stooped that some called him il gobbo, the hunchback. Throw in a black cloak and a wand, and there was the evil magician who cast his spell over all Italy.
He was also a master of mordant aphorism. In contrast to their exotic and operatic image, Italians are as down to earth and pithy as they come. Andreotti's Christian Democrat party, a leading Communist once complained, had been worn out and corrupted by decades of power. To which he offered the now-immortal response, "Il potere logora chi non lo la" – power wears out those who don't have it. On another occasion, when someone accused him of being mediocre, he noted drily, "I recognise my limits, but when I look around I realise I am not living exactly in a world of giants."
This fatalistic, cynical approach to life was largely incomprehensible to Anglo-Saxons. Margaret Thatcher, who dealt with him at countless EU meetings, wrote how he projected "a positive aversion to principle, even the conviction that a man of principle is doomed to be a figure of fun." But for Andreotti such a mindset was probably inevitable. First and foremost he was a Roman, from a city that has seen and outlasted everything and everybody, whose old stones breath the lesson that even the mightiest power is transient.
Second, he was a devout Catholic, with a deeply realistic, if not pessimistic, view of human nature, reinforcing his view that politics was the art of the possible. "See all, tolerate much, and correct one thing at a time," was how Andreotti once described his approach to life. Perhaps that was why, as many pointed out, he tended to surround himself with unprepossessing people – sycophants and ex-Fascists, dubious businessmen and even outright crooks. Naturally, he had an aphorism to explain that as well: "Even trees need manure to grow."
Giulio Andreotti was born in 1919, three years before Mussolini came to power. The youngest of three children, he lost his father at when he was two, and was brought up by his mother, in penurious circumstances. But he secured a law degree with honours and during the Second World War, as the Mussolini regime was crumbling, became active in Catholic youth movements.
But his political career proper began at the Vatican – or more exactly in the Vatican library, where he was looking for a book on the Papal Navy and the librarian asked him quizzically, "Haven't you anything better to do?" Thus did Andreotti meet his political mentor, Alcide De Gasperi, a veteran Catholic politician waiting for the fall of Fascism, and who would become Italy's first postwar prime minister.
In the power vacuum of those confused early post war years, a bright young man could rise fast. In 1947, aged just 28, Andreotti became De Gasperi's chief of staff and a junior cabinet minister. Even more important, he launched his own faction, Primavera or "springtime", within the ruling Christian Democrat (DC) party. At first Andreotti was on the party's right but he gradually shifted to the centre, all the while maintaining good ties with his former supporters as he held a succession of senior government posts.
By 1972 he was prime minister for the first time, heading what remains the shortest-lived government in Italy's postwar history, a centre-right coalition lasting only eight days. By 1976, however, he had the job again, in more momentous circumstances.
In that year's elections the smaller parties that traditionally were the Christian Democrats' traditional coalition allies were crushed, and a deal with the Communists was essential. Andreotti emerged to head a minority DC government that relied on tacit Communist support in parliament – the bizarre formula of non-sfiducia or "no-no-confidence" – for three of the most dramatic years in modern Italian history, culminating in the kidnap and murder by Red Brigades terrorists of the Christian Democrat party leader, Aldo Moro, in 1978.
To the relief of an anxious church, Christian politicians, and a closely watching US, the "historic compromise" between Communists and Catholics resulted in a comprehensive victory for the latter. The Communists found themselves trapped in that worst of all political worlds, of responsibility without power. Never again were they the same force in Italian affairs.
The wily Andreotti, it seemed, had once again outfoxed everyone. For much of the 1980s he served as foreign minister in a government headed by Bettino Craxi, leader of the resurgent Socialist party, before becoming prime minister once more in 1989. But even Andreotti – nicknamed Divo Giulio, like Caesar, "Julius the God" – could not withstand the tempest about to engulf the old order.
Tangentopoli, literally "Bribe City", started out as a local-government kickbacks scandal in Milan, but soon grew into a national political scandal involving all parties, first and foremost the Christian Democrats, who had dominated national politics for so long. Disastrously for Andreotti, it also led to the lifting of his parliamentary immunity so that he could face charges of what long been reputed, of complicity with the Sicilian Mafia. A year later, in 1995, he was also accused of arranging the 1979 murder in Rome of the muck-raking journalist Mino Pecorelli, supposedly about to publish an exposé on Andreotti's involvement in a major bribery scandal.
Finally a spotlight had been turned on the dark side of Italian life, a tapestry of collusion, corruption, blackmail and violence that amounted to little less than an alternative history of the Italian state. That Andreotti had links with Mafia figures, among them Salvatore Lima, former mayor of Palermo, and the bank fraudster Michele Sindona, was irrefutable. A Mafia turncoat even recounted the underworld version of The Kiss, said to have been planted on Andreotti as on a vassal by a king, by Salvatore Riina, the most powerful Sicilian mob leader.
The real question was different, however. Did Andreotti play an entirely passive part in proceedings, guided merely by his lifelong belief that you took an imperfect humanity as you found it? In that case his name, and the perception of power it conveyed, was exploited without his knowledge. Might not the simple murmur of "Lo vuole Andreotti" – Andreotti wants it – be sufficient for a dastardly deed to be carried out, whether or not the supposed originator of the deed knew anything about it? Or, on the other hand, did Andreotti know all about it?
Almost certainly, we shall never know. The man himself always maintained he was victim of a Mafia conspiracy, in revenge for the clampdown by his government against organised crime in the late 1980s. In the end, after various appeals, he was acquitted on both the complicity charges and the Pecorelli killing. But the truth, in this quintessentially Italian "wilderness of mirrors", was impossible to establish – as perfectly befitted the eternally mysterious Giulio Andreotti.
Giulio Andreotti, politician: born Rome 14 January 1919; Interior Minister, Italy 1954; Minister of Finance 1955-1958; Minister of the Treasury 1958-1959; Minister of Defence 1959-1960, 1960-1966, 1974; Minister of Industry 1966-1968; Prime Minister 1972-73, 1976-1979, 1989-1992; Foreign Minister 1983-1989, appointed Senator for Life 1991; married 1945 Livia Danese (two sons, two daughters); died 6 May 2013.
Join our new commenting forum
Join thought-provoking conversations, follow other Independent readers and see their replies