Graham Cowdrey: Batsman who played in his father's shadow at Kent
The sportsman had an abundance of natural skills but was given the unenviable task of carrying the torch for a prestigious cricketing family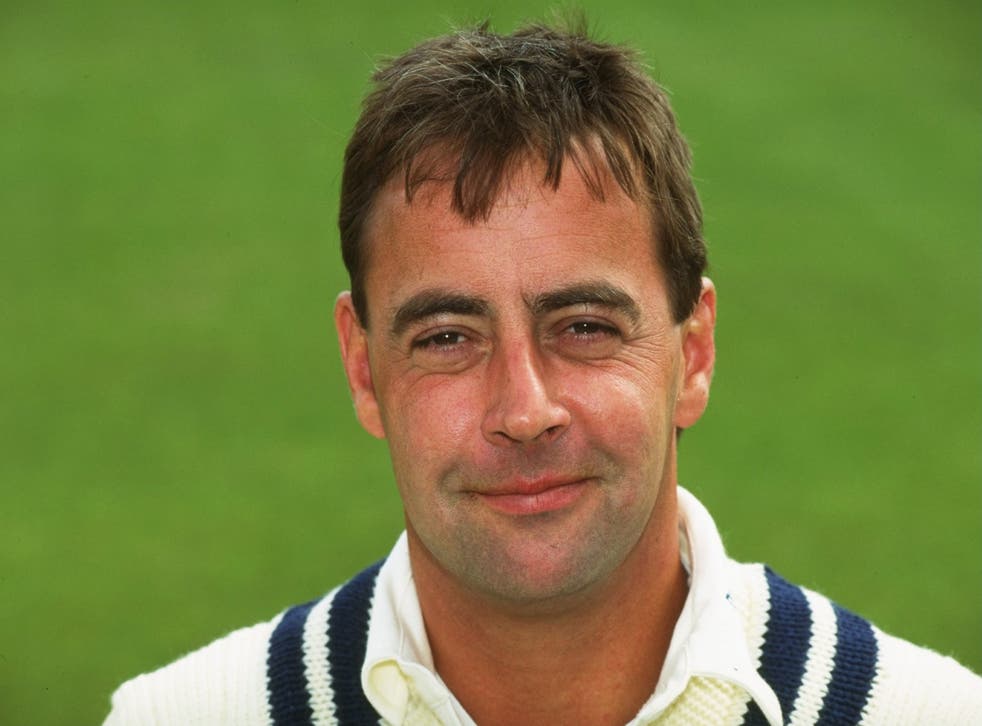 While constantly struggling to break free of his illustrious heritage, Graham Cowdrey played county cricket for Kent from 1984 until 1998. In this, he not only followed in the footsteps of his father – Baron Cowdrey of Tonbridge, a former England and Kent captain – but also his elder brother, Christopher, who too enjoyed conspicuous success captaining both county and country.
While never matching his father's flawless technique, Graham Cowdrey was an aggressive right-handed middle-order batsman and a brisk medium-pace bowler of abundant natural skills. Despite his stocky build, he was quick between the wickets and an excellent fielder, particularly patrolling in the covers.
Born in Farnborough, Graham Robert Cowdrey was the youngest of three sons of Colin Cowdrey and his first wife, Penelope Chiesman. He was universally known as Van, such was his total devotion to the music of Van Morrison. After averaging 85 with the bat in his final year at Wellesley House School, at Tonbridge he made the school first XI aged 13. He later followed his other brother, Jeremy, to Durham University, but after 12 months he dropped out to pursue a professional cricketing career.
He represented England Young Cricketers in 1983 and made his first class debut for Kent against the Sri Lankans at Canterbury the following year. A confident half century against the 1985 Australian tourists showed his potential. By 1986 he had become a one day regular and at Lord's in the Benson & Hedges final, his score of 58 from 70 balls in gloomy light helped to bring his side to within two runs of victory. However, a career-defining moment came 12 months later when batting at Derby. Mistiming a hook shot against fast bowler Michael Holding, he broke his jaw in four places, losing most of his teeth in the process. As he later admitted, it left him lacking the confidence to move his game to the next level.
Cowdrey, who has died aged 56, earned his county cap in 1988, as Kent came tantalisingly close to capturing the County Championship title, only to lose to Worcestershire by one point. That year he made his maiden century and hit 145 against Essex at Chelmsford. However, having his brother as his captain proved something of a mixed blessing as Christopher tended to bend over backwards not to show him any favours. Becoming increasingly frustrated at not getting more first XI cricket and being required to get quick runs when selected, he came close to moving to Middlesex. After that fell through, the next three seasons (from 1990 to 1992) proved his most consistent with the bat.
Batting with Sri Lankan Test star Aravinda De Silva at Maidstone in 1995, the pair put on 368 for the fourth wicket to create a new Kent batting record. De Silva plundered 255 while Cowdrey chipped in with 137. In the Benson & Hedges Final at Lord's, the pair threatened to pull off a thrilling run chase after Lancashire had scored 274. They had added 61 for the fourth wicket when Cowdrey mistimed a sweep shot and was somewhat harshly adjudged leg before wicket. Back at Lord's for the AXA Equity & Law Sunday League encounter with Middlesex, he recorded an unbeaten 101 to inspire his side to a vital victory. With Kent, Warwickshire and Worcestershire all ending equal on 50 points, Kent claimed their first trophy in 17 seasons, courtesy of a faster run rate.
Having broadened his cricket education by spending his winters playing and coaching in both South Africa and Australia, Cowdrey was also a strong supporter of Christians in Sport, undertaking several tours on the movement's behalf. A regular in one day competitions, he made 261 appearances for Kent in the format. His 5,142 runs included a top score of 105 not out made against Hampshire at Southampton in 1995. He also claimed 35 wickets, with a best return of 4-75 against Essex at Ilford eight years earlier.
In the championship, amid 179 appearances, his total of 8,858 runs included 17 centuries and a top score of 147 made against Gloucestershire at Bristol in 1992. Among his 12 wickets was a best return of 1-5 against Warwickshire at Edgbaston in 1988. He also had 178 catches to his name.
Retirement in 1998 meant that for the first time in almost half a century no member of the Cowdrey family would be representing Kent. He later worked in the spread betting industry before going on to organise charity dinners and corporate hospitality events. In 1993, he married a jockey, Maxine Juster. The couple had three children: Michael, Alexander and Grace.
In 2013, his company ran into trouble when a business partner vanished with £40,000. With his marriage breaking down, he found himself homeless and for a time lived in his car, working as a delivery driver. In 2015, he returned to the game as a liaison officer for the England and Wales Cricket Board.
Graham Cowdrey, cricketer, born 27 June 1964, died 10 November 2020
Join our new commenting forum
Join thought-provoking conversations, follow other Independent readers and see their replies