Graham Stark: Actor, author and director who graduated from music hall to the big screen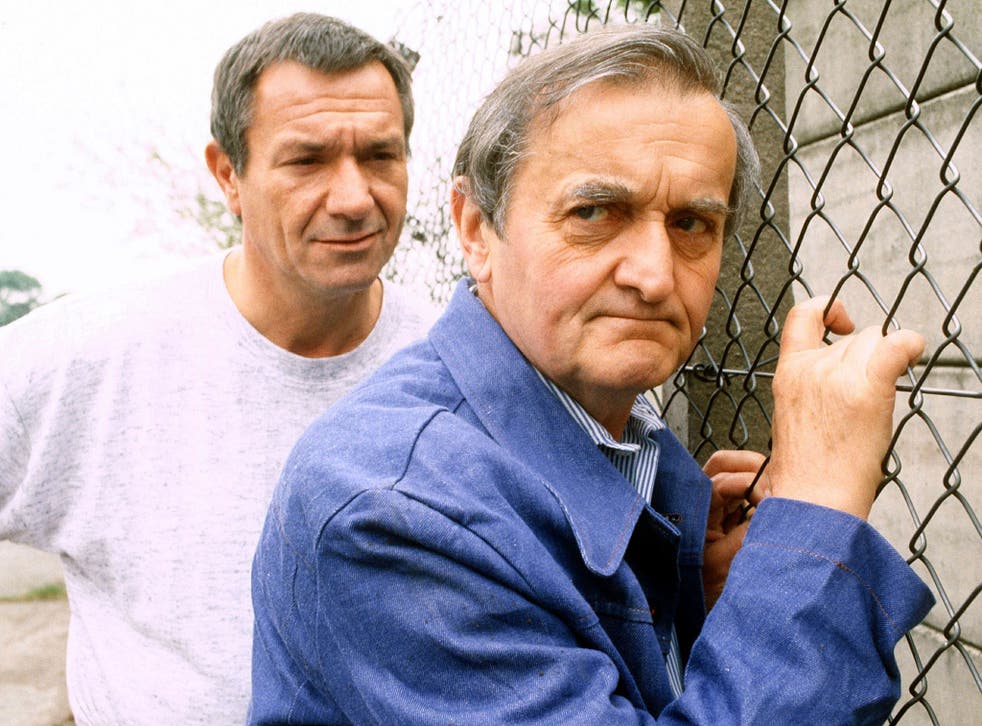 Although he appeared in numerous films, television shows, radio and stage productions, Graham Stark will perhaps be best remembered for his personal and professional association with Peter Sellers.
Appearing alongside him in more than a dozen films, including The Millionairess, The Wrong Arm of the Law and all but one of the Pink Panther series, Stark memorably recounted his experiences of life with the comedy superstar in the 1990 best-seller Remembering Peter Sellers. This late venture into authorship befitted a man whose lifelong passion was to try everything possible in his profession, for besides a long career as a respected character actor Stark also worked as a producer, director and photographer.
Stark was born in 1922 in the small town of New Brighton near Liverpool ("on the posh side of the Mersey") and attended Wallasey Grammar School where, aged 10, he took the role of Queen Boadicea in the school play. In the audience one night, as luck would have it, was the director of the Liverpool repertory company, who recommended Stark consider a theatrical career. Sent by his proud mother to study under Sheila Elliott Clarke, the acclaimed Liverpool dance teacher, Stark landed his first stage job at 14, performing a song-and-dance routine during the juggling act of music hall entertainer Eddy Gray.
At the start of the Second World War, Stark joined the RAF, saw an advertisement for The Gang Show, and successfully auditioned. Posted with the cast to Algiers, Italy, the Middle East and Burma, Stark found himself appearing alongside future stars Tony Hancock, Dick Emery and Peter Sellers, with whom he forged an immediate bond. When Sellers heard that after the war Stark was sleeping at a dormitory for vagrants, he immediately acquired a room for him below his parents' flat in East Finchley. A few weeks later, Stark was back on his feet and had found work at Coventry rep.
It was another old Gang Show comrade, Tony Hancock, who was to be Stark's passport into radio, just as that medium was enjoying its golden age. Stark's versatile voice was much in demand on most of the classic shows of the period from Educating Archie to Life with the Lyons. It was Sellers who got him on the number one radio show Ray's a Laugh with Ted Ray, which boasted an audience of 20 million listeners. And when Spike Milligan was taken ill, it was Graham Stark who was brought in to cover for him on The Goon Show.
In 1959, Stark met the actress Audrey Nicholson, and within three weeks was engaged. Their marriage on August 2 at Marylebone register office in north London was captured for posterity on home movie by Peter Sellers, who later became godfather to their son Christopher. Throughout Sellers's life, Stark remained one of the actor's closest friends, each man holding the other in high regard. Enthusiastic letter writers, Stark and Sellers often corresponded with each other in the guise of fictitious characters. Marcel Cassette, a mad French cyclist, was a favourite with Stark, while Sellers responded from a film location somewhere in the world in the literary guise of Major Bloodnok (Retired), late of Her Majesty's 41st Mounted Deserters.
It was at the suggestion of Sellers that Blake Edwards cast Stark in perhaps his most famous role, that of Inspector Clouseau's downtrodden assistant Hercule in A Shot in the Dark, the hugely successful sequel to The Pink Panther. Stark subsequently appeared in every succeeding Panther movie in various guises, notably as Auguste Balls, Clouseau's costumier extraordinaire in Revenge of the Pink Panther. Stark also forged a close relationship with director Blake Edwards, working for him again on Victor/Victoria and Blind Date, the film that marked Bruce Willis's big screen debut.
Away from Sellers's sphere of influence, Stark carved out a successful stage career, notably in the West End production of Spike Milligan's The Bed Sitting Room, and was a much used character actor in films ranging from Alfie, with Michael Caine, to the Richard Burton historical drama Beckett, in which he sported an unflattering pudding basin haircut.
A lifelong obsession with photography led almost inevitably to Stark trying his hand as a film director. But in order to join the director's union Stark first required the signatures of three existing members – the more famous the better, he was told. Having enlisted Ken Hughes and Peter Sellers, Stark, rather ambitiously, tried for Stanley Kubrick, who was filming A Clockwork Orange near his home. He walked on to the set where, to the amazement of cast and crew, Kubrick dropped everything to sign the application form. When it was handed in, the official looked up at Stark and asked, "Why didn't you get David Lean and Carol Reed while you were about it?"
Stark's 1970 directorial debut was an ambitious comedy short entitled Simon. It featured a host of celebrities, such as like Michael Caine and Eric Morecambe, playing themselves. Its success led to Stark being asked to direct and produce The Magnificent Seven Deadly Sins (1971), co-written with Monty Python's Graham Chapman, and in which old Goon Show friends Harry Seacombe and Spike Milligan were happy to make cameo appearances.
Stark often spoke of how much he enjoyed his position as a character actor, such people being arguably the most envied in the profession, being always in work yet never having the responsibility of being a star. The pressure that fame can bring was something he saw first-hand with Peter Sellers, although their 35-year friendship was a bedrock in both of their lives. On one occasion in the Seventies, the pair took a nostalgic drive around some of their old London haunts. Approaching Highgate, Sellers identified the house in which he had lived as a child. An astonished Graham Stark pointed to the flats directly next door, where he had lived for a time. They had been neighbours from 1936 to 1939, and had never known it.
Robert Sellers
Graham Stark, actor and writer: born Liverpool 20 January 1922; married 1959 Audrey Nicholson (three children); died 20 October 2013.
Register for free to continue reading
Registration is a free and easy way to support our truly independent journalism
By registering, you will also enjoy limited access to Premium articles, exclusive newsletters, commenting, and virtual events with our leading journalists
Already have an account? sign in
Register for free to continue reading
Registration is a free and easy way to support our truly independent journalism
By registering, you will also enjoy limited access to Premium articles, exclusive newsletters, commenting, and virtual events with our leading journalists
Already have an account? sign in
Join our new commenting forum
Join thought-provoking conversations, follow other Independent readers and see their replies