Gwilym Prichard: Painter acclaimed for his depictions of the rocky landscapes of Snowdonia, Brittany and Pembrokeshire
By the end of his career, Prichard's work was in most collections in Wales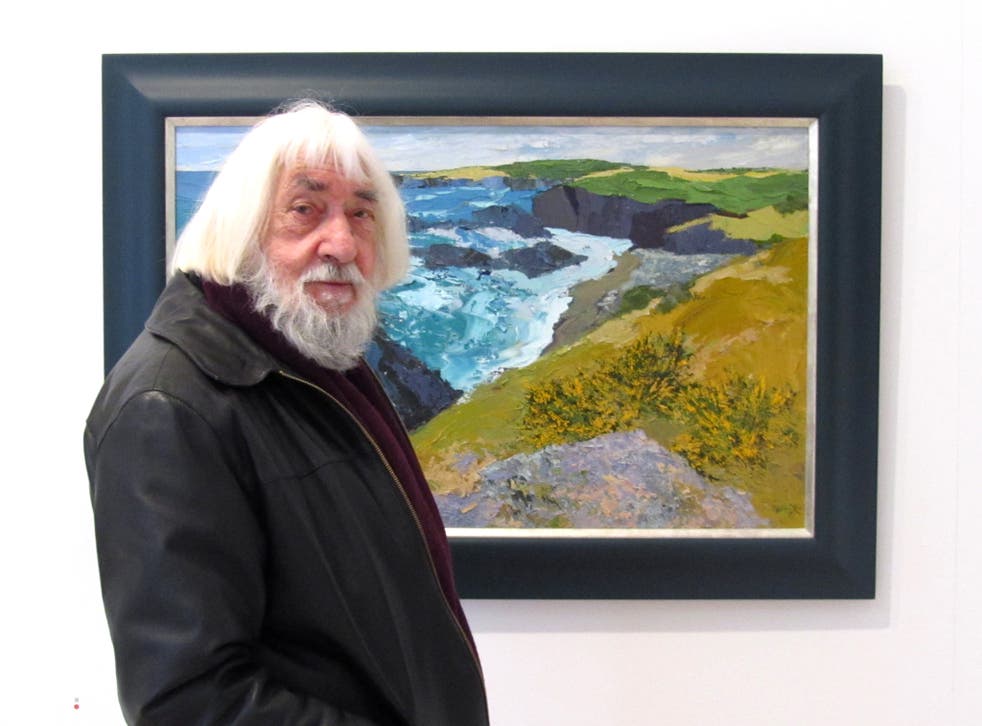 If Kyffin Williams was the Welsh painter who, at least in the public view, is most often associated with the dark landscapes of north Wales, especially its cloud-capped mountains, deep valleys and wild coastline, Gwilym Prichard is best remembered for a palette that held more colour and for a more versatile approach to the visual beauty of Eifionydd, that sea-girt district on the Lleyn peninsula of north-west Gwynedd.
His canvases have to do with the play of light on the lanes, fields, farms, boulders, sheep-tracks, bracken, dry stone walls, thorn-trees pointing the direction of the wind and "the blue remembered hills" of his childhood – literally blue, that is, for he used rich paint, spontaneous brushwork and the boldest of colour combinations, so that there is a Mediterranean quality to his work that Kyffin Williams, whose range rarely strayed beyond grey-green-black-white, never attempted.
Although influenced early in his career by the older painter, who remained a friend, Prichard soon showed he was his own man, striking out in search of new subjects and fresh ways of painting them. The plasticity of oils held endless fascination for him and he used them in a variety of ways, including impasto and sgraffito, as well as in mixed-media compositions of collage, gesso, chalk, gouache and pencil.
With palette knife and brush he captured the very essence of the land (or "the bones beneath the land", as Ceri Richards once said) with a bravura and sensitivity that came from a lifetime's involvement with it, sometimes paring it down to an abstraction unhindered by detail but always managing to convey an emotional response that is rare in modern painting.
"As an emotional Celt," he wrote in the catalogue of his exhibition at Heal's Art Gallery in 1974, "I tend to paint from the heart; I enjoy the act of working the paint. My concern is to convey my emotions and enthusiasm for Wales through richness of texture, paint and colour; I see my work through music, song and poetry." A retrospective exhibition of his work at the National Library of Wales in 2001 brought together an astonishing array of pictures done over 50 years in which he demonstrated just how magnificently he had achieved this aim.
He was born in 1931 in the Welsh-speaking village of Llanystumdwy, near Criccieth, where David Lloyd George had grown up and lies buried; his father was the local schoolmaster and church organist. "I was brought up by the river Dwyfor," he wrote, "and spent most of my time fishing on the ever-changing flowing river. For me, nature and landscape were part of my life, the river my bloodstream."
After Porthmadog Grammar School he did military service at Yatesbury in Wiltshire, where his training as a radar engineer was interrupted by a bout of rheumatic fever, after which, in 1950, he took a two-year course at the Normal College, Bangor, followed by a diploma course at Birmingham College of Art.
In 1954 he married Claudia Williams, an English painter trained at Chelsea School of Art who enjoyed a high reputation in her own right, and they settled in Llangefni on Anglesey, where Prichard took up a post as a crafts teacher. The island became a major source of inspiration, especially the district between Pentraeth, Penmon and Beaumaris and taking in Priestholm (Puffin Island), the priory and lighthouse, a storm-beaten landscape in winter but alive with kaleidoscopic light the rest of the year. It was the silence, the windswept trees, the scudding clouds that appealed to him most, and he felt a strong sense of man's insignificance in the natural world – there are hardly any human figures in his work and if there are, they are almost lost in their surroundings.
Prichard came to prominence at a time when a sea-change was getting under way in the public patronage of the visual arts in Wales: the Welsh Committee of the Arts Council, the National Eisteddfod, the Contemporary Arts Society and the Royal Cambrian Academy were beginning to take their responsibilities more seriously by offering commissions, exhibitions and prizes, and by trying to create a new audience for artists.
His first exhibition was at Porthmadog in 1952 and his first major award (a cheque for 10 guineas) the Saxton Barton Memorial Prize in 1958. Soon he had found an appreciative public, especially after he had begun exhibiting at the New Art Centre in Belgravia in 1958 and the Mansard Gallery at Heal's on Tottenham Court Road in 1966. He also had exhibitions at the Howard Roberts Gallery in Cardiff, the Tegfryn Gallery in Menai Bridge and the National Museum of Wales in Cardiff.
From 1966-73 Prichard was Head of the Art Department at Friar's School, Bangor. During a troubled year of teaching at Ratcliffe College in Leicester, where a new headmaster who cared nothing for the creative arts made life unpleasant by depriving him of the facilities he had been promised, he began to drink heavily and was referred to the Drug and Alcohol In-patient Detoxification Unit in Southall, London; taken in hand by Max Glatt, and with the help of Alcoholics Anonymous, he never drank again.
Looking to make a fresh start, the family moved to Weobley in Herefordshire, renovating the vicarage at nearby Norton Canon, though both husband and wife continued to paint in north Wales. In 1979, unable to afford the upkeep of their old house, they moved back to Gwynedd, living first at Llanddona on Anglesey and then at Rhostryfan near Caernarfon, where Prichard taught occasionally in the Extra Mural Department of the University College of North Wales, Bangor. Among his private patrons at this time were Lord Croft of Croft Castle near Leominster and Lady Mary Rennell of The Rodd, near Presteigne.
In 1984, now in their early fifties, the children having left home, and in an attempt to escape the damp climate of north Wales which was affecting Prichard's lungs, the couple set out in a shooting brake across Europe, travelling through Italy, Greece and Provence, camping and painting along the way. On the leisurely homeward journey a year later, and equipped with only a school atlas, they found themselves by chance near Vannes on the Golfe de Morbihan on the southern coast of Brittany.
There they bought a former bakehouse in the centre of the medieval hill-town of Rochefort-en-Terre (population 700), some 40 miles to the north, where they were to remain for the next 10 years, living as frugally as ever and giving art lessons to pay the bills. Prichard found in the Breton landscape the same qualities as he had liked in that of north-west Wales – stormy skies, sand-dunes, moorlands covered by heather and broom, and the gale-swept Atlantic of Finistère. He was, moreover, touched by the esteem in which he was held by local people and French art critics alike. The measure to which Prichard and Williams were admired by their French hosts is reflected in the fact that in 1995 they were each awarded the Silver Medal by the Academy of Arts, Sciences and Letters in Paris.
Their return to Wales in 2001 was to the Georgian town of Tenby in Pembrokeshire, where again Prichard found an enchanted landscape he could paint in colours – dusty pink, rich ochre, slate-blue – softer than those he had used in Snowdonia. The county with its glittering sea, sunny coastline and the gentler Preseli hills, land of the Mabinogion tales, provided him with an inner serenity reminiscent of what Gauguin briefly found at Pont Aven in Brittany.
By the end of his career, Prichard's work was in most collections in Wales (except that of the National Museum, which has long been negligent of indigenous artists) and had also been bought outside Wales by bodies as various as Lincoln College, Oxford, The Nuffield Foundation (Pictures for Hospitals), the Crédit Agricole bank, the French Embassy at Caracas, the Royal Artillery Regiment, British Steel, Marks & Spencer, Monsanto Chemicals and Southampton Art Gallery.
A shy but genial man, whose reserve and caution were complemented by the vivacity of his wife, Gwilym Prichard had the physical appearance of the Romantic artist: dark eyes, rugged complexion, shaggy black beard (which duly turned a patriarchal white), a large, spare frame and a deep voice in which he spoke the mellifluous Welsh of his native place. Of all the painters I have known, I have seldom come across one so contented with his lot, however hard his life had been. He never sought the limelight and only very reluctantly passed comment on the work of his contemporaries: he had spent his life doing what he wanted to do most and asked for no other reward.
Gwilym Arifor Prichard, painter: born Llanystumdwy, Caernarfonshire 4 March 1931; married 1954 Claudia Williams (one daughter, three sons); died 7 June 2015.
Join our new commenting forum
Join thought-provoking conversations, follow other Independent readers and see their replies