Hal McKusick: Cerebral jazz saxist and composer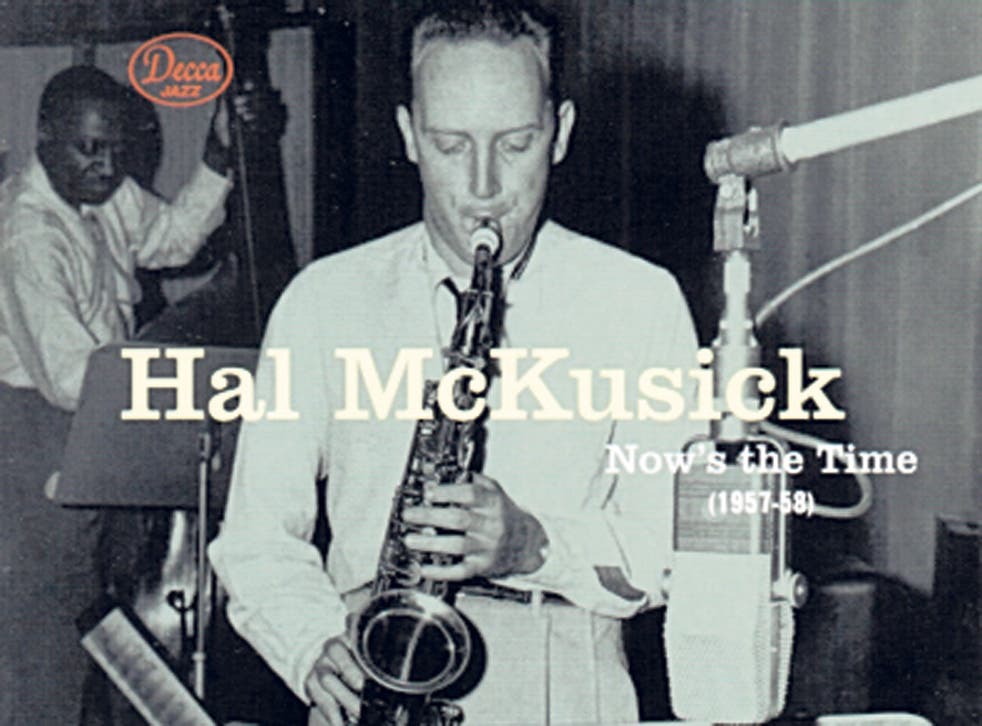 The prolific recording career of Hal McKusick escaped the notice of most jazz listeners, yet the people who worked for him in the studios included such eminent men as Gil Evans, George Russell, Al Cohn, Jimmy Giuffre, Ernie Wilkins and Bill Evans. Although he was a musical revolutionary and composer in the manner of Dave Brubeck or Gil Evans, McKusick never made it to the top, although he remained in the middle for an extraordinary number of years.
He was an alto saxophone player in an era when the instrument was dominated by Parker disciples like Phil Woods and Bud Shank. But McKusick's flawless technique and enquiring mind didn't have the key to fame that the other two men had in their work – passion. McKusick's playing was cerebral and melodious and had considerable individuality, but not a lot of bite.
He was one of Elvis Presley's beneficiaries. Presley's record company, RCA Victor, made such an embarrassingly large amount of money from the singer's recordings that for business reasonsthey had to disburse a lot of it quickly. Happily, they threw a substantial part of it at jazz, for once allowing artistry to take preference over potential profit, and among the multitude of recording sessions they promoted were some of McKusick's. It's unlikely that his brilliant but obscure 1955 album In an 18th Century Drawing Room that featured him with a quartet of cellos would have seen the light of day without the application of the Presley dollars. The most notable of McKusick's resulting RCA albums was the revolutionary 1956 Jazz Workshop, which drew in writers like Johnny Mandel, Gil Evans, Al Cohn and Manny Albam.
McKusick's career began in 1943 when he joined first Les Brown and then Woody Herman. He worked as a big- band sideman throughout the decade, playing for Boyd Raeburn, Alvino Rey, Buddy Rich, Ralph Burns, Claude Thornhill and Neal Hefti. He joined Charlie Barnet's orchestra in 1950, worked in the newly formed Terry Gibbs big band, and with Gene Krupa's small group, before joining Elliot Lawrence for five years from 1952.
He worked as a musical partner and sideman with George Russell during Russell's most effective period in the middle 1950s, before joining the staff of the CBS studios in New York. McKusick continued his jazz career alongside his studio work, which lasted until 1972. He also taught privately during this time and in total appeared on well over 200 recording sessions, playing alto or tenor sax and clarinet.
An accomplished pilot, he flew often to his gigs and during the 1980s ferried passengers daily in the Caribbean. In 1994 he founded the Sag Harbor Jazz festival in New York and soon after formed a quartet that featured several up-and-coming jazz stars. He had an entirely separate career as a woodworker, making bowls and furniture in his workshop and was also an accomplished professional photographer.
Harold Wilfred McKusick Jr, reed player, band-leader, composer, woodworker, photographer and pilot: born Medford, Massachusetts 1 June 1924; died Sag Harbor, New York 10 April 2012.
Register for free to continue reading
Registration is a free and easy way to support our truly independent journalism
By registering, you will also enjoy limited access to Premium articles, exclusive newsletters, commenting, and virtual events with our leading journalists
Already have an account? sign in
Register for free to continue reading
Registration is a free and easy way to support our truly independent journalism
By registering, you will also enjoy limited access to Premium articles, exclusive newsletters, commenting, and virtual events with our leading journalists
Already have an account? sign in
Join our new commenting forum
Join thought-provoking conversations, follow other Independent readers and see their replies